European Universities Get the Wind Up. (May 31, 2004)
Late last month at a meeting in Liège, "The Europe of Knowledge 2020. A vision for university-based research and innovation", scientists, university administrators and ministers of education spent four days mulling over how their universities compared with the world's best research institutions and came away conceding that the fear as Science phrased it, that "Europe's universities, once bastions of leading science, no longer rate as global players--a slump that could harm Europe's economic prosperity" had justification. And while there was much discussion as to the validity and value of the rankings produced last year by Jiao Tong University, Roger Bouillon, vice president for research at the Katholieke Universiteit in Leuven, Belgium may have had the final word when he observed that quite apart from the from statistical analyses, "You just feel it. Whenever you're at an important meeting, Americans dominate."
Points that were raised according to Science included "some countries do not allow institutions to select the best students, some have fixed national tuition fees and others none at all, and academic salaries usually are governed by a national formula, constraining the ability of universities to hire top talent." In short there tends to be a disavowal of elitism with regard to universities in favour of egalitarianism in determining university funding criteria.
But there may be change in the wind. In 2000 the European Commission said it intended to make Europe the "most competitive and dynamic knowledge-based economy in the world" by the end of the decade with the universities to be up front. The EC is pressing for the formation of the European Research Council (ERC), with an annual multi-billion euro budget. The ERC would focus on basic science, fund individual teams, and have research quality as its sole criterion.
Bouillon's summation: "We have accepted that the best win in soccer, art, music, and business, but not in basic research. That makes no sense."

The AVCC Finally Says it Like it is; the Media Take No Notice. (May 27, 2004)
A couple of days ago the 38 members of the Australian Vice-Chancellors' Committee (AVCC) met in Sydney and mulled over the Federal Government's 2004/05 Budget. According to their media release, "There were two recurring themes across the day. The first was the issue of the Government committing to a target of 2 per cent of GDP to the nation's research and innovation sector by 2010 and 3 per cent by
2020. The second was ongoing concerns about the increased bureaucracy surrounding the implementation of Backing Australia's Future."
Apparently the vice-chancellors were unaware that both the Prime Minister, John Howard, and the Science Minister, Peter McGauran, are on record as of May 15th that the Government dismisses setting targets for R&D as a percentage of GDP. In fact according to Mr McGauran, "it's absurdly simplistic to keep coming back to it as the sole measure of a government's performance and that of the private sector."
Sole measure? hardly -- no one in the sector has even suggested that. Important? - extremely.
Di Yerbury, AVCC President says bluntly, "Australia is already significantly behind other OECD countries in terms of investment in R&D... [C]ontrary to our target of 2 per cent of GDP by 2010, under current funding arrangements we are spiralling downwards. Our estimates indicate that by 2010, the percentage of GDP spent on R&D will fall to levels below the current 1.55 per cent. Already our competitor countries have an OECD average of 2.37 per cent of GDP with some setting what they see as a realistic and sustainable target of 3 per cent by 2010."
Perhaps the AVCC is beginning to see that assuming a supine position in dealing with the Coalition government has seen the sector sorely maimed during its reign. Would Labor redress the wounds?
Oh, yes, so far as we know, none of the Australian mass media has referred to the vice-chancellors' statement.

When Even the Fringe of the Cabinet Room Carpet Seems Beyond a Government's Vision. (May 24, 2004)

The Coalition Federal Government's myopic approach to resourcing Australian science and universities has caused even the Australian Financial Review to comment. Most recently Peter Roberts writing on innovation in the May 24 issue opens with "Don't expect too much of the push to have scientists become great businessmen. ...[They] are being told ...commercialisation is the name of the game."
Roberts goes on to point out that giving science and engineering students a series of lectures on business and entrepreneurial practices is not going to transform them en masse into successful innovators. And while he cites such firms as ResMed, Proteome Systems and Evogenix he tells his readers, "they will always be the exception. Market innovation will always be the realm of the business-minded, and not academics who have jumped the fence."
Perhaps there are a couple of points worth adding to Roberts' assessment. Researchers whether in the sciences or the humanities are to a nation what stem cells are to the body, without them the organism will shrivel and die. Attempts at inappropriately transforming them can be a recipe for catastrophic failure.
And while they may becomes so, it's probably premature to group Proteome Systems and Evogenix with the profitable fifteen year-old ResMed as examples of exceptional successes.

French Science Gets a Golden Topup. (May 21, 2004)
A couple of months back French public sector scientists got a bit stroppy and let their government know that they were prepared to down tools in a big way unless Prime Minister Jean-Pierre Raffarin's administration reversed its policy of squeezing the life out of French science1,2,3. The poor showing of the government in the recent French regional elections made it clear that President Jacques Chirac had some serious 'restructuring' to do, and in the shake-up of the Raffarin cabinet that followed it looked very much as though French science would gain significant support.
The following report in the May 21st issue of Science gives a first indication that it just might happen.
French Science Is Golden PARIS--Confounding the skeptics, the independent Bank of France has agreed to sell off some of its US$40 billion gold reserve to fund French science (Science, 13 February, p. 939). Prime Minister Jean-Pierre Raffarin announced 14 May that the bank will funnel roughly US$100 million worth of ingots into research next year and US$200 million per year after that.

The cash will go to priority projects, including cancer and brain research, promising industrial projects, and incentives for young researchers to remain in France or return from abroad, says research minister François d'Aubert. Raffarin said he was inspired by a similar, but so far hypothetical, plan floated by German Chancellor Gerhard Schröder.

---

Australia's GDP and the Federal Government's Take: A Small Table That May Be Useful. (May 20, 2004)

---

The Trouble is They Did Say It -- Who Needs Targets? Measuring Science and Innovation Support Against GDP is Simplistic. (May 18, 2004)
Australia's senior science correspondent, Peter Pockley, gets the annual Guernsey from the ABC's Science Show to give an assessment of the effect on science of the newly announced Federal budget. This year he had a couple of telling sound bites delivered of the Prime Minister, John Howard, and his Minister for Science, Peter McGauran.
Peter Pockley - The benchmark internationally recognised for a nation is the percentage of gross domestic product that is spent on R&D. Australia spends about one and a half percent as against the OECD average of 2.3% and Canada and European countries have declared a target of 3% [by 2010]. I asked the PM for a target.

Prime Minister, John Howard - We don't go in for target figures, we prefer to decide what provision we're making, we don't set ourselves targets in any of these areas including of course unemployment. Sometimes, therefore, you end up getting closer to targets other people would like you to set than you imagine.

[And to follow]

Peter Pockley - After the budget, Science Minister Peter McGauran defended the omission from the official papers for the first time this year, of these international comparisons.

Peter McGauran - Measuring science and innovation investment as a proportion of a nation's GDP is only one measure of the health of the innovation system. In all of my dealings with other science ministers across the world this is not regarded as the determinant of a government nor a private sector's investment in R&D. It is one indicator, I think it's absurdly simplistic to keep coming back to it as the sole measure of a government's performance and that of the private sector.
Right on chaps - targets? - who needs 'em.


Does the Media Release Define the Organisation? (May 18, 2004)
CSIRO's media releases from September 2002 through March 2004 have been the subject of scrutiny by Australasian Science's Peter Pockley.
According to Dr Pockley, "[The] survey measures the priorities of "corporate" management and public relations in promoting CSIRO's work to the wider public through the media. CSIRO scientists would publish many more papers in peer-reviewed journals and presentations at conferences, but these are seldom publicised.
"When broken into the periods September 2002 through August 2003 and September 2003 through March 2004, there are few variations in the figures, indicating a constant approach throughout the presence of two Directors of Communications."
A condensed form of the analysis is published in the May issue of Australasian Science, while the expanded table is available on TFW as a PDF page by clicking on the thumbnail.

Have We Got a Deal For You. (May 18, 2004)
Ian Lowe in his May 15th column for the New Scientist assesses the Federal Government's Backing Australia's Ability 2 package in pretty much the terms of that of the nation's science community as a whole: an over emphasis on commercialisation and undervaluing research for the "public good". But he has one telling paragraph which pretty well sums up the Coalition's take on R&D.
The overall allocation is an impressive A$5.3 billion. But this is to cover the next seven years. So it works out at about A$750 million a year. The previous package, Backing Australia's Ability (BAA), includes a total of A$2.9 billion over three years, close to A$1 billion a year. So the "boost" is actually a scaling back of the measures in BAA - introduced after the National Innovation Summit had drawn attention to the plight of research and development.
Last year at budget time we wrote concerning the Government's miserliness with regard to funding the reconstruction of the Mt Stromlo Observatory which had been decimated by the Canberra bush fires.
Some time ago Zeus was visiting Earth in his philandering ways and took up with Semele. Through a series of circumstances he was forced to electrocute her, and demonstrating a supreme disregard for reason, physiology and physics he decided, according to Händel, to minimise her suffering by using his mildest lightning bolt.
John Howard appears to be armed with a quiver full of mild lightning bolts.
---

Update on Those Canada Research Chairs. (May 17, 2004)
Last month the Canadian Minister of Industry and Minister Responsible for the Economic Development Agency, Lucienne Robillard, announced the allocation of CA$138.3 (A$144) million in funding for 137 new Canada Research Chairs. In her announcement Ms Robillard said, ""Research and development is key to Canada's future in the global economy. Through initiatives such as the Chairs program, we are doing what is necessary to ensure that Canada reaches its goal of becoming, by 2010, one of the world's top five countries in research and development."
In this latest series of appointments 56 or 41% have been recruited from outside Canada, either as returning expatriates or as researchers coming to Canada for the first time.
To date Canada has invested CA$1.13 (A$1.17) billion in 1164 Canada Research Chairs.

Historian and Former V-C Joins the Call for More Support for Basic Research. (May 17, 2004)
Deryck Schreuder recently retired from the Vice-Chancellorship of the University of Western Australia as well as the presidency of the Australian Vice-Chancellors' Committee. But more importantly he is an active historian having been Challis Professor of History at Sydney University for thirteen years and published extensively on modern international history.
In an opinion piece for the May 17th Australian Financial Review "Groundbreaking research is driven by curiosity" he evaluates the 2004-05 Federal Budget with respect to R&D. Opening with a bit of trivia Professor Schreuder tells us that the Chief Scientist, Robyn Batterham, offered his colleagues on the Prime Minister's Science, Innovation and Engineering Council a prize of a bottle of fine wine if they could come up with a new and catchy label to replace Backing Australia's Ability. The prize went begging which Schreuder suggests may be just as well as there is very little new in the package. "Novelty in BAA2 comes partly at the margins - $38.8 million to boost science and maths teaching in schools and $7.2 million for counter-terrorism research - but more still in a directional emphasis on the commercialisation of research." Then in referring to the Government's desire for the increasingly commercially oriented CSIRO to join forces with the universities for research and innovation he paraphrases Sir Humphrey Appleby, "A courageous challenge."
In any event after a short but even handed summary of BAA2 and reactions to it he gets down to cases.
The business communities contribution to R&D is woeful but Professor Schreuder makes no suggestions as to how to induce change. Then --

"[W]e have to moderate our understandable desire to pick winners and measure research on its commercial potential, by investing much further in basic research, its infrastructure and people."

Professor Schreuder concludes by invoking the recent observation of Chris Patten, now Chancellor of Oxford, "If you allow commercial considerations to drive research and development at universities you ignore the fact that most real groundbreaking research is curiosity driven. It's the groundbreaking research that actually does most to alter our quality of life."
Will the fact that Deryck Schreuder is writing from the perspective of an historian cause the Government to take more notice than it has of the scientific research community?

The Non-news Story of the Week. "Government 'targets marginal seats with higher education funding'" SMH. (May 14, 2004)
However, the "targets" shouldn't get too excited, their largess isn't going to turn them into the Eidgenössische Technische Hochschule Zürich anytime soon. Australia's higher education sector is showing increasing decay while being used as just another political football.
The University of Western Sydney (Parramatta, Lindsay and Banks) - $18 million to establish a medical school.

The University of South Australia (Adelaide) - $10 million for a new national chair of child protection.

Australian Maritime College (Bass, Tasmania) - $5 million.

Charles Darwin University and Batchelor Institute of Indigenous Tertiary Education (Solomon, NT) $3 million.

James Cook Medical School (Herbert, Qld) - an extra 12 places.

---

"Iraqi scientists targeted. Killings prompt calls for US to evacuate weapons researchers." (May 14, 2004)
So reads the heading of the lead news item in the May 13th issue of Nature. The full item is available online to non-subscribers.
Two short excerpts:
The assassination of several of Iraq's former weapons scientists has hit US plans to employ them to help rebuild the war-torn country. The killings, together with the deteriorating security situation in Iraq, have led some non-proliferation experts to call for the researchers to be evacuated from the country.

Between five and ten scientists have been killed in the past six months, according to a US Department of State official...

Most [scientists] are currently employed in industry and academia, at least in theory. But many universities and other facilities have been closed by the invasion and subsequent insurgencies. "They are all employed in the sense that they get a pay cheque," says the state-department official. "But some are very unhappy because they have nothing to do."
And Science reports in its current issue that Abdalla Alnajjar, president of the Arab Science and Technology Foundation (ASTF), on a visit fourteen months ago found that "[t]hrongs of Iraqi scientists filled the halls and courtyards of the ministry [of science] complex [but he] soon realized that the vast majority were biding their time, with nothing to do, until clocking out around noon."
ASTF, based in the United Arab Emirates, and Sandia National Laboratories in Albuquerque, New Mexico, is forcefully pressing an initiative to rebuild civilian Iraqi science. It is looking for US$50 million for the first year to 18 months of operation. Where does Alnajjar expect to raise the funds? According to Science the "U.S. government is still mulling how much it will contribute to the ASTF-Sandia initiative; the lion's share of funding is expected to come from other governments and nonprofits."
---

FASTS President Makes a Point and its Executive Director looks at R&D $s. (May 12, 2004)

Snow Barlow, has been the most plain speaking president of the Federation of Australian Scientific and Technological Societies since its inception. Writing in The Australian today while covering much familiar ground -- for example, "Australia currently spends 1.59% of GDP on R&D, well below the OECD average of 2.33%." -- he goes on, "FASTS does not use international benchmarks as a self-interested ambit claim. There is an important correlation between economic growth as measured by GDP and R&D intensity. Productivity is fundamental to economic growth. R&D, along with education, is a key driver of increased productivity." And we might add it is worthwhile to examine a nation's per capita GDP and gauge it against its GERD (gross expenditure on research and development.
Professor Barlow then goes on to address the matter of the low Australian business expenditure on research and development (BERD) and argues that, "It seems the Government has decided Australia's low spend is a structural feature reflecting a high proportion of small, medium enterprises (SMEs), large service sector and relatively small R&D intensive sectors such as advanced manufacturing and few global firms based in Australia." In rebuttal he says it's a mistake to think low BERD "is simply an artifact of structure. There are clearly cultural factors in Australian business that contribute to low R&D spend. For example, the percentage of researchers employed by Australian business as a percentage of total employees is low and lags behind all other advanced economies."
In what constitutes a paradigm shift the Coalition Government has eschewed increasing tax concessions for businesses engaging in R&D "to a focus on commercialising Australian inventions and innovations. Getting more immediate bang for buck." And while Professor Barlow in no way disputes the importance of commercialising our inventions if it becomes a governmental obsession, it can have disastrous consequences by undervaluing the economic benefits, for example, of furthering "knowledge of natural processes and savings through efficiencies."
FASTS Executive Director, Bradley Smith, while demurring for the time being from releasing a critical assessment of the Federal budget per se, told TFW that, "total Government expenditure on R&D in 2004-05 is estimated at $5342m compared to an estimated $5214m in 2003-04. Using Treasury's own assumptions of 3.5% GDP growth and inflation of 1.75% this means it is a drop in real terms of $37m and a drop against percent GDP of $149.1m"



It's All Been Said Before, but the Government is Neither Listening Nor Interested. (May12, 2004)
When the pollsters go out and about they are told the populace wants money spent on health and education in preference to tax cuts. Going the next step as to what the respondent perceives "health" and "education" to mean, well lets not cloud the issues. But according to the president of the NTEU this is what it ought to mean, at least when it comes to higher education and R&D.
Carolyn Allport, President National Tertiary Education Union: [T]he research and innovation package announced in the Budget has few new ideas, and what funding increases there are, largely flow from the first Backing Australia's Ability in 2001.

The Science and Innovation package will take us backwards in terms of spending on R&D as a percentage of GDP, with serious implications for our future international competitiveness. [The] result is incredibly disappointing given the financial and intergenerational challenges facing our community.

According to the Government's own research reviews, universities face mounting infrastructure pressures and have to use a considerable portion of their budgets ($450 million in 2002-2003) to participate in competitive research programs. There is little if anything in the Budget to assist universities to deal with these issues.

[The Government says improve commercialisation of research] without recognising that commercial outcomes depend upon a solid foundation of basic research conducted largely by universities and public sector research agencies.

Where are the initiatives to generate and encourage tomorrow's researchers ...In a year when we had a historically large surplus, the Government has squandered its opportunity to invest in our research community, and the vital work they do for Australia's future.
On the other hand its clear that when it comes to assessing the desires of voters once they're in the privacy of the voting booth, "perchance to dream ...ah, there's the rub", our political leadership as Senator Carr, shadow minister for science and research suggests, "is interested in the next three months not the next three years," let alone the next ten to twenty. But again, it's time the Labor opposition put up what it intends to do about it.

The 2004/05 Science and Education Budget -- First Lap Around the Horn. (May 12, 2004)
Below is a thumbnail round up of assessments -- as regards higher education and science -- of the the Federal budget 2004/05.
Brendan Nelson, Minister for Education, Science and Training: It's crash hot and bloody marvellous.

Peter McGauran, Minister for Science: Ditto that.

The following quotes are extracted from today's Australian.

Geoffrey Garrett, CSIRO Chief Executive having had his triennium budget restored including $305 million over seven years for his Flagship programs: It's a rare coup for a research agency seeking a taxpayer-funded handout, the strategic decision to pursue co-location and enhanced collaboration with Australia's universities remaining a core element of the CSIRO's winning pitch.
Our building program for the next five years, our decision-making around where we build new facilities, is premised on the fact 'how do actually we enhance this further'.
We've been pushing for the past couple of years, through our strategic action plan, the whole partner or perish aspect. The flagships themselves are significantly focused, major initiatives, requiring extensive collaboration.

Michael Borgas, CSIRO staff association president noting that the Flagships account for 9% of CSIRO's 2004/05 budget: The whole of the CSIRO is in desperate need of funding, not just the flagship program ... CSIRO is losing science capability right now.

Virginia Walsh, Executive Director of the Group of Eight: The big question is: 'Is it enough?', and in our analysis it is not enough to maintain quality research in universities, with quality laboratories and quality libraries. It's fairly clear from material released to date that we are not going to be any better off.
It's important [that research expenditure be proportionate to GDP] because it's a scene setter ... R&D is the key factor to future economic success, it's not about universities pursuing a self-serving agenda simply to secure more funds. [BAA 2 will not keep pace with GDP]

David Gelb, KPMG research and development partner: Clearly there has to be limits to government funding to support every single [university research] project or idea. There's a clear trend towards universities forming their own spin-off companies to enable public researchers to access private investment to accelerate their path to commercialisation.
The critical question is whether BAA2 is enough funding and whether enough Australian companies will be able to benefit from the program.

Stephen Horton, President of the Council of Australian Postgraduates Association referring to the Cooperative Research Centres being "refocused to generate industrial, commercial and economic outcomes": I think the Government's only interested in trying to make a quick buck from commercialisation, even though scientists keep trying to tell them that without adequate funding for basic research, commercial benefits are extremely limited ...by cutting back on the basic research the Government is actually limiting opportunity for commercial development. New innovation is not being encouraged.

Senate to Scrutinise Chief Scientist. (May 12, 2004)
The Senate yesterday (Tuesday) supported a Greens' motion for an inquiry into the functioning of the office of the Chief Scientist with particular reference to potential conflicts of interest arising from Chief Scientist Robin Batterham's employment as Chief Technologist for the coal and mining corporation, Rio Tinto.
The Full text of the Senate motion -
That the following matters be referred to the Employment, Workplace Relations and Education References Committee for inquiry and report by 24 June 2004:
(a) the functioning of the Office of the Chief Scientist;
(b) potential conflicts of interest arising from the dual role of the Chief Scientist; and
(c) examine the development of criteria for the appointment of the Chief Scientist through legislation.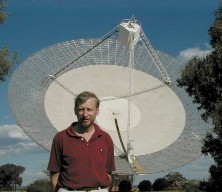 CSIRO and Dick Manchester's Pulsars. (May 11, 2004)
While Australian Governments both Coalition and Labor have pushed CSIRO ever more forcefully in the direction of what it perceives to be research for immediate commercial gain with a minimum budgetary expenditure, so far with at best mixed evidence of success, brilliant fundamental research goes virtually unnoticed by CSIRO's executive and communications sections -- it is certainly unsung.
An outstanding example is the work of Australian Federation Fellow, Dick Manchester, and his Pulsar - Supernova Remnant group (pulsars are believed to be rotating neutron stars formed in supernova explosions) at CSIRO's Australia National Telescope Facility. Manchester and his students are currently working on such projects as the fluctuation properties of pulsar radio emission and the galactic distribution and evolution of pulsars. As Manchester points out, "the Parkes multibeam pulsar surveys have been outstandingly successful, discovering more than 800 pulsars in the past five years or so, more than doubling the number of known pulsars," and he considers "the 'jewel in the crown' of the Parkes surveys is the recently discovered double-pulsar system, the first such system known. [Its] an excellent system for tests of theories of relativistic gravitation."
As Manchester says in the summary of his recent review for Science "[Pulsars] are valuable tools for investigations into topics such as neutron star interiors, globular cluster dynamics, the structure of the interstellar medium, and gravitational physics, which places Manchester at the cutting edge of attempts to bring gravity out from the cold with regard to relating it to the strong, weak and electro-magnetic forces.

The Thwarting of Ottoman Science. (May 11, 2004)
Ziauddin Sardar reviewing in Nature Ekmeleddin Ihsanoglu's Science, Technology and Learning in the Ottoman Empire makes the observation with regard to the demise of science in the Ottoman Empire that contrary to the common western perception which places the "blame on Ottoman educational institutions and traditional religious scholars ... [i]t was the defeat of the Ottoman army at Vienna in July 1683 that changed things radically. From this point, the Ottomans... slowly became convinced that to master the techniques of modern warfare, they needed not just to embrace Western science but speed up the transfer of technology from the West... with the emphasis on applied rather than theoretical science. Ihsanoglu suggests that it is the neglect of theoretical science, in particular physics and chemistry, that eventually thwarted the development of Ottoman science in the nineteenth and twentieth centuries."
Not to worry, that was then this is now so what relevance to Australia's future?

Responses to the Suggestions Produced by Three Reviews Instituted by the Minister for Education, Science and Training. (May 10, 2004)

In 2003 Brendan Nelson as Minister for Education, Science and Training ordered three reviews carefully supervised by his department:

▪ Evaluation of Knowledge and Innovation Reforms Consultation Report

▪ Review of

Closer Collaboration of Universities and Major Publicly Funded Research Agencies

▪ Final Report of the National Research Infrastructure Taskforce.

The minister's promised responses to the suggestions (recommendations) made in those reviews were published today but are rather an anticlimax, coming after Prime Minister John Howard's announcement of the Backing Australia's Ability 2 funding package, which shows the Coalition Government's reluctance to cut the universities' and government research institutions' water off but also its unwillingness to up support to even approach a level commensurate with OECD and EU aspirations for the end of the decade.

In addition the Government's myopic vision of research and innovation is re-emphasised with the drive toward immediate gain from investment in research. The lack of any significant understanding that a sound long-term research and development program for a nation requires an infrastructure of well resourced first-class basic research to sustain it has never been more evident. Whether or not a Labor Government, were it to assume office, would significantly extend governmental vision is a moot point; the continued lack by its leader to promulgate a research and higher education policy should give pause.

Adequate Resourcing for Higher Education and Research for the Public Good? Don't be Stupid, There's an Election in the Offing. (May 8. 2004)
Aban Contractor had a bit of a ring around following the Prime Minister, John Howard's, announcement of Backing Australia's Ability 2 and got an earful. A lopsided use of resources to extract "money from new ideas would not save the science and innovation sector, or necessarily result in great discoveries, scientists warned yesterday."
Peter Doherty, Australia's 1996 Nobel Laureate in Medicine or Physiology: Science is not just about translating research into short-term commercial reality. The way real innovation happens in science is people go out and make discoveries.

Ian Chubb, ANU Vice-Chancellor and Group of Eight Chairman: At around $1 billion per year for five years the package maintains government support at its current levels and, compared to other countries, will essentially see Australia treading water in its research capacity and innovation over the next five years.
Contractor reports that "A spokesman for the Minister for Education, Science and Training, Brendan Nelson, said the Australian Research Council would receive $1.19 billion more over four years, beginning with $286.8 million in 2007-08 and rising to $307.9 million in 2010-11." However, the spokesman neglected to add for some reason that that amount would barely keep pace with inflation.
---
Tony Staley, former Liberal Party national president and current president of the Australian Photonics Co-operative Research Centre: [The Centre is] one of the real successes of university/industry collaboration, [and the rejection of renewed funding is] indefensible.

Peter McGauran, Federal Minister for Science: Arrangements have been made to meet with the CRC for Photonics as soon as possible. Until then I have no comment to make, except there is no provision for appeal in the program's guidelines, and that should be known by all applicants.
And finally for comic relief Dr Nelson, who doesn't appear to have quite the same take on the situation as Professor Chubb. A media release from his department yesterday says: The reforms to university research funding flowing from the reviews I commissioned last year, together with the massive funding boost announced by the Prime Minister, will ensure that Australia's universities will continue to lead the world in their research efforts and make a major contribution to the welfare of Australia as a whole.

Redesigning Undergraduate Science Education -- Harvard Signs Up. (May 7, 2004)

There have been significant rumblings in US academe that all is not well in the realm of teaching science to university undergraduates.
Today's issue of Science reports, "The reform movement is driven by concern that many undergraduates are turned off by their science courses and leave school without an appreciation for research." To remedy the problem several notable research universities are taking remedial action. In March last year TFW reported, "Science Appreciation to Become Part of Columbia University's Core (Required) Curriculum."
The University of Michigan, Ann Arbor, is one of a number of universities experimenting with greater undergraduate involvement in research projects though we should point out the Stanford, for example, has been doing so for well over half a century. And in a move that would be expected to gladden Brendan Nelson the "University of Wisconsin, Madison, has restructured its tenure and merit-pay criteria to encourage better science teaching."
Now Harvard has brought its prestige to the effort. Last month it issued the 67 page, 58 recommendation document, A Report on the Harvard College Curriculum Review.
According to Science, the review recommends "that all undergraduates take one interdisciplinary course in life sciences and one in physical sciences, rather than the current system of choosing an introductory course in one of the two fields. 'This is a significant new emphasis on educating all students,' says Harvard biologist Richard Losick, who was involved in the study. 'This will be real science teaching, not the history of science or science for poets.'"
As a next step a science working group will be appointed to come up with a detailed science curriculum which will almost certainly set up mechanisms for those majoring in science to be given more opportunity to experience how science is conducted by working in research laboratories.
And Peter Bruns, vice president for grants and special projects at the Howard Hughes Medical Institute told Science, "This is terrific and about time, since we live in an increasingly scientific world."
HHMI has funded efforts to improve undergraduate education for several years now and has been a strong advocate for the importance of the enabling sciences for biological and medical researchers.

Australian Academy of Science Gives Cautious Praise for Backing Australia's Ability - 2 (May 7, 2004)
Spokesman Professor Kurt Lambeck said today that the continuation of the Backing Australia's Ability program for a further five years sends a strong signal that the critical importance of longer-term, strategic investment in science is now recognised at the "highest levels" and went on to say,
[I]t is heartening that the views of the scientific research community have been heard.

However, the benchmark of total government investment in R&D as a percentage of GDP will not be known until next week's budget announcement. The Academy is in agreement with the Federation of Australian Scientific and Technological Societies that this is the real performance measure.

For the last decade, the gap between Australia's gross expenditure on R&D and the OECD average has continued to widen and this is an issue that Australia must address.
The Academy's assessment is surprising on several counts:
Two days ago the President of the Academy, Jim Peacock, told The Australian, "If you attempt to lay unique emphasis on innovation in industry without taking care of the discovery process, it's a short-term view." And yet the figures released by the Government yesterday show clearly that Australian Research Council funding over the whole of BAA-2 will barely keep pace with inflation let alone with expected changes in GDP.
Outside of medical research, the ARC is virtually the sole funding body for basic research in Australia.

Overall Federal Government funding for the Collaborative Research Centres (CRCs) will decrease principally because of a $45 million funding reduction to $152 million in 2010-11.

While the Academy reserves judgement because, "the benchmark of total government investment in R&D as a percentage of GDP will not be known until next week's budget announcement," the National Tertiary Education Union released figures yesterday in which it estimates that the percentage of GDP that BAA-2 will command will drop from a high of 0.126% (2005-06) to 0.101% (2010-11).
So far, all things considered, the AAS doesn't come across as a strong advocate for Australian science -- and certainly not for basic research, despite Dr Peacock's earlier admonition.

Griffith University's Gavin Moodie Writing in The Australian Claims the Australian Vice-Chancellors' target of 2% GDP for R&D by 2010 is "Unrealistic and Fanciful". (May 5, 2005)
Opening his opinion piece in the Higher Education Section of the May 5 Australian with "SCIENCE and innovation are likely to win a continuation of the level of funding set for the last year of Backing Australia's Ability in 2005, but vice-chancellors' fanciful bid for extra funding will not succeed."
More than likely, but the tenor of Moodie's essay is one of abject resignation and he seems oblivious of the current support for R&D in our cohort OECD nations with a mean already well above 2% and a stated goal of 3% by 2010, a decade in advance of that "unrealistic and fanciful" AVCC suggestion -- at least he makes no mention of it. It's rather like Ian Thorpe falling into the pool and deciding to just lie there and drown. Moodie even suggests that just desiring that the government maintain its contribution at a sustained percentage of GDP is over the top.
That said, he has one very good point, "the AVCC hasn't told the Government how the extra funds would be spent." And they should. If the AVCC wants to be taken seriously by the Australian public it's past time that they and the Group of Eight got down to it and did their homework. In short, What's your business plan?
Interestingly, the guy heading Australia's highest placed university, 49th in the top 500, ANU's Ian Chubb, has shown a first step by setting up an arms length objective review to determine what's good and what bad at ANU, presumably accompanied with recommendations.

"If You Attempt to Lay Unique Emphasis on Innovation in Industry Without Taking Care of the Discovery Process, it's a Short-term View." (May 5, 2004)
So the President of the Australian Academy of Science, Jim Peacock told The Australian today. He went on to add, "To me the underlying engine of [profitable] innovation is discovery."
For an Academy President who has been virtually silent regarding Government science policy since assuming the office two years ago these are strong words; although it must be said Dr Peacock gave no details as to what he would consider appropriate governmental support for "discovery" science.
It remains to be seen whether or not Dr Peacock will amplify his views during the forthcoming 50th anniversary meeting of the Academy to be held over this weekend.

Applications for Undergraduate Places, Who Can't Count? (May 5, 2004)
According to the National Tertiary Education Union the Minister for Education, Science and Training, Brendan Nelson, refers to "double counting" in his analysis of the Australian Vice Chancellors Committee's (AVCC) report on applications for undergraduate places at Australian universities.
On April 30 the Australian Vice-Chancellors' Committee issued a media release stating, "Some 63,329 applicants did not receive an offer in 2004. That is, for each 100 applicants, 28 were unsuccessful in getting an offer. This maintains the high level reached in 2003. The 'unmet demand' range for 2003 was 18,700 to 25,700 while it 2004 it is 19,200 to 24,300."
Dr Nelson countered the AVCC's assessment by pointing out that the Government' s Backing Australia's Future package "provides more than 34,000 more places for students by 2008", thereby overcoming the shortage by 2008.
Not so says Carolyn Allport, President of the National Tertiary Education Union:
While the Minister explicitly refers to "double counting" in analysing student demand, he fails to take account of his own double counting in relation to the number of new university places Backing Australia's Future will deliver.

What Dr Nelson has failed to do is to allow for the fact that of his 34,000 so-called new places, 25,000 will involve the conversion of already existing marginally funded (over enrolled) student places to fully funded places.

Therefore, allowing for double counting, the net increase in government places is in fact only 9,000.

Furthermore, there was a total of 33,600 over enrolled students at Australian universities in 2003, of which only 25,000 will be converted to fully funded places, leaving a shortfall of 8,600 places.

In other words, the net increase in student places will in effect be more like 400 rather than the 34,000 claimed by the Minister.

The Minister's comments today also fail to acknowledge that the level of unmet demand has been increasing steadily since 1998.

Given the fact that the 15-17 year old population is expected to increase until 2010, future levels of unmet demand will increase, further widening the gap.

The Government's real agenda seems to be to offer students the opportunity to buy full-fee places at a cost of up to $100,000 per degree, by offering them the opportunity to borrow funds through FEE-HELP which attracts a 20% up-front administrative charge.
So far Dr Nelson has not rebutted Dr Allport's analysis. For a man who takes pride in quoting statistics to support his position that's surprising, or perhaps not.

Who Advises Australia's Chief Scientist? (May 4, 2004)
In February this year TFW's editorial observed:
The strong and current connection of Australia's Chief Scientist with one of Australia's largest corporations which states, "Major products include aluminium, copper, diamonds, energy products (coal and uranium), gold, industrial minerals (borax, titanium dioxide, salt, talc and zircon), and iron ore," has led to published perceptions of possible conflicts of interest as regards the advice he gives to the Australian Government particularly in the case of deep subterranean sequestration of CO2 from the burning of fossil fuels. This was the essence of material aired by ABC-TV's 7:30 Report on August 12, 2003. It left Dr Batterham in less than a favourable light.
Recently in an address to Universitas 21 held at the the University of Queensland Dr Batterham described his role:
To advise the Australian Government on science issues including, among others:

Mapping Australia's Science and Innovation System

Executive Officer for Prime Minister's Science Council

Chaired the consultative panel for the National Research Priorities
Now the leader of the Greens, Senator Bob Brown has released a table that needs little additional explanation
As Michael Lardelli demonstrates in his current Viewpoint quite apart from the environmental impact of the Federal Government's energy policies the shortsightedness it demonstrates with regard to world's finite supply of petroleum and natural gas will become increasingly detrimental to the long term well being of the nation.

Is the US Dominance in Science Declining? (May 3, 2004)
On April 22 Thomas Friedman writing in the The New York Times' said,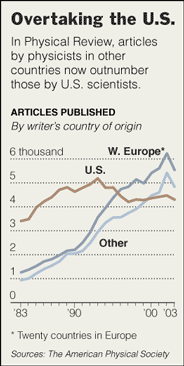 "we are... in the middle of two struggles right now. One is against the Islamist terrorists in Iraq and elsewhere, and the other is a competitiveness-and-innovation struggle against India, China, Japan and their neighbors. And while we are all fixated on the former (I've been no exception) we are completely ignoring the latter." In support he quoted Craig Barrett, C.E.O. of Intel. (See N&V April 26, below).
Now the Times' William Broad has written a feature headed "U.S. is Losing its Dominance in the Sciences".
Foreign advances in basic science now often rival or even exceed America's, apparently with little public awareness of the trend or its implications for jobs, industry, national security or the vigor of the nation's intellectual and cultural life.
Broad observes that the US still wins the lions share of patents but its share is falling and now stands at 52%. He then goes on to point out a steep relative drop in US scientists' published research, using papers published in Physical Review as an example. "Last year the total was just 29 percent, down from 61 percent in 1983." And the chart on the left shows that the absolute numbers of papers accepted from US researchers has declined from the mid-90s and virtually plateaued since 1998.
The editor of the Physical Review Journals, Martin Blume, told Broad that China now submits more than 1,000 papers a year and other journal publishers are seeing much the same sort of change.
What is not clear from the figures is how much of the change is a reflection of a marked increase in scientific effort by western Europe and the Asian "tigers" causing an increase in research quality as well as quantity and therefore becoming increasingly competitive in gaining journal space.
Concurrently, the US is becoming less attractive to foreign doctoral candidates and postdocs, and as Friedman put it as a result the US' "ability to skim the cream off the first-round intellectual draft choices from around the world" is suffering.
The current president of the American Association for the Advancement of Science, Shirley Ann Jackson, among others, has pointed to the drop in foreign students and the decline of US youngsters interested in careers in science. "Who will do the science [for us in] this millennium?" she asked those attending her lecture.
In the meantime Australia has done little to take advantage of the US problems, which currently are being exacerbated by the Bush administration. There is little if any indication that our Federal Government accepts the importance of a sound foundation for national fundamental research and the resourcing of those who practice it in order to underpin Australia's applied science and desire for innovative development.
Foreign advances in basic science now often rival or even exceed America's, apparently with little public awareness of the trend or its implications for jobs, industry, national security or the vigor of the nation's intellectual and cultural life.

---

A Report Launched by Minister for Education, Science and Training Brendan Nelson Says Bluntly Australia is a Slow R&D Coach. (May 1, 2004)
Brendan Nelson was in Melbourne last Thursday and took time out to launch a report just released by the Committee for Economic Development of Australia Innovating Australia. According to the Committee, "the report argues for new policy measures to enhance Australia's innovation capabilities in order to build global competitiveness in high-tech, science-based industries."
According to the overview of the report, which consists of a number of independent contributions, Harvard's Jonathan West argues that a deeper, more refined understanding of the importance of participation in the science based industries, and of the distinctive risk-reward structure that drives successful innovation, is essential if Australia is to fully capitalise on emerging opportunities [our emphasis].
The report also points out that "the international orientation of Australian firms remains worryingly low in comparative perspective. For example, only 4 per cent of Australian firms are regular exporters, compared to the Canadian outcome of 16 per cent, which is the next lowest among OECD states." However, perhaps more disturbing is Don Scott-Kemmis assessment that, "Whereas most countries have become more specialised over the past 20 years, Australia's level of specialisation has remained more or less constant -- agriculture, primary metals, mining, and oil and gas, [and] Australian inventions are focused on areas where technological change is relatively slow."
Scott-Kemmis who joined the Australian National University's National Graduate School of Management in 2000 to establish the School's Innovation Management Policy noted that Australia had not specialised in the way of Finland and Sweden in telecommunications research; Korea and Taiwan in semiconductors, and Germany in motor vehicles; with one exception -- the wine industry. He went on to say that public-sector research organisations remained focused on traditional fields of science, while the business sector was increasingly focusing on engineering and computer software.
Another concern was industries' lack of participation in scientific papers -- 2 per cent in Australia, compared to 9 per cent in the US.
Scott-Kemmis also focused on the marked dispersion of Australia's innovation systems which limited the scope for economies of scale in innovation. "The significance of barriers to focus, critical mass and effective interaction is generally underestimated."
A key point reported by Peter Roberts of the Australian Financial Review was that "Pro-market economic policies are holding back innovation." Nothing reported about the forthcoming Federal Budget suggests an alteration from the policy which was dubbed some years ago as steady as she sinks.
It's not surprising that Dr Nelson didn't issue a media release highlighting his presiding over the launch.
---

The American Physical Society's Bob Park Asks if NASA is Becoming Just a Theme Park? (May 1, 2004)
For a million years our species was confronted with a world we could not hope to understand. Now, almost within the span of a single human lifetime, the book of nature has been thrown open. We aspire to solve the great mysteries: dark matter, dark energy, why there is mass, the big bang, and the origin of life. We long to know. Instead, according to the New York Times, experiments to unravel these great mysteries have been assigned low priority, along with anything that has to do with global warming. http://www.nytimes.com/2004/04/27/science/space/27NASA.html. This will allow NASA to focus its resources on human exploration, pandering to a public weaned on Star Trek. NASA's priorities will delay real exploration by decades, vastly increase costs, and put lives at risk. You might suppose NASA would hold off until the President's Commission on Moon, Mars and Beyond makes its report in June http://www.aps.org/WN/WN04/wn041604.cfm . The Moon/Mars Commission, was apparently mere window dressing. The only appeal open to scientists is to members of Congress.