Four Years Down the Slope Will the Group of Eight Have Any Greater Influence Than it Had in 2000? (April 30, 2004)
In 2000 the Group of Eight (Go8) analysed Australia's research and development performance and concluded the Government needed to invest an additional $6.75 billion over 5 years from 2001 to 2006 just to reach the average investment of other OECD countries.
It hasn't.
This past Wednesday the Go8's Chair, Professor Ian Chubb said, "The next round of research funding must provide significant additional funding if we are to survive in a competitive international research environment," and went on to point out that Backing Australia's Ability falls well short of what is needed just to reach the OECD mean. "At best, it has served only to halt the rate of decline in Australia's investment in research."
While our cohort nations a talking up a goal of 3% of GDP for R&D by 2010 The Australian Vice-Chancellors' Committee advocates reaching that goal a full decade later and the Go8 concurs.
It sets one to wondering what our sports obsessed politicians would consider to be acceptable were the Australian Institute of Sport to set itself goals to achieve world class but 10 years behind our country's peers.

ETH Plans Cfr 400 Million "Science City". (April 30, 2004)
In an ambitious effort to solidify its status, Switzerland's Zürich based Federal Institute of Technology (ETH) last week announced plans to build an A$430 million high-tech campus. "This is one way to remain in the top 10," ETH president Olaf Kübler said. The proposal calls for funding by the government and private donors.
The modular "Science City" is to house 480 researchers and 750 students drawn world-wide as well as providing incentives for retaining young talent. The "City" is scheduled for completion in 2010, but some labs are expected to open sooner.

University of New South Wales Beats 15 Rivals to Open First Singaporean Foreign University Campus. (April 30, 2004)
UNSW willingness to augment teaching "with a strong R&D focus," won it the contract said a spokesperson for Singapore's Economic Development Board, which will help fund the project.
About one-third of the planned 15,000 students are expected to be Singaporean, predicts UNSW administrator John Ingleson. Faculty members will be expected to do research and compete for Singapore's growing pot of research funds. The first $70 million phase of the campus, to be built on land leased from Singapore, is scheduled to open in about three years.
The UNSW campus will emphasis biotechnological and related research fitting in with Singapore's strong emphasis on the area. How sensible this is, should it lead to the exclusion of significant support for the enabling sciences and fundamental biological research remains to be seen.

Finland, Denmark & Sweden Top US Score in World Economic Forum's "Competitive Index". (April 27, 2004)
According to information released today by the World Economic Forum a number of the 15 current European Union members are not pulling their weight although it is four years since EU leaders declared their desire to make the European Union the most dynamic, knowledge-based economy in the world by 2010. The Lisbon Review 2004 assesses the progress made so far by assessing eight criteria:
1. Creating an information society for all
2. Developing a European area for innovation and R&D
3. Liberalization (completing the single market; state aid and competition policy)
4. Building network industries
5. Creating efficient and integrated financial services
6. Improving the enterprise environment
7. Increasing social inclusion
8. Enhancing sustainable development
The three Scandinavian members (Norway is not an EU member) top the list and in fact are the only EU countries to score better than the US.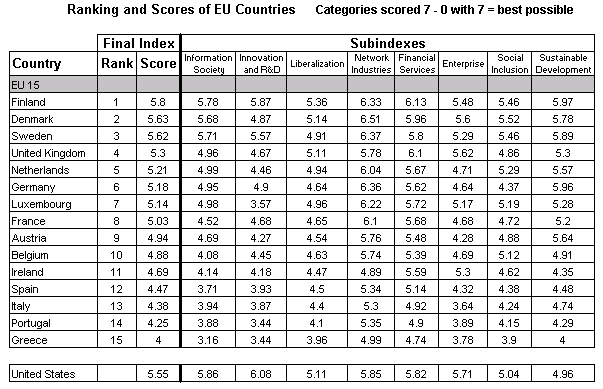 A full discussion of the 2004 Lisbon Review is available online and includes the analyses of all twelve of the potential accession countries as well as the original 15 shown in the table above.
This year's analysis for Australia is not yet published but last year in the group of eighty nation's reporting Australia ranked 10th overall and would have come in the top five in the table above.

Basic Research Gets the Nod from The New York Times and Intel. (April 26, 2004)
New York Times columnist Thomas Friedman has a hat trick of Pulitzer Prizes for international reporting and commentary. However, political international affairs weren't on the agenda last Thursday (April 22) when he wrote, "we are... in the middle of two struggles right now. One is against the Islamist terrorists in Iraq and elsewhere, and the other is a competitiveness-and-innovation struggle against India, China, Japan and their neighbors. And while we are all fixated on the former (I've been no exception) we are completely ignoring the latter." Friedman is concerned that he noted in discussions with Silicon Valley executives "something I hadn't detected before: a real undertow of concern that America is losing its competitive edge vis-à-vis China, India, Japan and other Asian tigers, and that the Bush team is deaf, dumb and blind to this situation." One point: it has become increasingly difficult for "legitimate foreigners to get visas to study or work in America [and] many have given up the age-old dream of coming here. Instead, they are studying in England and other Western European nations, and even China."
As a result the US' "ability to skim the cream off the first-round intellectual draft choices from around the world" is suffering. Furthermore, other Valley bosses pointed out to him "the percentage of Americans graduating with bachelor's degrees in science and engineering is less than half of the comparable percentage in China and Japan, and that U.S. government investments are flagging in basic research in physics, chemistry and engineering."
And Friedman then brings up his big gun, Craig Barrett, C.E.O. of Intel, which sponsors an annual international science competition. Barrett told him that during a recent trip to China "I asked them how many kids in China participated in the local science fairs that feed into the national fair [and ultimately the Intel finals]. They told me six million kids." The US had 50,000. Of course they may have exaggerated but Barrett said bluntly "We are not graduating the volume [of scientists and engineers we need], we do not have a lock on the infrastructure, we do not have a lock on the new ideas, and we are either flat-lining, or in real dollars cutting back, our investments in physical science."
Friedman concludes, "The only crisis the U.S. thinks it's in today is the war on terrorism, Mr. Barrett said. 'It's not.'"
Meanwhile, the American Physical Society's man in Washington, Bob Park reports:
On Tuesday at the [US] National Press Club, a group of industry and academic leaders held a Press Conference to launch a campaign to reverse the decline in federal investment in basic research in physical sciences and engineering. The group, which ranged from Craig Barrett, CEO of Intel, to Rick Smalley of Rice University, 1996 Nobel Laureate in Chemistry, linked basic research funding to economic growth and jobs. Thursday, AAAS issued an analysis showing that the proposed Bush budget for the next five years would cut funding for research at 21 of 24 federal agencies.
One of Australia's leading researchers in the enabling sciences told TFW last week, "Of course, Australia has long since cut itself off from most young, foreign talent. But now we have some real opportunities, to take the people the US is refusing."
Here is an outstanding chance for the Department of Education, Science and Training to get real with regard to upgrading Australia's research universities which are the foundations of our science and engineering and attracting some of those "first-round intellectual draft choices from around the world", but it's not happening -- all we get is straight-jacketed reviews and resource allocations allowing our institutions to remain running on the spot.


British Library Accomplishes Brilliant Public Relations Triumph. (April 22, 2004)

Entitled Turning the Pages the British Library's web site has just introduced its new online system to allow browsers to "leaf through" (wind through a scroll in one case) some of its most valuable and beautiful books. Currently sections of ten of its rarest books are available and range from Vesalius' Anatomy, through the Lindisfarne Gospels, Sultan Baybars' Qur'an to Leonardo's Notebook. There can be little doubt that the image of the Library in the eyes of the general public will gain greatly which will do it no harm when it comes to garnering funding. The British-Library-designed software has now been made available to interested libraries worldwide.
Over the coming years the size of the sections included will increase, as will the number of selections available, and with increasing availability of greater bandwidth so will be the resolution of the images available for downloading.
While the site is best accessed through a broadband connection, 56K dialup connections are quite serviceable.

Shhh, Confidential Cabinet Paper: Science and Medical Research Spending "Dangerously Low" -- "Well Below Other Western Countries". (April 21, 2004)

Who would have ever thought it? It must have been a shock revelation, "gob-stopping" as it were, to members of Prime Minister John Howard's Cabinet.
But there's more, Aban Contractor reveals in her article in today's Sydney Morning Herald that the briefing paper states, "Australian expenditure on research continues to decline in comparison to our international competitors. ....The OECD average GERD [Gross expenditure on R&D] per GDP has increased steadily since 1990-01, and thus the gap between Australian expenditure on R&D and the OECD average has widened considerably," and refers particularly to the period from 1996 on.
While it has been rumoured that the Coalition intends to increase funding for research in the coming pre-election budget just how significant it will be, particularly in comparison to our cohort of nations, is problematic. There is a question as to whether or not the famous John McEnroism, "You can't be serious," will be appropriate.
And while Labor has yet to produce any significant policy document regarding research and development, scientific, medical or otherwise, Kim Carr, Labor's industry, science and research spokesman told Contractor, "We've suffered a major brain drain, our economy is facing stiff competition and our standard of living is at risk. If we don't invest heavily in R&D to improve productivity we face a bleak future. The Government wants to spend money on short-term tax cuts at the expense of the long-term future of the country."
The Australian Vice-Chancellor's Committee CEO, John Mullarvey, reiterated his earlier comment that the government would have to invest $1 billion per annum for the next five years just to keep running on the spot.
Meanwhile universities are becoming increasing windy about the Minister for Education, Science and Training, Brendan Nelson's reticence regarding his promised indexation review. Without that promise the independent Senators would not have voted for his higher education reform bill.
The author of HECS, Professor Bruce Chapman has told The Australian,"With wages and related benefits making up around two-thirds of university costs, it is clear that for the sector to maintain quality and quantity of their output there would need to be a commensurate change in revenue when wages increase.
"This means that every year that a university's enterprise bargaining agreement delivers an increase in average remuneration roughly in line with professional or other earnings in the community is also a year the university experiences an effective cut in real government support."
And just to keep the record straight, the 25% increase in course fees permitted by Dr Nelson's reform bill comes nowhere near making up the difference.

"It's a Great Day for French Science." -- Alain Trautmann, Leader of Save Research. (April 15, 2004)
Two-and-a-half weeks ago, following a stinging repudiation of candidates of French President Jacques Chirac's conservative party in regional midterm elections, a cabinet reshuffle saw François Fillon, installed as minister for education, higher education and research, while François d'Aubert, became junior minister for research. The next day Chirac publicly disowned the research policies of his previous government and declared the scientists' protests "justified".
Now Nature reports that following "negotiations last week with representatives of the scientific community, Fillon and d'Aubert announced a series of emergency measures for research, including the scientists' key demand of 550 new full-time research posts for young scientists. The government also agreed to a further 1,050 university posts -- 300 immediately and 750 in January 2005." The government had already agreed to "unfreeze" €294 million from the 2002 and 2003 budgets and reinstate 120 full-time civil service jobs.
Fillon intends to place before the French parliament by the end of the year planned reforms and a revised funding plan for French research and pledged that the scientific community will be consulted in drafting the reforms.
A jubilant Alain Trautmann told Nature, "We got exactly what we demanded."

CSIRO's Appointment of Former Tobacco Lobbyist Becomes International News. (April 14, 2004)

Immediately on the heels of Australasian Science publishing an editorial and a feature article by Peter Pockley in its April issue expressing concerns about the Commonwealth Scientific and Industrial Research Organisation appointing Donna Staunton to the position of Director of Communications, Ian Lowe, in the April 10th New Scientist writes, "A STORM has broken out around the CSIRO's decision to appoint a corporate lawyer with a history of defending tobacco as its director of communication." Lowe clearly believes the decision was unwise.
A comment by Ms Staunton on February 3, 1995 to a Senate Community Affairs References Committee has now come to dog CSIRO's administration.
I do not think smoking is addictive on any reasonable definition… If it means that tobacco smokers would become physically dependent, like heroin users, then tobacco smokers are not addicted.
It is of course not illegal for tobacco products to be sold to Australian adults and Ms Staunton is well within her rights to express her view regarding the lack of addictiveness of smoking -- incorrect as it has been shown to be -- but as Dr Pockley points out in his Australasian Science article, Ms Staunton is also "unqualified in science and its communication... It was a great leap of faith [by the CSIRO executive] to believe that anyone who can produce no evidence of publicly communicating the nature and value of science can be discriminating over scientific content and can advise and edit the work of others." And Lowe cites Australasian Science in associating Staunton's increasing influence on communications "with a worrying trend in CSIRO's media activity. A survey [Pockley's

] shows that now only 4 per cent of CSIRO media releases are concerned with research published in peer-reviewed journals."
Pockley opines, "It is puzzling why [CSIRO Chief Executive Geoff] Garrett imagines that CSIRO's salvation was to put their public presentation in the hands of someone whose tobacco industry connection had the potential to become an ongoing story in itself and a source of distrust within the organisation."
And it would seem further ill-conceived because Preventative Health is given pride of place by CSIRO in vaunting its seven National Research Flagships. "Preventative Health aims to improve the health and well-being of Australians and save $2 billion in annual direct health costs by 2020 through the prevention and early detection of chronic diseases."

The "Strategy" of Federal Support for Science. (April 14, 2004)
Don Watson in his book Death Sentence has this final example, from the Department of Finance, of violence done to the English language.
Given the within year and budget time flexibility accorded to the science agencies in the determination of resource allocation from within their global budget, a multi-parameter approach to maintaining the agencies' budgets in real terms is not appropriate.
So all you researchers can now bloody-well stop whinging.

What Price 0.51%? It's the Question Obscured Behind Melbourne University's 25% Increase in Fees. (April 8, 2004)

The University of Melbourne's Vice-Chancellor, Professor Lee Dow has followed his predecessor Alan Gilbert in stating that to improve the quality of higher education in Australia without looking towards student sources was next to impossible. He told the Australian's Louise Perry, "[I]nstitutions will do with less and the quality will suffer" if additional funds through student sources were not forthcoming.
He added, "And what you'll see is further departure of top-flight staff to the US and you'll see the closing down of departments in areas that are unable to attract large numbers of students. That kind of regressive situation is a very real prospect if you can't find the money from somewhere." And therein lies the rub -- where's the somewhere?
It's an interesting take on the situation when you analyse the figures involved. According to a Melbourne University spokesperson, "additional revenue from changes to student contribution rates will be $5.4 million in 2005 rising to $19.4 million in 2010." Of the $5.4 million $2.34 will be spent on Access Melbourne which is to provide assistance for 1000 less advantaged students, and 200 HECS exempt scholarships plus $2000 a year for four years, for these students. The sum required will rise to constant $6.44 million by 2008.
The remaining additional revenue will be used to assist in funding additional staff to maintain current student / staff ratios as well as "increased access to library materials, additional student computer laboratories, and enhanced student services."
The university's 2003 annual report lists its budget at $1006 million. Figures for the 2005 budget are not yet finalised but it is not unreasonable to estimate it to be near $1050 million, so that the fee increases will add just over 0.5% to the university's 2005 revenue and if expectations are realised, that will rise to a maximum of about 1.4% of annual budget requirements by 2010.
It is not at all clear, particularly in light of the designated allocations, how sufficient funds will become available from the fee hike to redress "further departure of top-flight staff to the US [together with] the closing down of departments in areas that are unable to attract large numbers of students," let alone attracting and sustaining a critical mass of top flight academics from overseas.
According to the university's spokesperson Commonwealth funding to the University of Melbourne has been in decline since 1996 and it will receive $65 million less this year than if funding had continued on the pre-1996 basis.
Will $5.4 million in 2005 and even $19.4 million by 2010 really achieve a revitalising of the university? The recent survey by Shanghai Jiao Tong University's Institute of Higher Education ranks Melbourne 92nd well behind ANU (49) the only other Australian university in the top 100.
The manipulation and restructuring of university fees, whether it is by Melbourne University or any other within or outside the Group of Eight, is deriving a few drops blood to overcome severe chronic blood loss and that is the reality. Whether or not the Australian Vice-Chancellor's Committee is prepared to accept it and say so loud and clear, that's another matter.


French Scientists and Elections Force Apparent Chirac Back Down. (April 8, 2004)
The following item is taken from this week's Nature.
[PARIS] French president Jacques Chirac performed an about-face last week, intervening to defuse protests by researchers over job and budget cuts. Speaking on television after the ruling conservatives' defeat in regional elections (see Nature 428, 454; 2004), Chirac disowned the research policies of his previous government, criticizing the "insufficiency of resources" and declaring the protests "justified".

In a government reshuffle on 31 March, Chirac nominated François Fillon as minister for education, higher education and research, and François d'Aubert as junior minister for research. Fillon and d'Aubert, who held the same positions during the 1990s, met research leaders last Friday, and an announcement on the protestors' key demand for posts for young scientists is expected this week. Chirac said he had told the government to re-examine this issue, and that the problem would be solved.

White House Issues Rebuttal to Allegations of Systematic "Misrepresenting and Suppressing Scientific Knowledge". (April 8, 2004)
George W Bush through his science advisor John Marburger, after seven weeks, last Friday issued a 20 page refutation to the accusations made in mid-February by the Union of Concerned Scientists of the Bush Administration's "misuse of science". In what appeared to be a knee-jerk reaction Marburger had promised Congress, according to Science, a point-by-point response, and another senior official predicted it would "shred" every UCS allegation made in its 49 page statement.
Science concludes, "The 20-page rebuttal--released on 2 April--falls short of that high standard, although it does expose errors and incomplete explanations in the UCS report." And with regard to the Administration's controversial appointments to advisory panels dealing with lead exposure and ergonomics issues, they are dismissed as "rare events."
Harvard's Lewis Branscomb, a signatory of the UCS analysis told Science "I don't detect that [the White House] has acknowledged any problem ... and that's a problem." Branscomb is the Aetna Professor of Public Policy and Corporate Management emeritus and former Director of the Science, Technology and Public Policy Program in the Center for Science and International Affairs at Harvard University's Kennedy School of Government. Branscomb is supported by Sidney Drell, former deputy director of the Stanford Linear Accelerator Center in California, who told Nature that he is "disappointed" by the White House document. "Marburger denies there's a problem," he says, "but there is one."
The recent column (April 6, 2004) in the New York Times by Paul Krugman sheets home the matter regarding the Bush administration's handling of mercury pollution caused by coal burning power plants where "The head of the E.P.A.'s Office of Air and Radiation, like most key environmental appointees in the Bush administration, previously made his living representing polluting industries (which, in case you haven't guessed, are huge Republican donors). On mercury, the administration didn't just take industry views into account, it literally let the polluters write the regulations: much of the language of the administration's proposal came directly from lobbyists' memos."
It's unlikely that the matter is to end here, the Senate Commerce, Transportation, and Science Committee, plans to look into the issue.

Who Said, "There comes a time when ambit claims have to give way to reality"? (April 7, 2004)

So said the President of the Australian Vice-Chancellor's Committee and Vice-Chancellor of Macquarie University Di Yerbury in defending the AVCC's position that a rollover of the final years of the $2.9 billion Backing Australia's Ability funding is its bare minimum negotiating position. Professor Yerbury did also indicate that 1000 more postgraduate places and the removal of disincentives for research such as requirements for universities to match government funding for projects would be desirable.
Remembering that less than a month ago the "Universities Met Parliament" with the V-Cs from most of Australia's 38 public universities present to front the appropriate ministers, shadow ministers and a number of back benchers you might wonder just what transpired and just who put a hammerlock on whom.
The Australian requested comments from spokespersons for the Federation of Australian Scientific and Technological Societies, The Group of Eight and the National Tertiary Education Union.
Snow Barlow, president of FASTS: Simply maintaining the status quo is not acceptable, as that means locking Australian research and development into decline relative to competitor OECD countries.

It is disappointing the AVCC has adopted a position that does not serve the best interests of Australia's science and technology research capability.

Any loss of impetus will be a serious setback for Australia's future capacity to generate wealth and successfully manage environmental and social challenges.

Ian Chubb, chair of the Group of Eight: The position that was adopted by the AVCC in 2003 was a pretty minimalist position.

For us to maintain a serious advantage, you can't just continue the status quo. There's got to be some growth funding and the Go8 would argue a slice of the funding should be delivered in a block grant to the institutions based on their relative quality performance

Carolyn Allport, NTEU president: Just to maintain what we have under BAA would see Australia lose huge amounts of future investment, and added that the union was concerned the AVCC was underselling research.
For Yerbury as President of the AVCC to speak of "reality" as though it ended at Australia's coastline is ludicrous to the point of absurdity. If the OECD already sports a mean of over 2.3% GDP for research and development, and Spain's scientific establishment is calling for a move from 0.9% to 3% by 2010 is Australia to sleep at about 1.5% and be told to flail above its weight. There's something Dickensian in the AVCC's approach:
He rose from the table; and advancing to the master, basin and spoon in hand, said: somewhat alarmed at his own temerity:
'Please, sir, I want some more.'
The master was a fat, healthy man; but he turned very pale. He gazed in stupefied astonishment on the small rebel for some seconds, and then clung for support to the copper. The assistants were paralysed with wonder; the boys with fear.

---

Confederation of Spanish Scientific Societies Joins 3 Percenters. (April 6, 2004)
Under the title "United Front" Science published the following item.
Forty-three Spanish organizations have joined forces to lobby their government to increase funding for science. Last week, the new Confederation of Spanish Scientific Societies, representing 20,000 researchers, chose as its leader Joan Guinovart, a 56-year-old biochemist.

The coalition will press the new Spanish government to raise spending levels for science from the present 0.9% to 3% of the country's gross domestic product by 2010. "Finland and Sweden invest four times more in science than we do," he says. "To get to where they are, we can't be four-fold more intelligent or work four times harder." The three-percent figure is in line with that previously proposed by the European Council in Barcelona just over two years ago.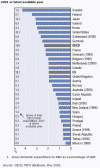 Meanwhile, with Australia's current spending level on R&D at just over 1.5% of GDP the Australian Vice-Chancellors' Committee has called on the Australian Government to lift its game from 1.5% to 2% of GDP for R&D by 2010 and 3% of GDP by 2020. Neither the Coalition government nor the Labor opposition has indicated any goals for R&D support. Perhaps they believe that although the mean of Swedish and Finnish investment in R&D currently sits at over 2.5 times that of ours to get to where they are, we can be 2.5-fold more intelligent or work 2.5 times harder.
Mind you the mean for the thirty OECD countries at just of 2.3% is only one-and-a-half times that of Australia's. Perhaps it's a question of just how far above our weight we can punch.

Congressional Audit and US Generals and Admirals Side With Physicists on Son of Star Wars. (April 1, 2004)
While Australia's Coalition government lines up behind George Bush's national missile defence mirage with Senator Robert Hill as Minister for Defence on point duty, Time magazine reports, "A congressional audit recently found that the system is largely unproved and its technical challenges "remain significant." And now 49 retired US generals and admirals, former chairman of the Joint Chief of Staff, William Crowe among them, voiced the view that until the proposed system's bugs are eliminated, it should be put on hold. Bush's next year's budget calls for US$10.2 billion for missile defence. And to bring home the point the retired brass point out that the origins of missile launches can already be determined and those responsible would be risking retaliatory annihilation with exiting US strike missiles. Of course such an approach lacks the political bravura which appears so desired by a number of current national leaders.
---