Mapping Australia's Science and Innovation System. (March 31, 2003)
Is this review (one of the nine or so DEST has instituted since its gestation) following a roadmap of a dead-end street?
Note this paragraph from DEST's description of the project:
It is expected to highlight the main features of Australia's science, engineering, technology and innovation system and map how the elements of that system interact. It will also identify strengths, weaknesses and gaps in science and innovation performance and complementarities and areas of possible greater cooperation between Commonwealth and State/Territory government activities. While it will lay the groundwork for future policy development, it will not include consideration of policy options (emphasis ours).

Previously The Minister for Education, Science and Training, Brendan Nelson, said, "The [20 parson] Reference Group ...will play an important advisory role on the mapping's scope and methodology and will be responsible for guiding the development of the draft and final reports. ...The mapping exercise will cover key elements of the innovation process including: Australia's ability to generate ideas and undertake science and related research and development; the commercial application and utilisation of research and the frameworks which support it, and the development and retention of relevant skills for science, innovation and enterprise."
However, the reference group, which has just held the second of the three meetings it is scheduled to have, is to act solely in an advisory capacity to the "Taskforce" appointed within the Department.
The reference group is being chaired by the Chief Scientist, Robin Batterham, who told the House of Representatives Standing Committee on Science and Innovation on December 2nd, "I note, looking ahead slightly, that we have an innovation and research mapping exercise that has been announced. I would see this as a fairly important vehicle in helping to partly answer the question you raised [ i.e. are any areas where I see some of the current government programs might be better focused to achieve a better business investment into R&D?].
...The mapping exercise that is coming up should be taken fairly seriously as a way of identifying some strengths and weaknesses and where we might go."
Perhaps it's just a matter how you define "fairly seriously" and "identifying where we might go".

Jeff Harmer Replaces Peter Shergold as Secretary of the Department of Education, Science and Training. (March 31, 2003)
Dr Jeff Harmer has taken over as secretary of DEST. The following thumbnail sketch is derived principally from a write-up by Computer Management Group Australia (CMGA). Dr. Harmer began his career in the Federal Public Service in 1978. He receiving his doctorate in Economic/Urban Geography from the University of New South Wales in 1980. From 1985-96 he occupied a range of positions in the Department of Health and Family Services where he was responsible for the Pharmaceutical Benefits Scheme, as well as a range of other policy and program areas. In 1994 he became the Deputy Secretary in the Department of Housing and Regional Development and in 1996 was moved to the position of Deputy Secretary of the Department of Social Security and he was involved in the creation of Centrelink. From 1998 until his appoint as DEST secretary he was Managing Director of the Health Insurance Commission.

German Chancellor Pledges Funding Boost for Science. (March 31, 2003)
German Chancellor Gerhard Schroeder recently promised to raise the budgets of German research organizations 3% per year beginning in 2004. Acknowledged that this year's budget had hit research funding hard, he told parliament on March 14th "that cannot remain so."
German research agencies and institutes were guardedly pleased -- the promise has still to be implemented by a parliamentary vote as well as the individual German states and such a pledge was broken for this year. Research organizations were promised a 3% raise last July, but the federal government later announced that it wanted to freeze science budgets for 2003.

British Astronomer Faces Deportation from Australia for Opera House Anti-War Paint. (March 27, 2003)


Will Saunders of the Anglo-Australia Observatory together with environmentalist David Burgess did the No War sign writing on the SOH sail. After they were arrested and charged with malicious damage, Saunders while out on bail, and telling reporters he would help to clean up the graffiti, was re-arrested at the request of the Australian Department of Immigration. He now faces the possibility of deportation if his work visa is revoked. He has been working on a three-year visa at the AAO as part of an international consortium on the large-scale structure of the Universe, more specifically on the AA
project.
Over to you Mr. Ruddock.

SciDev's View on the War in Iraq. (March 26, 2003)
SciDev.Net is a free-access, Internet-based network devoted to reporting on and discussing those aspects of modern science and technology that are relevant to sustainable development and the social and economic needs of developing countries. David Dickson, SciDev's editor, concludes his March 24th editorial "After the war is over, what then?"
Science, like the modernism of which it forms a central component, must be moulded to the needs and values of communities and nations. It cannot afford to be seen as a device by which one nation seeks to impose its needs and values on another. ...the potential contribution of science, from providing modern medicines and clean water supplies, to helping rebuild faith in the multilateralism that lies at the core of the United Nations ...is enormous.

But ...[n]othing would be worse for the long-term stability of the region than for a US victory in Iraq to pave the way for a rebuilding process in which Western interests in general, and US interests in particular, are seen to dominate. Moving in that direction will only exacerbate the tendencies that gave rise to the current conflict, and are likely to fester under the surface long after it is over.
To avoid this, reconstruction must be based around the concept of capacity building. And part of this must include creating a basic capacity to produce the science and technology that any nation requires to help secure its economic and social development. It must also include the capacity of that nation. to ensure that science is put to the genuine service of its own people. Achieving this will not remove the root causes of the current conflict, or those that may well follow. But it will, hopefully, help to make the claims of those who inflame such conflicts less convincing.

Austerity Measures Hit French Research Hard. (March 25, 2003)
The French Government has cut back sharply on its support for French research now that President Jacques Chirac is comfortably installed in the Elysée Palace. An immediate cut of A$210 million to research agencies has been put into effect, and in a classic case of double speak it agrees that an additional 30% of operating and investment credits for government funded research institutes have been frozen, but explains in a statement George Orwell would have been proud to have penned: it's just "a simple procedure for regulating the consumption of credits [and] must not be confused with a loss of resources." In case you think it may have gained something in translation the main French research union has urged scientists to take to the streets to protest what it calls the state's failure "to face up to its responsibilities." It's the government's monumental irrationality which beggars belief.
And Science reports, "The situation is looking particularly bleak at CNRS, the main basic research agency. It 'is on the verge of financial collapse,' says biologist Gérard Chaouat, a member of the CNRS scientific council. The ministry says the operating budget for CNRS has been cut by 9.3%," while CNRS director-general Geneviève Berger told Paris's Le Monde newspaper that the cuts will "make it extremely difficult to maintain the quality of our research."


Spoil Sports -- Silver Fleece Award goes to Cloneaid. (March 25, 2003)
The second annual Silver Fleece Awards, which are handed out each year to the product and organisation that make the most outrageous or exaggerated claims about human ageing were awarded earlier this month.
To Clonaid: the company that claims to have cloned humans a bottle of vegetable oil labelled "snake oil", in recognition of the year's most outrageous claims about human ageing. Cloneaid in rebuffing the award sniffed that the organisers just lack vision.
& to Urban Nutrition: for an anti-ageing product called Longevity. It's sold on the Internet by Urban Nutrition Inc. and costs US$44.99 for 90 pills.
Neither recipient company sent a representative to the ceremony to receive the award.

Science Appreciation to Become Part of Columbia University's Core (Required) Curriculum. (March 24, 2003)
The New York City based Ivy League school has decided that beginning this northern hemisphere autumn its 350 entering first year undergraduates will receive lectures to enhance their understanding and appreciation of science and its methodology. To augment the formal lectures the university is offering three postdocs US$40,000 (A$67,500) that in addition to their research will require them to "lead non-disciplinary discussion groups that will supplement the lectures and offer real-life examples of the scientist as explorer." Science reports, "The 3 hours a week postdocs will spend in the classroom won't jeopardize their research ...and it will give postdocs a chance 'to interact with students and explain how scientists think,' [according to Columbia's spokeswoman]."

Missile Defence Advocate Gets Rough Treatment by US Congress. (March 22, 2003)
The Prime Minister, John Howard, having suggested that Australia should take an active interest in the missile defence system being pushed by the Bush administration might take note of the following factors:
Undersecretary of Defense Pete Aldridge (2iC to Donald Rumsfeld) assured the Senate Armed Services Committee on March 18 that a rudimentary missile defence in Ft. Greely Alaska would be 90 percent effective in stopping North Korean ballistic missiles.

Committee members voiced their skepticism, and the ranking Democrat, Carl Levin (D-MI), suggested Aldridge go back and redo his sums.

With homing beacons on the missiles success rate is 62%.

No matter; the Pentagon plans to deploy 10 interceptors in Alaska.

Secretary Rumsfeld argues that missile defence is so important the US must deploy while tests continue. There is no indication when tests eschewing homing beacons will commence but they are promised.
That's the sort of logic that recalls the New York Times' Paul Krugman's recent reminder of a headline in The Onion just prior to George W. Bush's inauguration twenty-six months ago. "Bush: Our long national nightmare of peace and prosperity is finally over."

US$228 Million for Training Schools Maths and Science Teachers. (March 21, 2003)
For the 2003 fiscal year the US National Science Foundation earmarked US$127 (A$214) million for a nationally competitive program to train maths and science teachers. There are some big winners but from the viewpoint of the states the funding leaves big gaps. Michigan Republican Congressman Vernon Ehlers (PhD, nuclear physics, University of California, Berkeley) decided a more equitable distribution of the wealth was needed and engineered, with considerable arm twisting, US$101 (A$170) million to be shoehorned into the Department of Education (DOE) budget for a state-by-state program to train maths and science teachers. The program will bring together university researchers and local school districts to improve math and science instruction. Ehlers, however, won't be able to rest on his laurels, Science reports, "DOE requested only $12.5 million for the program in 2004--the same amount it received in 2002 when the program debuted as a national competition like NSF's. 'I'll do whatever it takes,' Ehlers promises."

The Separation of Powers, University Student Lobbyists and One for the Environment. (March 21, 2003)
In the 2003 budget sent up to Congress by President George W. Bush, the US$10 ($A16.9) million Environmental Protection Agency (EPA) Science to Achieve Results (STAR) fellowship program (typically it supports about 110 graduate students a year) got the chop. Students at Cornell University helped lead a nationwide lobbying campaign that convinced Congress to put back the full $10 million into the EPA budget approved last month.

University Operating Revenue 2001 Compared to 2000. (March 20, 2003)
The table below is derived from figures published by the Department of Education, Science and Training and are the latest available (see Higher Education Statistics Collections). The support by the Commonwealth for higher education continued to fall in percentage terms while fees and charges continued to increase. Concurrently real GDP increased 4.2%. So despite the rhetoric the Commonwealth continued to reduce its support for Australia's universities.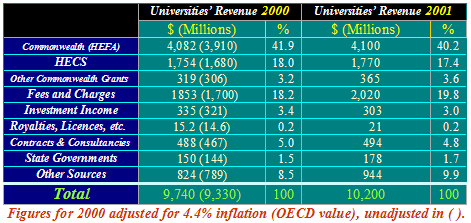 In 2001 salaries constituted just under 59% of operating expenses made up of non-academic staff, 27.5%, academic staff, 31.2% compared to 27.9% and 31.7% respectively for 2000.
Not to worry, mate, she'll be right. Or, steady as she sinks.
Look, it's a SMOP (simple matter of priorities) as in shut up, stupid, there's a war on.

2003 Australian Federation Fellows Announced. (March 20, 2003)
The Minister for Education, Science and Training, Brendan Nelson, today announced the names of the twenty-four researchers awarded one of the 25 Federation Fellowships

available bringing to 49 the number of Federation Fellowships awarded since 2001. In July 2002 News and Views, following the filling of the first round of twenty-five wrote:
There can be little question that the Federation Fellowships are a positive contribution to Australian science but equally it must be said it is a small one, and on the international stage clearly it has not attracted a swarm of expatriates to return and has had a just visible impact on attracting "outstanding overseas researchers". And it should be compared to our fellow member of the Commonwealth who is funding an additional 2000 research chairs at its universities.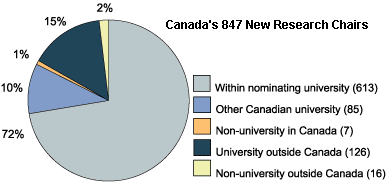 That remains the case; of the 24 new Fellows, 16 are based at Australian institutions, six are expatriates and the remaining two are a Briton and a German. That brings the total number of foreign researchers awarded fellowships to 3, the number of returned or returning expats to 14 and 32 current residents.
Dr. Nelson's announcement makes it opportune to update the data on the 2000 research chairs that Canada is making available. From the beginning of the program in December 2000 to March 2003, 847 new research chairs have been filled -- 220 in the past 9 months; of the total 142 are from outside Canada.


Islamic Scientists Taking the Longer View. (March 14, 2003)
While the United States' administration led by George W. Bush appears intent on eliminating terror and its perpetrators through overwhelming force of arms and has recently added beating democracy into nations (how many is open to discussion) deemed to require conversion, scientists meeting in Washington and in Trieste were looking to alternative means which at least have a prospect of producing long term solutions. Putting it into a phrase: identify the root causes of militant disquiet, design strategic initiatives to eliminate or at least significantly reduce them and then implement. Of course that does require considerable, thorough and objective thought.
1996 chemistry Nobel laureate Richard Smalley, spoke last week to the US' President's Council of Advisors on Science and Technology. Science reports he told them, "'We ought to take the angst that has built up as a result of 9/11 and channel it' into eliminating the root causes of terrorism, including poverty, hunger, and a shortage of water." Of course he's an ivory towered scientist.
And Nature reports that almost simultaneously Islamic, "scientific leaders gathered in Trieste, Italy, last week to discuss why Islamic countries have neglected science and technology, and what could be done to
end this neglect." And from reports the discussions were lively and forthright. "I am a Muslim, and we Muslims don't usually speak out on such matters. But I'm going to, as I have a responsibility towards our children, society, education and the advancement of scientific thinking," so said Çigdem Kagitcibasi, a psychologist and member of the Turkish Academy of Sciences. The question she put was might a lack of democracy and freedom of expression in the Islamic world be one reason why there is no current substantial culture of science and technology in these countries. In its March 13th editorial Nature comments, "Neglecting the impact of Islam on science would not only be blind, but a disservice to Muslim peoples, who, if they are to become prosperous, need to shift from their flagging natural resource- and agriculture-based economies to knowledge-based ones. The Islamic world's science spending is just 0.2% of gross national product." That said, Pakistan has begun to take seriously its support for knowledge and research, and it oughtn't to be forgotten that the pursuit of science is encouraged in the Koran, and "in its heyday the Islamic world was a cradle of science for six centuries." Nature goes on, "the higher-education minister [for Pakistan], Atta-ur-Rahman, is an outspoken proponent of the need for a revolution in the Islamic world's commitment to science and education and was outspoken in his viewpoint that 'aspects of contemporary Muslim cultures are hindering the emergence of scientific cultures through narrow mindedness, lack of basic freedoms, and pressure on individuals to conform.'" And echoing the views of Richard Smalley Nature concludes it editorial, "Poverty, unemployment, the Middle East crisis and a perception of injustice with respect to the actions of the West are creating a cycle of violence and hatred, which often finds its expression in radical Islam."
Finally the report by Declan Butler leaves no doubt the majority of representatives were of the opinion, "that political leaders in Islamic nations often fail to appreciate the importance of scientific research to their countries' development. Most speakers blamed public spending skewed towards the military, low educational standards, and a lack of public interest in science for this pattern." That situation is hardly unique to Islamic nations.

Australia's Change in Academic Work Survey Has a UK Counterpart. (March 11, 2003)
The UK's Guardian newspaper reported yesterday that a new survey of British academics presents findings not dissimilar from those reported to our Department of Education, Science and Training in June last year by Don Anderson, Richard Johnson and Lawrence Saha in
Changes in Academic Work

. So for example over a quarter of the universities' teaching staffs stated they were "seriously considering quitting the profession, because of a growing workload and poor pay." Other matters detailed in the survey:
46% said morale had worsened in the past two years,

72% were dissatisfied with their pay,

66% were unhappy with staffing levels in their area of work,

93%, said they suffered from workplace stress and 62% from "excessive" stress,

Only 36% felt they could recommend working in higher education to an undergraduate.
The survey also found that with regard to universities supplementing funding through additional fees, 81% were opposed, while 90% felt that additional income for higher education should come from taxation, a clear rejection of the approach being advocated in Australia.
Finally the British Government's White Paper recommends "breaking the link between teaching and research in order, it claims, to let universities excel in areas they are best at. But 86% of academics believe the link should be retained." A point emphasised by, Sally Hunt, president of the UK's Association of University Teachers, stating that it was vital that subjects were taught within a research environment.

Science and Higher Education as Factors in the New South Wales Election Campaigns. (March 10, 2003)
Yesterday the Premier of New South Wales announced that if his government is reelected he will appoint a Minister for Science and Medical Research and that $290 million would go to initiating a cancer research institute. The New South Wales Premier's mention of science had a virtual laser-like focus on cancer while education appears concentrated on K-2 class sizes. The state of higher education, research and teaching in the enabling sciences or the humanities were missing in inaction as was the matter of the severe inadequacy of maths and science teaching in secondary schools.
The President of the Federation of Scientific and Technological Societies (FASTS), Professor Chris Fell, commented in his media release that he welcomed the projected ministerial appointment and, "look[ed] forward to seeing the detail of the programs the NSW Government will establish to support scientists and scientific research," but went on to observe that the role and scope of the new Ministry had yet to be defined. He also made the point that while "Medical research is critical, science covers much more than that." Although that may be self evident, the question is, is it considered to be of political consequence by Mr. Carr?
The State Coalition has yet to annunciate any policy with regard to science and higher education.

Despite Austere Budget India Ups Its Support for Research and Development. (March 7, 2003)
For the fiscal year beginning next month the Indian Government has brought down a budget increasing its support for research by 9.5% (Rs to Rs147 billion (A$5.0 billion). A drought brought about by the failure of last year's Monsoon is partly responsible for a downturn in governmental revenue.
Nature reports that they were told by Ragunath Mashelkar a chemical engineer who runs several of the ministry's applied research labs, "The jump is not as big as last year's 25%, but it is adequate."
TFW has reported previously that the Indian Government has declared that it intends to expand India's total R&D spending from 1.1% of gross national product to 2% by 2007. The R&D funding increase comes despite the fact that the government has allotted only Rs60 billion (A$2.05 billion) in new money to all of its ministries this year. In short R&D has been allocated just over 21% of all new funds.

United Nations' Secretary-General Contributes to Science. (March 7, 2003)

United Nations' Secretary-General, Kofi Annan, emphasises in his editorial for the March 6 issue of Science, "Science has contributed immensely to human progress and to the development of modern society. The application of scientific knowledge continues to furnish powerful means for solving many of the challenges facing humanity," but goes on to say, "Developing countries, for example, generally spend much less than 1 percent of their gross domestic product on scientific research, whereas rich countries devote between 2 and 3 percent." So also "Benchmarking Australia's R&D".
The UN Secretary-General pleads that the, "unbalanced distribution of scientific activity generates serious problems not only for the scientific community in the developing countries, but for development itself;" and entreats the scientific community to be proactive in redressing the imbalance. Whether or not there is a note of despair mixed with hope in Kofi Annan's message readers can determine for themselves.

Morag Fraser Has Her Say on Dr. Nelson's Proposed Reforms. (March 4, 2003)
Editor of Eureka Street magazine since 1991 and chair of the 2001 Melbourne Writers' Festival, Morag Fraser expresses some mordant views in her March 2nd opinion piece in the Melbourne Age. A couple of excerpts:
In the lull between the drums and the air-raid sirens, we are having another higher education reform. Even if you hadn't noticed, you might have guessed - Brendan Nelson is the newish education minister and reviews and reforms are what education ministers now do. That way they can make their mark, and governments can avoid the difficult and expensive business of long-term education planning.

And why has the Prime Minister backed an expensive package now? (Note that most of the promised figure - $1.5 billion, if it gets through the expenditure review committee - won't be available until mid-2007. And note also that it is obscure whether the promised money means an injection of additional funds or just another complicated rearrangement of the funding deckchairs.)
Political expediency is Ms Fraser's summary, "The midweek Newspoll puts education at the top of Australians' priority list: before health and way ahead of defence."
Funny thing is the polls may indicate what we think we should be concerned about. When it comes down to actual vote casting, hard core irrationality can cause remarkable mental aberrations. Which gets us back to the matter of reviews and manipulation of the furniture so long as it "avoid[s] the difficult and expensive business of long-term education planning."

Missile, Missile on the Wall / Who's the Fairest of Them All? (March 1, 2003)
Bob Park, Professor of Physics at the University of Maryland and the American Physical Society's representative in Washington has been a voice of sanity regarding missile defence for many years. The following is taken from his What's New column of February 28.
MISSILE DEFENSE: PENTAGON SEEKS WAIVER FROM REQUIRED TESTING.
In April 2000, the APS Council stated: "The United States should not make a deployment decision relative to the planned National Missile Defense system unless that system is shown through analysis and intercept tests to be effective against the types of offensive countermeasures that an attacker could reasonably be expected to deploy with its long-range missiles." In fact, a law designed to prevent deployment of weapon systems that don't work was passed in 1983 after Ronald Reagan announced his Strategic Defense Initiative. Now the Bush administration is proposing to exempt the Pentagon's controversial missile defense from testing. The request is in the 2004 budget. I called my friend Puff Panegyric at the Missile Defense Agency. "You've got to admit the law makes sense," I said. "Maybe it did in 1983," Puff sneered, "but North Korea has made the world a more dangerous place. We don't have the luxury of waiting until things work. There are leaders of some countries who would like nothing better than to start a war." "I see your point Puff."
Perhaps the Australian Cabinet led by the Prime Minister and advised by the Chief Scientist might take note.
---