Views on University Deans and Deputy Vice-Chancellors. (March 30, 2004)
The March issue of the University of Queensland Alumni News has some cogent observations on the roles of university administrators, deputy vice-chancellors and deans of school being in the direct line of fire. It may give the Minister for Education, Science and Training, Brendan Nelson, who complained to the National Press Club the other day that the academic community did not properly appreciate his efforts on their behalf, pause to reflect. Some excerpts:
[Former University of California President Clark Kerr] saw the role of dean in these terms "he wins few clear-cut victories; he must aim at avoiding the worst than at seizing the best. He must find satisfaction in being equally distasteful to each of his constituencies; he must reconcile himself to the harsh reality that successes are shrouded in silence while failures are spotlighted to notoriety. he must be content to move the whole enterprise another foot ahead in what often seems an unequal race with history"
So much for the pep talk. Here's another take:
For deans who balked at such a taxing role, Damian Fandal, Dean of Academic Affairs at the University of Dallas, advised succinctly: "There are two rules for deans:

1. Hide!

2. If they find you lie!"
As for deputy vice-chancellors, George Davies a UQ retired DVC
suggested that [one of] the necessary qualifications for a DVC is "to be like a football coach. You have to be smart enough to understand the game and dumb enough to think that it matters."
On the other hand one of the most bitter comments made with regard to current university administrators was not included in the Alumni News but voiced to the Anderson review of 2002 on Changes in Academic Work, "Line the University Council, including the V-C and at least two rungs beneath him up against a wall and machine-gun the lot of them."
According to the review, "Such bitterness is widespread in the universities."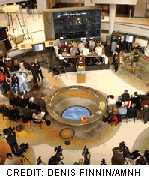 Cosmological PR -- Deep Field Extravaganza at the Hayden Planetarium Promotes the Hubble Space Telescope. (March 29, 2004)
US astronomers and cosmologists fighting to reinstitute NASA's 2006 Space Shuttle mission to the Hubble Space Telescope are moving the battle into the public arena.
For six days and nights earlier this month the scientists and their students were hunched over computer terminals below the spherical ceiling of New York City's Hayden Planetarium analysing the Hubble Space Telescope's new Ultra Deep Field view of the universe before thousands of fascinated onlookers. As the public watched, team leaders fielded questions. Columbia University astronomer Arlin Crotts described the scene as "stressful, crazy, and wonderful." It was also productive. The brain child of Kenneth Lanzetta of Stony Brook University, New York, the six day effort determined the distance of 8,172 galaxies, the farthest of which was calculated to have been about 12.85 billion light years distant from earth, i.e. it is seen as it existed about 850 million years following the Big Bang.
The public got to see how the astro-scientists go about their "business" and according to Columbia's Crotts, they got to understand why saving Hubble from a premature death is a major and pressing issue.

Minister for Education, Science and Training Releases Three Long-Awaited Reports. (March 24, 2004)
To coincide with his address today to the National Press Club, the Minister for Education, Science and Training, Brendan Nelson, released three reports based on reviews focused on Australia's research capabilities.
Dr Nelson gave little away either as to what legislation may stem from the reviews or what may be expected in the May federal budget. Nevertheless, a number of speculations are being put about concerning the nature of future funding for CSIRO, further shifting of research funds toward defence projects and that the Expenditure Review Committee has already cut the Minister's request of $5 billion for a second five year round of Backing Austria's Ability back to $3 billion, i.e. the sum allocated 2001-06 for BAA's initial round, and therefore a significant reduction because of non-indexation even were no further reduction to be imposed in Cabinet.
In addition Professor Snow Barlow, president of the Federation of Australian Scientific and Technological Societies has pointed out an increasing distortion of federal government research funding. "Universities must provide top-up funding or matching dollars to access ARC, CRC, MNRF and NHMRC programs. FASTS believe the magnitude of this leverage seriously impedes the capacity of universities to invest in infrastructure and strategic research priorities. The primary source of funds to support university strategic priorities, are block grants. However, the leveraging of $450m in 2003-04 distorts the balance of research funding in favour of competitive grants [our emphasis]."
There is also increasing pressure to reduce block funding on several fronts such as the ARC and it remains to be seen whether or not Federal Cabinet will resist it and to what extent.


AVCC President Di Yerbury Voices Views of Australia's Vice-Chancellors. (March 23, 2003)
From March 9-11 the "Universities Met Parliament" which is to say almost all of Australia's 38 public universities' vice-chancellors or their representatives came together with representatives from the Coalition, Labor and Australian Democrats to put the case for adequate governmental support for the tertiary education sector. In addition there were some forty meetings with individual parliamentarians.
In an opinion piece published on March 22nd in the Australian Financial Review Macquarie University's Vice-Chancellor, Professor Yerbury said that the additional investment of nearly $1 billion per annum for research that will finally be achieved in 2005 through Backing Australia's Ability, together with tax concessions must, as a minimum, be maintained without a break through 2010. Yerbury maintains that, "About 70% of BAA funding goes to universities, stimulating valuable commercialisation of research in areas of high national priority."
But she also reports that the vice-chancellors see the decay of university research infrastructure as a growing problem. Considering that the problem was detailed and quantified 11 years ago to the Labor Government of the day when in 1992 the then Minister for Employment, Education and Training, Kim Beazley, requested the National Board of Employment, Education and Training to report on "Higher Education Research Infrastructure" and received the report in May 1993.
In September last year we wrote:
The [1993 report] recommended an immediate increase above the then $342 million dollars provided by the Commonwealth for university research infrastructure of 37%, i.e. an additional $125 million per annum (1991 dollars, consumer price index (1991) = 106.5). In September 2002 the cpi = 142; so in 2002 dollars a simple calculation yields ((342+125) / 106.5) x 142 = $623 million dollars the amount in current dollars that would have been the recommendation for maintaining university research infrastructure of the 1995 university system, i.e. the year the changes were recommended to begin. The year the Coalition assumed government.
Yerbury goes on to say now in March 2004, "Vice-Chancellors are asking for an additional $405 million a year to rectify this situation [of research infrastructure corrosion] ($280 million for the institutional Grants Scheme plus $125 million for Research Infrastructure Block Grant Scheme [our emphasis])." There does seem to be a cog or two slipping in this scenario. Adding to the black humour Professor Yerbury concludes, "In the longer term, Australia needs to match international targets with a national public and private investment in R&D of 2% of GDP by 2010 and 3% by 2020."
Why black humour? Because 1. She herself has stated that the current OECD support is 2.17% of GDP, consequently six years down the track the AVCC would still have us behind the mean OECD 2004 support for R&D, and 2. the OECD has set a goal of 3% of GDP for R&D by 2010 not 2020. We seem to be in a situation where the vice-chancellors are in a time warp and the government couldn't care less with regard to even coming within a sniff of the OECD's intended mean let alone climbing into the top five, the goal Canada has set for itself.

AAAS to Hold 29th Forum on Science and Technology Policy April 22-24, 2004. (March 23, 2004)
Since 1976 the American Association for the Advancement of Science has held a colloquium / forum for discussion and debate about US Government budgetary allocation and other policy issues facing the science and technology community. This year it will be held over three days in Washington, DC. According to the AAAS it, "draws nearly 500 of the nation's top science and technology experts [and] has established itself as the major public meeting in the U.S. on science and technology policy issues."
A frequently updated preliminary program is available online. John H. Marburger, III, Director, White House Office of Science and Technology Policy and Presidential Science Advisor will give the keynote address and topics scheduled for discussion include:
Outlook for the National Economy and Implications for Science and Technology

AAAS Overview of Federal Budget Proposals for R&D in FY 2005

Winning Greater Influence for Science

The Limits of a Market-Based Approach to Science

Policy Implications of Converging New Technologies: Nano-, Bio-, Info-, Cognitive

Will Technology Enhance or Erode Democracy? Policy and Civic Implications of Information Technologies

How Sustainable is the Modern Research University?

Challenges for the US in the Evolution of the Global Economy

The Impact of Post-9/11 Security Policies on Science
It is unknown whether or not any observers from Australia's political parties or representative scientific and technological organisations will be present.

Can Eight Out of Ten French Persons by Wrong? (March 18, 2004)
While US academics, postdocs and graduate students are joining forces to slam the Bush administration's manipulation of science for the ends of ideology and vested interests (see item immediately below), French science laboratory heads made good their threat of resignation. In a last moment turn around Prime Minister Jean-Pierre Raffarin decided to play hardball by telling the newspaper Liberation that the government would not meet the protesters' demands; the result was 1,280 lab heads and 1,958 team leaders resigned. That's over 50% of the lab heads at both the CNRS, the country's largest research agency, and the biomedical research agency INSERM.
[See N&V item below: French Scientists Tell Government Time's Up. (March 9, 2004)]
While in most quarters the move by the scientists is seen a symbolic, in that the research-agency heads have two months to consider whether to accept the resignations, already Bernard Larrouturou, CNRS' director-general, has scheduled a meeting for March 23rd with the protesters. And the debate about how to overhaul France's centralised and bureaucratic science system is now well and truly a public issue. A recent poll suggests that 82% of the French public support the scientists, and with French regional elections to be held at the end of March, the pressure is on President Chirac to break the deadlock.
It's interesting to note that in this issue, as with that headlined by the US scientists, the matters are not of immediate personal self interest to the protesters but rather are concerned with the wellbeing of scientific research in their respective two countries.

Students and High Flying Academics Continue to Rail Against Bush Administration's Science Policy Machinations. (March 18, 2004)
The furore that's been engendered with the publication by the Union of Concerned Scientists (UCS) last month of a statement signed by 63 pre-eminent US scientists detailing the Bush administration's misuse of science to further its ideological agenda hasn't abated; if anything it has grown more intense.
John Marburger the President's Science Advisor was trotted out to counterattack. It was not one of the former head of Brookhaven National Laboratory and President of the State University of New York in Stony Brook's finer moments. What should have been a reasoned rebuttal sounded more like hyperbolic political posturing. Marburger accused the signatories of having their "feathers ruffled", promulgating "conspiracy theory" and "a very deliberate attempt to undermine the president in a campaign year". A detailed response to the UCS' allegations has been promised for the near future.
Nature summarised the US scientists condemnations as:
His administration has withdrawn from the Kyoto Protocol on climate change, which was supported by environmental scientists. It has also pressed ahead with missile-defence systems that top US physicists said won't work, and set rules for stem-cell research that have riled leading biologists. In addition, it has selected members for scientific panels whom many researchers see as ideologues.
And the journal concluded, ":Senator John McCain (Republican, Arizona), chair of the Senate Committee on Commerce, Science and Transportation, and perhaps Bush's most persistent critic in his own party, has scheduled hearings on the UCS report. And Senator Christopher Bond (Republican, Missouri) told Marburger at a 26 February budget hearing that he was 'very concerned about these accusations'."
The original 63 signatories have now been joined by more than a thousand others according to the Chairman of UCS, Cornell physicist, Kurt Gottfried.
But as the TV ads say, "there's more". The March 18th issue of Nature publishes a letter from a University of California and two Stanford University students outlining their organisation's response:
The administration's response to the UCS initiative shows that nothing short of a broad-based condemnation will deter this administration's misuse of science.

We are PhD students and postdocs at Stanford and the University of California, Berkeley, who are attempting to publicize the widespread alarm of scientists at the Bush administration's use of science (http://www.scienceinpolicy.org). We have examined a broad range of environmental issues and uncovered a pervasive pattern of misuse, suppression and contradiction of science, including that performed by the administration's own researchers.
This is not about a few "ruffled feathers". At the time of writing, more than 1,000 scientists, from all 50 US states and from around the world, have signed our statement decrying the Bush administration's misuse of science.

---

AFR Summarises States' Spending on R&D. (March 15, 2004)
The Australian Financial Review's Peter Roberts in his article "Quest to outsmart the rest" outlines what Australia's state governments are spending on "science and innovation." He gives the the figure of $940 million for the 2000-01 financial year. In fact this comes to just a bit more than 9% of the national gross expenditure on R&D (GERD) for that year which was 1.54% of GDP and places Australia in 17th place in the OECD well below the OECD mean of about 2.3% of GDP.
Roberts goes on to cite "Ron Johnston , a professor at the Australian Centre for Innovation, University of Sydney, [who] says the federal government's attitude has brought the states to the fore as the focus for interventionist economic development policies." But then quotes The head of the technology, innovation and management centre at the University of Queensland, Mark Dodgson, "There are national policies that you need in terms of research skills and training, but a lot of industrial development is locally based and depends on linkages between companies and researchers that can be facilitated locally."
To emphasise the fact that Roberts is really reporting on development (innovation) and that science per se is a minor component in the thinking of the state governments he points out, "Only NSW of the mainland states seems above the fray with the establishment in 1984 of the Garvan Institute of Medical Research one of the few major state investments in science infrastructure."
The one significant, and long overdue exception, is Victoria's "$206 million Australian synchrotron, the biggest investment in research and development by a state government," scheduled to go online in 2007. Without doubt it is the most important basic research tool to be build in Australia since the 3.9m Anglo-Australian Telescope built at Siding Spring NSW and commissioned in 1974.
A note of reality however. On October 3rd 2000 the then president of the Federation of Australian Scientific and Technological Societies (FASTS), Professor Sue Serjeantson (now Executive Secretary of the Australian Academy of Science) pointed out, "Australia is the only developed country that doesn't have a synchrotron." Seven years down the track, all things going to plan, that will have been remedied.
Meanwhile the Australian Vice-Chancellors' Committee is calling for the nation to ramp up its commitment to research and development from 1.54% of GDP to 2% of GDP by 2010 while the EC (not including the newly joining members it's true) and nations such as Canada and the UK are calling for a goal of 3% of GDP by 2010.
Has either the incumbent Coalition or the Labor opposition set any goal? You must be joking.
Not until these people are prepared to see the "first world" as it is will Australia realise its population's capabilities, raise the per capita GDP 15-20% above its present value and which, if justly distributed, will place it among the world's finest nations. As matters are now our representatives aren't Backing Australia's Ability, they are backing it into a corner.
That they appear capable of accomplishing with alacrity.

Norwegian Born Physicist/Industrialist Fred Kavli Gives US$100 Million for Basic Research. (March 12, 2004)
Norwegian-born physicist Fred Kavli, who immigrated to the US in 1956, made his millions by designing and building sensors for aerospace

and other industries. He set up his California based foundation in December 2000. This week the Kavali Foundation announced the creation of seven new research institutions in the United States and the Netherlands – a near US$100 (A$137) million investment – earmarked exclusively for basic research rather than applied research or development. The new institutes, together with two institutes established earlier, brings to nine Kavli Institutes to address "major challenges in the fields of cosmology, nanoscience and neuroscience."
Kavli told the media, "My goal in establishing these institutes is to support research at the frontiers of science. I feel that it is especially important to pursue the most far-reaching opportunities and challenges and to seek answers to the most fundamental questions."
The new institutes, as well as the first two, reflect that focus. Three are neuroscience or cognition institutes at the University of California, San Diego, Yale University, and Columbia University. Three are nanoscience institutes at Cornell University, the California Institute of Technology, and Delft University in the Netherlands. The last is a cosmology centre at the University of Chicago. The earlier two centres are at the University of California, Santa Barbara – theoretical physics (2001) and the particle astrophysics centre at Stanford (2003). According to David Auston, president of the Kavli Foundation, Kavli has a different sense of what makes a good investment than most industrialists, "He's thinking about the longest time span, not necessarily about immediate return."

Britain's Chancellor of the Exchequer Tells HM's top Scientists Nation's Future Depends on Research and Enterprise, Makes R&D a Priority in Pre-election spending Review. (March 11, 2004)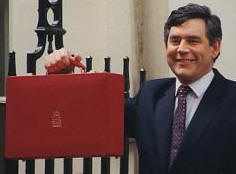 Gordon Brown, Britain's Labour Chancellor of the Exchequer has been an advocate for adequate support for the nation's science during his tenure. He has significantly upped science funding in the two previous spending reviews and recently told a meeting of 30 members of the science community as well as education secretary, Charles Clarke, and the trade secretary, Patricia Hewitt that it would be a "central priority" of his pre-election review, and would be given a "generous settlement" - expected to be billions of pounds. One of the Chancellor's avowed goals is to reverse Britain's brain drain. In the last spending review, in 2002, he pledged to increase funding from £2 (A$4.8)billion to £2.9 (A$7.0) billion in 2005. It's considered to be the biggest boost to education and research since the 1950s and 1960s.The 2000 round, brought an increase from £1.6(A$3.9) billion to £2.1(A$5.1) billion.
Brown, in addressing the meeting told them, "The Britain that succeeds in the new world will be a leader in science, skills and enterprise. So we have to make it a priority as a nation to invest in what is the key to our whole economic future and well being - our science and skills.
"While it would be easier to take the short-term route and fail to make the necessary investments for the future, we propose to take the longer-term view, to choose science above many other spending priorities, and we therefore propose a 10-year investment plan for science, engineering and innovation, alongside the 2004 spending review."
The points made by Brown in describing his ten year "framework" were to foster "world class research, driven by competition for funding and talent" aiming to develop "a dynamic and financially sustainable research base, meeting the needs of private and public funders, more collaboration between universities and business," to realise "better translation of leading-edge technologies into commercial applications," and to promote "an increase in the number of scientists, underpinned by excellent teaching in schools."
Earlier the Chancellor had made the point that currently Britain spends just 0.8% of its GDP specifically on science, placing it 16th in the world in terms of funding. He is not reported to have told his audience that she is "punching above her weight".
As significant as the meeting itself, was the comment made to The Guardian by Colin Blakemore, newly appointed Chief Executive of Britain's Medical Research Council, "He seemed to be very personally engaged. He chaired the meeting and grasped complex issues very quickly, which implies he had been thinking a lot about it. It was extremely encouraging and one didn't get the impression it was just political - there was real substance."


French Scientists Tell Government Time's Up. (March 9, 2004)
Two months ago the French government was presented with a petition by over 40,000 government researchers demanding that funds and positions ripped off them, as they saw it, must be reinstated. According to the journal Science "hundreds of lab directors, including more than half the chiefs at France's main biomedical research agency, INSERM, have threatened to stop doing administrative duties en masse on 9 March if the government doesn't fork over nearly €200 million post-haste from the 2002 budget that is owed to INSERM and CNRS, France's basic research agency. They've also demanded that the government reinstate 550 permanent research jobs abolished in favor of short-term contract positions."
Then on March 5th Science reported, "On 27 February, research minister Claudie Haigneré unveiled a raft of measures, including a promise to 'unfreeze' €294 million from the 2002 and 2003 budgets--more money than the protesters had been demanding--create 120 permanent posts for scientists, engineers, and technicians, add 30% to contract salaries, and provide grants for 300 additional doctoral students and increase their value by 4%. "
Nor good enough, "They are derisory," asserts cell biologist Alain Trautmann, one of the leaders of the "Save Research" protest. The research union SNCS-FSU agreed, "window-dressing, a smokescreen, a budgetary masquerade."
Trautmann says that a major obstacle is the government's refusal to restore all the permanent posts it had converted to contract positions. In addition the protesters, perhaps feeling they have the upper hand have added to their initial demands "We need several hundred university posts," says Trautmann.
Now according to today's l'Agence France-Presse (AFP), "French Prime Minister Jean-Pierre Raffarin offered mutinous French scientists an extra €300 million in funding on Saturday, in a bid to stave off protest action that could paralyse public research. Internationally renowned scientists are among laboratory heads threatening resignation by tomorrow if the government does not promise adequate funding to restore scientific priorities and curb a crippling brain drain." The French Prime Minister told the media on Saturday, "The government is ready to assume its responsibilities" to promote dialogue and "take the high road out of this crisis. ...The centre-right government would find the resources to reach 3 per cent of gross domestic product (GDP) spending for public-sector research by 2010... which would represent a national effort of at least three billion additional euros by the end of this legislature in 2007."
According to AFP more than 60,000 researchers and academics - out of a total of 104,000 engaged in scientific research in publicly funded institutions - have signed the protest petition. and in addition some 150,000 signatures from members of the public have been obtained in support.
Perhaps the Australian Vice-Chancellors Committee, FASTS, and the Group of Eight might take note. Apart from anything else that 3% of GDP for R&D by 2010 is still a stated governmental goal.
As though to help the Union of Concerned Scientists to make their point the White House last week sacked two advocates of stem cell research from the Council on Bioethics. They have been replaced by three appointees whose opposition to stem cell research is solidly faith-based.
Concurrently the Presidential Science Advisor, John Marburger was sent on point detail to deal with the uprising whose members claim that the Administration has manipulated science to advance its political agenda. More in sorrow than in anger Marburger rebuked the group's sixty scientists by declaring that the report wouldn't pass peer review, and while he had "a great deal of respect" for the signatories he had "considerably less for the report." It is "incomplete" and unable to "support the sweeping claim that is being made."
Marburger has promised a detailed response within weeks. The Deputy Secretary of Energy Kyle McSlarrow supported Marburger saying, "It's pretty easy to walk through every allegation and shred it."
But those who signed the statement aren't backing down. It looks very much as though this argument isn't going away soon.

While Australia's Vice-Chancellors Talk Up 2% of GDP for R&D by 2010 the EC pushes for 3% and Minister for Education, Science and Training, Brendan Nelson Spokesperson Had No Comment. (March 9, 2004)
On two days in the year the researchers through the auspices of the Federation of Australian Scientific and Technological Societies meet Parliament. On three other days (March 9-11 this year) Australia's university heads will engage the National Parliament in the second annual
Universities meet Parliament event. President of the Australian Vice-Chancellor's Committee (AVCC) Professor Di Yerbury and chief executive John Mullarvey have said the Government must commit to at least $1 billion for the next five years just to maintain the current level of funding and have reiterated their demand that the overall expenditure on research and development must move from its current 1.54% of GDP to 2% of GDP by 2010. A spokesperson for the Minister for Education, Science and Training, Brendan Nelson, said the while Dr. Nelson does not comment on budget matters prior to its release the Howard Government remained committed to science and innovation.
That ought to make you feel better.
Meanwhile, figures provided to Labor's spokesman for Science Senator Kim Carr during Senate estimates show the cost to keep Backing Australia's Ability running from the next financial year to 2010-11 would be at least $6.8 billion. Senator Carr said the figures did not include indexation. Furthermore, Labor claims an injection of at least $1 billion a year into Backing Australia's Ability will be needed "just to tread water".
Just how the Vice-Chancellors regard yesterday's report (see N&V item immediately below) indicating that Cabinet appears to be more inclined to direct new R&D money more toward commercialisation and less to universities and CSIRO has not been reported. And while Senator Carr fires bolts at the government, Labor's research policy has yet to be revealed.
Finally the Melbourne Age reports, "Dr Nelson is expected to release three major reports on research within a fortnight."

Report Suggests Cabinet Maintains Short-sighted View Toward Australian Research. (March 8, 2004)

According to Steve Lewis' report in today's Australian outlining predictions for the 2004/05 federal budget, "Senior ministers are not anticipating major new spending on education... [but t]here will ...be new spending announced on science and innovation as the Government updates its 2001 Backing Australia's Ability statement. ...Funding of about $1 billion a year has been agreed to."
The funding is to kick in following termination of the current Backing Australia's Ability programmed to end in the 2005-06 financial year.
The phasing of BAA was set up as $193 million in 2001-02, and $419 million in 2002-03. $634 million is provided for the 2003-04 financial year, and $1 billion for 2005-06.
However, those engaged in basic or strategic research shouldn't make like the Toyota camel to soon. According to Lewis, "Senior ministers have been in consultation with various interest groups over the structure of the statement, and there has been robust debate between Industry Minister Ian Macfarlane and Education Minister Brendan Nelson over its emphasis. Macfarlane wants the statement to have a solid focus on commercialisation, while Nelson has been angling for a greater slice to be directed into university and CSIRO laboratories. The good oil has it that Macfarlane's view has prevailed."
To contrast with this report Gary Stix writing in the March Scientific American points out that New York's Columbia University (10th on Shanghai Jiao Tong University's Institute of Higher Education Rank the World's Universities) has something over US$400 (A$530) million per annum earmarked as its research budget.
To suggest that the coalition cabinet has its horizons set any further than the next election is a best questionable and at worst farcical.

Son of Star Wars Turkey too Costly: Concludes Australian Department of Defence. (March 8, 2004)

"

Even if it would work it wouldn't work, but it won't work." That was the summation of one US physicist regarding the Bush Administration's National Missile Defense initiative. Apparently for budgetary reasons coinciding with a coming federal election the Minister for Defence, Robert Hill, has now had second thoughts about dancing to the US Neocon tune although maintaining something of a soft-shoe shuffle. "Australia does not at this stage envisage a 'missile shield' that could provide comprehensive protection against all forms of missile attack on Australian population centres, the cost of such a system would be prohibitive. But by participating in the US system Australia will contribute to global and regional security." So said Senator Hill Department in its recent media release. And we are left to ponder what is meant by the suggestion in the

Australian, "

the only affordable option should missile defence actually work [our emphasis] is for Australia to fit a new generation of three air-warfare destroyers with ballistic missile interceptors. The ships could then provide a limited shield over areas where forces are deployed overseas or, given sufficient warning, over individual locations."

The DoD continues its assessment with the "could - would - if" sort of analyses which fills one heart and mind with confidence in that public funds are wisely spent.
In 1998, North Korea tested a three-stage Taepo Dong-1 missile. This was characterised as a satellite launch vehicle, but the technologies apply directly to ballistic missiles.
North Korea has since observed a moratorium on flight tests of long-range missiles, but has continued to develop them.
If further developed, these missiles, such as the Taepo-Dong 2, could potentially threaten Australia: a two-stage Taepo-Dong 2 could reach northern Australia.
With a third stage it could reach all of Australia, albeit with a reduced payload.
On the other hand we refer you to the TFW report in July last year,

American Physical Society Study Demonstrates Infeasibility of US Missile Defence Strategy.
MIT professor of physics Daniel Kleppner, co-author of the report, commented in part, "Few of the components exist for deploying an effective boost-phase defense against liquid-propellant ICBMs and some essential components would take at least 10 years to develop. According to U.S. intelligence estimates, North Korea and Iran could develop or acquire solid-propellant ICBMs [which have a shorter intercept window] within the next 10 to 15 years. Consequently, a boost-phase defense effective only against liquid-propellant ICBMs would risk being obsolete when deployed."
The report is available is full at http://www.aps.org/public_affairs/popa/reports/nmd03.html
To alienate our pacific neighbours with a big stick were there reason to do so might be questionable diplomacy, to do it with a costly broken reed when there isn't seems idiotic.
[Note added March 13: Bob Park, the American Physical Society's man in Washington, has a scathing assessment of the Bush's administration present stance on National Missile Defence in his What's New Column of March 12th, "A GAO [General Accounting Office] report released yesterday points out that the components of the mid-course ground-based system have not been tested in "its deployed configuration." Many problems, such as finding warheads in a field of decoys, multiple interceptor launches, nighttime intercepts, adverse weather, and finding missiles without homing beacons have not been tested at all. Nevertheless, the Missile Defense Agency says it will put a covey of interceptors in Alaska as early as July. The General Accounting Office is the investigative arm of Congress. ...The Director of Operational Test and Evaluation in the Pentagon admitted that the system is not even far enough along to use Pentagon computer programs that would indicate whether it would actually work. ...But what's the urgency now? The Alaska site could only defend against North Korea, which might be able to set off a nuclear explosion, but would be hard put to build a warhead for an ICBM -- if they had an ICBM -- and they know they'd be toast if they tried to use it. Against this awesome threat we need to spend $100B on an untested defense?"

The "mays" of March. (March 4, 2004)
Two matters of interest came across the monitor yesterday.
This item from the Monday ABC Health Report:
Norman Swan: Now some of you might have heard The Health Report a few weeks ago on the Hall affair, and the University of New South Wales. In it, I mentioned that the Vice-Chancellor, Professor Rory Hume had said he'd come on to today's program to discuss the matter. Well, that's not going to happen. Professor Hume declined, saying that new material on the matter is about to be released, after which (and I quote) 'a productive dialogue may be possible'.
And the following reply from a spokesperson for the Minister for Education, Science and Training, Brendan Nelson in response to this question from TFW: I understood that DEST expected the consultation report with regard to "Reviewing Australia's Block Research Funding Schemes" in October 2003.
Did this occur, and when will the Minister make public the report and any outcomes that may be the result of the findings?
The evaluation of Knowledge and Innovation that addressed Australia's block research funding schemes delivered its report to Minister Nelson in November 2003. The Minister is currently considering the report and may release his response shortly.
Release of the report per se didn't even get a "may".

Funding for Science Becomes an Election Issue in Spain, Could it Happen Here? (March 4, 2004)
Currently Spain's expenditure on research and development hovers just around 1% of GDP. The nation's general election is scheduled for March 14 and now in the late stages of the run up public funding for research has entered the public arena apparently because of the release of a "state pact for science" endorsed by the Spanish Society of Molecular Biology and Biochemistry. It stipulated a doubling by 2010 of the percent of GDP for R&D and a doubling of scientific personnel. The 2% GDP allocation for R&D would still be well below the 3% target for 2010 set by Canada and the EC but under current Australian Government strategy would surpass Australia's commitment.
Although the two major parties claim to support the pact, in its March 4th editorial Nature asks, "will the victors in the 14 March poll make science a lasting priority? ...Spanish politicians should wake up to the role science can play in stimulating the economy. And they should look to emulate the few programmes and centres that point to a future in which Spanish science no longer punches below its weight."
On the other hand the Minister for Education, Science and Technology, Dr Nelson repeatedly tells the nation that our science punches above its weight. Perhaps he could give the Spanish lessons on how to up their scientific clout with only a marginal increase in expenditure.

FASTS' President Reports Canadian Foundation for Innovation President David Strangway has re-emphasised Canada's substantial investment increase in R&D setting itself a target of being in the world's top-5 knowledge economies. (March 4, 2004)
Below are excepts from an article by Prof. Snow Barlow published in Today's Canberra Times.
The Government is expected to announce the follow-up to Backing Australia's Ability (BAA) in this year's Budget. We must not underestimate the importance of getting this "second step" right.

Since the mid-1990s, Australia's investment in R&D has declined as a percentage of GDP. This is in stark contrast to the majority of countries in the Organisation for Economic Cooperation and Development which continue to ramp up their investment in R&D and their knowledge base both in real terms and as a percentage of GDP.

Even if we include the BAA commitments and assume business R&D remains constant in real terms, Australia's gross expenditure in R&D as a percentage of GDP will have dropped below 1.4 per cent by 2005-6, down from 1.69 per cent in 1995-6. Over the same period, the weighted average of R&D investment in OECD countries will increase from about 2.1 to 2.5 per cent.

The president of the Canadian Foundation for Innovation, Dr David Strangway, who is currently in Australia, said last week that Canada had substantially increased investment and set itself a target of being in the world's top-5 knowledge economies.
One Canadian initiative, was to create 2000 research chairs in Canadian universities at a cost of $A865 million.

Even a commitment to maintain the status quo beyond 2006, when the Backing Australia's Ability programs conclude, means locking in Australia's relative decline.

[I]f short-term political objectives overwhelm the compelling case to substantially build on Backing Australia's Ability, the loss of impetus will be a serious setback for Australia's future capacity to generate wealth and successfully manage environmental and social challenges. [our emphasis]

Dated July 31, 2003 - Dear Dr Nelson, I am writing to seek your support for endeavours that will increase the numbers of graduate statisticians in Australia. Signed Philip McCloud Roche Products Pty Ltd. (March 2, 2004)
The following letter is reprinted in full with the permission of the writer. TFW is unaware whether or not Dr Nelson has taken any significant steps in an attempt to alleviate to problem.
Dr. Brendan Nelson

Minister for Education Science and Training

Parliament House

Canberra

July 31, 2003


Dr. Philip McCloud

Head of Asia Pacific Biometrics

Pharma Development

Roche Products Pty Ltd

Dear Dr. Nelson,

I am writing to seek your support for endeavours that will increase the number of graduate statisticians in Australia.

I am the Head of Biometrics Asia Pacific Region for Hoffman La Roche. In 1997, the Pharma Development Management Team of Hoffman La Roche, based in Basel, Switzerland, decided to establish a Biometrics Development site in the Asia Pacific Region. Australia was chosen as the successful country, because we were known to have many excellent statisticians, excellent educational institutions, and a stable political system. The Biometrics Department has grown from one in October 1997 to thirty-two members of staff with an annual budget of $AUD 5 million. Pfizer, and Eli Lily have established similar Biometrics departments in the last few years. Several other pharmaceutical companies and contract research organisations have small departments of between one and five statisticians, and data managers.

The viability of this industry is now threatened because Australia is failing to produce sufficient statistics graduates.

For example in Biometrics at Roche I am the only Australian trained statistician, and my first degree was completed over twenty years ago. In our most recent recruitment drive for a graduate statistician, only two out of the twenty applicants were Australian trained. The successful applicants were a Chinese national, and a New Zealander. My colleagues at Eli Lily have experienced great difficulty in recruiting suitably qualified statisticians. They believe that the continuation of their operation is threatened if they cannot access good graduate statisticians.

It is well known in the statistics profession that New Zealand continues to produce many statistics graduates, and Australia very few. In the late 1980s and early 90s Monash University graduated 10-20 students a year with Honours in Statistics. In recent years this number has been less than a few. This is a catastrophic decline, which is reflected at many Universities around Australia.

Only three of the major pharmaceutical companies have so far chosen to establish large Biometrics departments in Australia. We cannot expect other companies to follow this example, if Australia cannot supply sufficient statisticians to meet the needs of these leading companies. In fact the viability of these three established departments will be questioned if we have to recruit statisticians from overseas.

I would therefore ask that your Department support any endeavours that may encourage Australian students to study statistics. The Australian economy will benefit from having suitably qualified statisticians available for potential employers.

Yours sincerely

(signed)

Philip McCloud

Roche Products Pty Ltd

---

Perceived Political Expediency Throttles Hubble; NASA Administrator Proffers Questionable Excuses. (March 1, 2004)
In a January 24 News and Views TFW reprinted a piece by the American Physical Society's Bob Park contrasting the Bush Administration's hyperbole in support of tearing up money to prop up the virtually derelict International Space Station and resource human junkets to the Moon and Mars with NASA chief, Sean O'Keefe concurrently scrapping the 2006 space shuttle mission to the Hubble Space Telescope. It would have installed two new scientific instruments and replaced gyroscopes and batteries to extend Hubble's life to 2010. Without the repairs and renovations, very probably NASA's most significant contribution to science, could fail as early as 2007. O'Keefe claims that astronaut safety - not money - is behind the decision. However, Nature reports that two memos by an unnamed NASA engineer circulating on the Internet contradict O'Keefe. "These contend that O'Keefe's statement that a Hubble flight would be riskier than space station flights 'cannot be supported' on technical grounds. Hubble's higher orbit actually poses less of a threat of orbital debris hitting the shuttle's fragile insulating tiles, say the reports. And NASA's plan to have another shuttle ready to rescue astronauts in case their vehicle fails could just as well be used for Hubble missions as for space station missions, the reports argue."
According to the New York Times the reports author's desire for anonymity as he/she doesn't what to get the sack. So much for O'Keefe's stated policy of openness. It may not be all bad news, however, the US House of Representatives' Committee on Science, chaired by Sherwood Boehlert (Republican, New York), scheduled a hearing for 12 February on the plan, with O'Keefe and White House science adviser John Marburger as the main witnesses. So far there have been no reports on whether or not the hearings took place let alone what may have transpired. An editorial in the February 29th New York Times adds no new information but concludes, "A distinguished panel of astronomers judged that Hubble 'has arguably had a greater impact on astronomy than any instrument since the original astronomical telescope of Galileo.' ...The administration essentially argues that the scientific returns from extending Hubble's life are not worth the risk and effort of a servicing flight. Our feeling is just the opposite. The gains from extending Hubble's life are real and achievable and should not be sacrificed for a distant exploration program that for now is mostly wishful thinking and can surely be delayed a bit." But then the New York Times can't profess to the "wisdom" and "vision" that has been imparted to the Bush administration.
---