A Cain Mutiny. (January 31, 2004)
John Cain was Premier of Victoria from 1982 - 1990. Immediately after leaving politics in 1991 the University of Melbourne took him on and gave him the title of professorial associate. Now, as a prelude to their new book, Off Course, he and co-author John Hewitt write in the Melbourne Age "Why Melbourne University is losing its lustre – Competition and efficiency may work in the market. They do not work for universities." While the authors focus on the University of Melbourne they say, "For some years now, the post-secondary education system has been moving back to a situation where the ability to pay fees is what matters. The demands of mass education have delivered us into a market education culture where students are "consumers" and education is a "commodity" to be bought and sold." Overall they are saying little that hasn't been said before in hundreds of submissions to numerous governmental reviews. What is different is who is saying it. Economic rationalism and the market economy have become increasingly pervasive in higher education and increasingly university administrators have become imbued with its philosophy to the detriment of our universities and our society.
Interestingly enough one of the points made by Cain and Hewitt is, "For some 35 years, governments increased
public investment in universities. They saw it as essential to nation-building, and this reflected public opinion. All this changed when governments (of both sides) decided that nurturing education was too costly. Government had to be smaller. People wanted to pay less tax." [our emphasis]
But in fact the federal government's tax revenue as a proportion of the nation's gross domestic product has remained virtually constant since 1971. Governments may shift the area
from which they derive tax but the sum relative to GDP has remained the same for over thirty years. It's one of those political myths that there are such things as tax cuts. Over any moderate period of time taxes maintain a near constant mean, again relative to GDP, and whether the taxes are direct or indirect ultimately is of minor consequence.
However, what does change is the perception of governments as to how tax revenue should be spent so as to maximize the probability of their remaining in power. Nowhere is this more clearly demonstrated than in the Coalition's diminishing support for higher education since 1996/97 relative to GDP.

Minister for Education in a New Turn Goes in for Black Humour. (January 31, 2004)
According to an article by Mathew Thompson in today's Sydney Morning Herald the Minister for Education, Science and Training, Brendan Nelson has suggested that if we can lure universities the like of Stanford or Oxford to set up branches in Australia the nation's brain drain would be staunched.
According to Thomson, Dr Nelson avowed that students want a world class academic environment and basing such institutions here would lift domestic standards by putting "more pressure on our universities to further increase the quality of education that we're offering". Oh but there is a caveat: his support was contingent on there being "no public Australian tax support". We assume that goes for the locals as well, as in anything additional to the current gruel being served.
There is no indication in the Herald's report as to who is writing the minister's material now that he's back from his holiday but there is just a touch of Danny Boyle's 1995 movie Shallow Grave about the joke.

Ernst Welteke, President of Germany's Central Bank, Backs Plan to Sell 15% of Gold Reserve to Finance Science and Innovation. (January 30, 2004).
According to the Journal Nature German government science experts last week suggested that selling about 600 tonnes of gold would create a fund of several billion euros which could yield interest of €250 million (A$408 million) per annum, to use for research. Currently Germany holds the world's second-largest gold reserves, ~3,500 tonnes, valued at around €37 billion.
Up until now government suggestions to the central bank to sell off part of the reserve to overcome revenue shortfalls has fallen on deaf ears. Welteke has cautioned, however, that using the bank's revenues for a specific purpose, such as research and education, will require a change to its legal statutes.
Perhaps the Australian Academy of Science might want to have a chat to Ian MacFarlane to see if he might like to consider that sort of investment for the RBA. Just a fleeting thought.

Former Policy Advisor to Leaders of the Australian Democrats Named as FASTS Executive Director. (January 29, 2003)
Brad Smith will take up the post of Executive Director of the Federation of Scientific and Technical Societies, replacing Toss Gascoigne, on February 2nd. Smith knows his way around the traps having served Meg Lees, Natasha Stott Despoja and Andrew Bartlett as science and higher education policy advisor in addition to a number of other related portfolios while each took her/his turn as leader of the Australian Democrats. It will be interesting to see how he handles his new position, he has an incisive mind and a clear understanding of the political animal. He and FASTS current President, Snow Barlow, ought to make for an interesting dynamic duo.

It's a Question of Values / Priorities. (January 24, 2004)
TFW from time to time uses material that the American Physical Society's man in Washington, Bob Park, puts into his weekly newsletter What's New.
Space Priorities: Guess What Program NASA Decided To Abandon.

President Bush directed NASA to reallocate US$11B of its resources over the next five years to a program to send humans back to the moon and on to Mars. It should be a no-brainer. They've got this humongous, leaky, space turkey called the International Space Station. ISS was supposed to keep eight astronauts busy doing bogus science experiments, like finding out if the scent of a rose is different when it blooms in zero gravity (WN 7 Feb 04). With the ISS crew down to two, they're too busy trying to stay alive to do even bogus science. But the President says we have a commitment to finish building the ISS before we can scrap it. So instead, Sean O'Keefe announced the termination of maintenance on the Hubble Space Telescope, thus dooming it to an early death.

[And t]here isn't much you can do with a space station. The President says it will become a space-medicine laboratory to prepare for the return of humans to the moon and on to Mars. Hmmm, that's exactly what his father wanted to use the station for (WN 12 Jul 91). The ISS is inside Earth's magnetosphere, so it can't study space-radiation effects, which is the real show stopper. That leaves osteoporosis. Let's see: it will take at least 12 years to complete our commitment to the ISS. Calcium loss is monitored by a daily urine analysis, typically requiring about 30ml. For a full 8 person crew that adds up to more than one thousand liters. Awesome, we're talking US$10M just to launch the water into orbit that will then be processed into urine. We have already been analyzing urine samples collected in space for over 30 years.
Stuff science, there's an election in 10 months, but it's just possible the US Congress may step in.

ANU's Vice-Chancellor Announces an Arm's Length Review of the Quality of the University's Research and Teaching. (January 21, 2004)
Fully independent of any federal governmental assessments set up, or to be set up, of the higher education sector by the Department of Education, Science and Training (DEST) or the Australian Universities Quality Agency (AUQA), which focus on processes rather than outcomes, the Australian National University is interested in having an assessment of its "products".
ANU Vice-Chancellor, Ian Chubb, said bluntly, "I'm fundamentally interested in the quality of outcomes. We're not scheduled for an AUQA thing, so we'll worry about that down the track. But I believe that universities are about outputs and how much inference you can draw from processes is probably moot." The review is to be about, "the quality of what we do," Professor Chubb said.
When told about the intended review AUQA executive director David Woodhouse told The Australian, in what on the face of it appears to be a remarkable comment, "We don't intend to put on a panel someone who could comment on world-class research. And ditto in the teaching," On the other hand Professor Chubb states that ANU will invite reviewers from overseas universities to make up the assessment team. Who they will be remains to be seen but some individuals who would appear to be well suited are the immediate past presidents of Harvard and Princeton universities, Neil Rudenstine, and Harold Shapiro respectively as well as the recently retired vice-chancellor of Cambridge University, Alec Broers.
In the recent rankings of research universities published by Shanghai Jiao Tong University's Institute of Higher Education ANU placed equal 49th and was the best in Australia. Harvard, Cambridge and Princeton ranked 1st, 5th and 7th respectively.
Of course whether such a review would be taken notice of by the ruling federal Coalition or the Labor opposition is "moot". Up til now DEST's reviews have been carefully controlled by the department's apparatchiks. What is really required is that the whole of Australia's university sector be subjected to an arm's length review by a group both objective and competent by world standards such as ANU appears to be undertaking. There is no indication that the Minister for Education, Science and Training, Brendan Nelson, has any such intention.

While Senator Hill Flicks Through the Afterbirth of Star Wars, Peter Costello Makes Sane Noises – Sort of. (January 14, 2004)
In News and Views on December 4, 2003 TFW, under the header "Australia to Join Missile Defence Research, or Don't Bother Us With Facts We've Decided", cited critical evaluations showing why putting resources into the US national missile defence program would be ill conceived. Over the past several days our Minister for Defence, Senator Robert Hill has been talking up that fact that the US government has had one recent successful interception, while downplaying the numerous previous failures. We also weren't told whether or not the 'defenders' knew when the missile was to be launched, from where it would be launched, and whether or not it sported a homing beacon. That's been the form in previous evaluations of the system. A detailed evaluation undertaken for the American Physical Society
carefully chronicled the reasons for the infeasibility of the US government's proposed system. MIT physicist Daniel Kleppner, one of the co-authors of the report, said on submitting it, "Few of the components exist for deploying an effective boost-phase defense against liquid-propellant ICBMs and some essential components would take at least 10 years to develop. According to U.S. intelligence estimates, North Korea and Iran could develop or acquire solid-propellant ICBMs [which have a shorter intercept window] within the next 10 to 15 years. Consequently, a boost-phase defense effective only against liquid-propellant ICBMs would risk being obsolete when deployed." Which prompted a fellow physicist to laconically observe, "

Even if it would work it wouldn't work, but it won't work."
This morning an ABC report suggested that the Federal Treasurer may have sounded a faint note of sanity, perhaps taking heed of criticisms if not some of the nasty factual details the physicists and ballistics engineers have been pleading with their political masters to recognise. "Federal Treasurer Peter Costello says it will be a long time before Australia makes a financial commitment to the United States' missile defence program. [He] says Australia has not yet committed any resources to the missile defence program but is interested in discussing some involvement. 'If we judge that the program is workable and that Australia can make a contribution, then we would sit and we would look at it in financial terms, but that's a long way down the track, this hasn't been developed'."
In the meantime Australia's university sector and research potential continues to slide quietly but apparently inexorably into the depths.

"Science in Australia is Still Afloat, But Only Just." (January 12, 2004)
That's the opening sentence in a media statement from the Federation of Australian Scientific and Technological Societies (FASTS) released today. The strongly worded comment goes on to state, "Scientists today compared it to a pricked balloon, slowly losing height and being easily outstripped by the efforts of other countries. While funding initiatives in Australia over the last few years have been welcome, they have not been enough to retain our position in the international race to forge a modern economy."
Compared to the virtual silence of the Australian Academy of Science over the past two years as to the state of federal support for science it's damn strong stuff.
Professor Snow Barlow, an environmental physiologist, and Head of the School of Agriculture & Food Systems at the University of Melbourne is the current President of FASTS. He believes that other countries are racing past Australia by increasing their funding for science and research. "Only a substantial injection of new funds can solve the problem," he said. "The Government has an ideal opportunity when it announces plans for a successor to Backing Australia's Ability. [But t]here seems to be a national failure in Australia to realise the urgency of the situation. It's as though we have taken an extended holiday from reality," and to bring home the point Professor Barlow goes on to say, "The European community has set a target for investment in research to reach 3 per cent of GDP by 2010. We are currently investing about half that amount, and ultimately this is going to tell; you can do things on the cheap for only so long."
The FASTS' President then puts a statistic to the brain drain. He said the increase of permanent departures from Australia of young and talented people was symptomatic of the lack of investment in science and research. "Permanent departures from Australia have increased by 146 per cent since the early nineties [and while] [n]ot all these people are scientists, scientists will be well-represented in the highly qualified young professionals fleeing overseas to find better pay, better facilities, more modern equipment and greater career opportunities. [T]hese are highly qualified young professionals, exactly the sort of people Australia needs to retain."
FASTS has also released its top ten issues for 2004. [click here for the list]

UNSW Vice-Chancellor Invites Former Hawke Minister to Review University's Approach to Dealing with Misconduct Allegations. (January 12, 2004)
Former Hawke government education minister Susan Ryan, a current member of the University of New South Wales Council, has been asked by the university's vice-chancellor, Rory Hume, to lead a review into what professor Hume referred to as defects in the structure for dealing with allegations of misconduct. This stems from the 2½ year-old investigation into charges of scientific misconduct levelled at UNSW immunologist Professor Bruce Hall that were first investigated and dismissed by two internal inquiries, then partly but significantly upheld by a four member external independent inquiry only to be vitiated by Professor Hume's findings released this past December after he had decided to consult a separate panel of expert advisers. The report censured Professor Hall for academic misconduct but cleared him on the more serious matter of scientific misconduct.
Although the New South Wales Supreme Court last August rejected an application by Professor Hall to suppress publication of the external independent inquiry's report, the university has still to release it claiming that both he and the UNSW Council wanted to see the full report published, so long as it did not risk provoking a defamation action.
Two short excerpts released by the NSW Supreme Court when it brought down its verdict may suggest why publication of the report continues to be delayed.
Professor Hall had authorised the publication of an abstract in a scientific journal "with intent to deceive, or in reckless disregard of the truth".

Professor Hall had "seriously deviated from practices that are commonly accepted within the scientific community for reporting research" and, in reporting his research results, had "stated a material or significant falsehood with deliberate intent to deceive".
Earlier reports of the matter can be found in the January 9, 2004 and December 24, 2003 News and Views items.
[Note added January 21: The January 16th issue of Science under the headline "Hall Found Guilty of Lesser Misconduct" takes note of the events taking place at the University of New South Wales and summarises them clearly and succinctly. Citing Hume's report it concludes, "Ian Lowe, a policy analyst at Griffith University in Queensland, calls it a 'blatant' case of favoring 'the powerful over the weak.' Some academic members of the UNSW council, who wish to remain anonymous, agree with Lowe. They also share his fear that Hume's actions will 'tarnish' the reputation of Australian universities.
Meanwhile, three government bodies are pursuing separate investigations into Hall's alleged financial mismanagement of his grants and the university's handling of the whistleblowers' complaints."]

Canada's New Prime Minister Talks Up Science. (January 12, 2004)
Paul Martin succeeded fellow Liberal Jean Chrétien on December 12th as Canadian Prime Minister. Prior to taking over Martin gave a November interview to the Toronto Star, in which he said that if he were born again, he'd like to come back as a basic researcher. He then told the newspaper he would make science and technology a central pillar of government policy. "I'm making it a fundamental tenet of my government."
As a start Arthur Carty, president of the National Research Council, Canada, the country's main research and development agency, has been designated full-time science adviser to the prime minister – the first such appointment in Canada for 30 years. However, Martin suggested he was in favour of a more commercial approach to research policy in an October speech he gave while still Canadian Finance Minister saying there should be "a fundamental change in the way that our research institutions assess the economic potential of their discoveries"; although he later added that "basic research that does nothing else but expand the sum of human knowledge is sufficient reward in itself for the expenditure that government puts in."
Nature reports in its January 8th issue, "John Polanyi, a chemist at the University of Toronto who won the Nobel prize in 1986 for his work on reaction dynamics, says that Martin's first month in office is 'a hopeful moment in the history of Canadian science'. But he cautions that Martin will have to resist pressure to over-commercialize research, especially at universities. 'Our scientists are becoming less effective because of baroque schemes for milking science of its wealth-creating aspect,' he complains."
Perhaps the Martin government will heed Polanyi's plea; certainly there is little indication that similar appeals have met with anything other than an unlistening government in Australia.

Weinberg's 4 Laws of Doing. (January 11, 2004)

Steven Weinberg is in the Physics Department at the University of Texas, Austin. He together with Sheldon Glashow and Abdus Salam shared the 1979 Nobel physics prize "for their contributions to the theory of the unified weak and electromagnetic interaction between elementary particles, including, inter alia, the prediction of the weak neutral current". In a "Concepts" piece for the November 27th, 2003 Nature the 70 year old physicist offers four rules for aspiring scientists – In encapsulated form:
...no one knows everything, and you don't have to.

...while you are swimming and not sinking you should aim for rough water. The area where creative work can still be done is were the mess is.

...forgive yourself for wasting time. ... in the real world, it's very hard to know which problems are important.

...learn something about the history of science, or at a minimum the history of your own branch of science.
Weinberg concludes with a serve for our political masters. "Look back 100 years, to 1903. How important is it now who was Prime Minister of Great Britain in 1903, or President of the United States? What stands out as really important is that at McGill University, Ernest Rutherford and Frederick Soddy were working out the nature of radioactivity."

Germany's Governing Social Democratic Party (SPD) Publicises Plans to Raise Nation's Game in Higher Education and R&D. (January 11, 2004)

German Chancellor Gerhard Schröder's Social Democrats' recent publicising of proposals to set up a small number of elite universities similar to Harvard, Stanford, Oxford or Cambridge, has met with a mixed reception.

At last week's meeting party members are reported to have focused on new requirements in education and research as well as ways of encouraging innovation in those areas. According to the SPD announcement, "We want to change the structure of the German university in order to establish first-class universities and research centres that can compete with international top-league schools." In addition Schröder's party affirmed its intention for Germany to increase spending on research and development from the current 2.5% to 3% of GDP by 2010. While most of the increase would be derived from the private sector, the government would earmark revenue equal to 1% of GDP for R&D – funds to be raised for this purpose through an increase in the inheritance tax and a large part of it to be passed on to the universities.

However, unlike Australia in Germany it is the states, not the federal government, that bears financial responsibility for higher education. The rector of the Free University Berlin, Dieter Lenzen, told the Tageszeitung "We don't need a centrally planned economy in the academic world" and the majority of German editorial opinion has been critical of the SPD's proposal for an elite university 'network'

.

That said, the fact remains the German higher education system has been in financial straits for some time with the recent rankings by Shanghai Jiao Tong University's Institute of Higher Education placing the top five German universities 48, 58, 60, 91, and 95 in the top 100.

An article published in the Frankfurter Allgemeine Zeitung by Elizabeth Götze reports, "The CHE [a higher education think tank backed by the Bertelsmann Foundation] calls for the introduction of tuition fees, something the SPD still opposes even though many experts see them as the only way to obtain sufficient funds to significantly improve the universities' overall quality.
"Alfons Labisch, Dean Faculty of Medical Sciences Düsseldorf University, told Der Spiegel Online that the SPD's proposition was, 'a scandal. They turned us into a mass-market event and destroyed our quality,' Labisch said, referring to past budget cuts." And an article in the January 10th Economist says, "The cost-cutting knife has also hit bone. In Berlin, the regional government has told the city's three universities to cut their budgets by €75m ($85m) [A$123 million] a year by 2009. That will mean shedding another 250 academics, after having cut the number by half, to 1,100, in the past decade. There will then be 125 students per don, more than twice today's national average. Other state governments are imposing similar cuts."

At present the SPD's proposals are vague and it remains to be seen just what the German Federal Government will specifically propose, or if, in fact, the SPD is simply sending up a trial balloon to assess the political winds prior to an election.

From an Australian perspective it should be recalled that German universities are completely tuition free whereas Australian students currently contribute 37% (fees-21%, HECS-16%) of university revenues. What approaches Germany's state and federal governments will take to resolve the crisis is the source of heated debate. Wolf Lepenies, former Rector of the Wissenschaftskolleg (Institute for Advanced Study) of Berlin from 1986-2001, now Permanent Fellow, Professor of Sociology, Free University of Berlin, is quoted by The Economist, "A country which is cutting its educational institutions into cripples loses flexibility and the power to innovate – and is thus squandering its future." And while our Coalition government trumpets that Australia has one of the world's most vibrant economies, does our university system reflect it? Or are we saddled with federal and state governments who frankly are incompetent financial managers?

University of California Funding Down 15% from 2000-01 Financial Year. (January 10, 2004)
When Arnold Schwarzenegger assumed the Governorship of California he promised he would sort out the state's large budget deficit and the University of California system was setting itself for rough times ahead; mind you matters haven't been good since 2000. On Friday Arnie dropped the other shoe. Robert Dynes, the university's President, told students and staff:
The US$372 million in program cuts represent the fourth consecutive year of such cuts to the UC system. The proposed budget for UC also includes US$145 million in augmentations, largely consisting of restoration of US$80.5 million in one-time cuts in the 2003-04 budget, funding for annuitant health benefits, and other items. As a result, UC's net state-funded operating budget in 2004-05 would be US$2.67 billion, or 8 percent less than the current US$2.9 billion.

Measured another way, the governor's budget, when combined with prior cuts, would leave the university with US$530 million less in net state funding than it had in the 2000-01 fiscal year -- a decline in state support of more than 16 percent during a period when enrollments have grown by more than 15 percent. Already, every area of university spending has been cut, student fees have increased significantly, employee positions have been eliminated, and faculty and staff have been denied cost-of-living salary increases.
According to UC's press release the cuts will engender:
· Fall 2004 freshman enrollment would be reduced 10 percent
· Spending on faculty would be cut 5 percent, aimed at increasing student-faculty ratio
· Fees would increase 10 percent for undergraduates, more for graduate/professional
· Financial aid would be cut from 33 percent of new student fee revenue to 20 percent
· Deeper cuts proposed for outreach, research, administration, other programs
· UC Merced would open in fall 2005 at modified level
UC's Dynes hopes to mitigate the cuts saying, "I intend to work with the governor, the Legislature and the Board of Regents to minimize these cuts and their impact, to seek restoration of funding as the economy improves, and to preserve what the University of California has always meant for California."
It's worth recalling that the population of California is 35 million and that in the recent assessment of the world's top 500 universities University of California campuses scored five of the top twenty-six places and six of the top thirty-six;
UC - Berkeley = 4, UC - San Francisco = 13, UC - San Diego = 14, UCLA = 15, UC - Santa Barbara = 26 and UC - Davis = 36.
The university's full media release is available online.

CSIRO's Chief Executive Gets More Media Attention for the Wrong Reasons. (January 10, 2004)
Federal Labor's shadow science minister, Senator Kim Carr, doing his bloodhound performance uses Senate Estimates inquiries to discomfort CSIRO's top administrators, principally by nosing out questionable spending practices. In answers to his most recent set of questions to the organisation he, like Wagner's Alberich, came up with a small lump of gold the consequences of which to Chief Executive, Geoff Garrett and CSIRO may not be dissimilar to what befell Wotan and Valhalla.
South African consultant Ian Dean is an associate and personal friend of Dr Garrett, who was head of the CSIRO's South African equivalent before his appointment to CSIRO. According to Ron Sandland, CSIRO's Deputy Chief Executive, "Since 2001-02, Mr Dean has been given consultancies including accommodation and travel costs to a total value of $658,000." This without a public tendering process.
But the most sensible public comment made regarding the matter comes from CSIRO Staff Association secretary Sandy Ross who told the Australian yesterday that "the association does not wish to comment publicly on the specifics of the Dean case. 'But no doubt the money spent on this consultancy is small bikkies compared to the chronic under funding to the organisation's research capacity.'"
[Addendum 04-01-11: See SMH - article "CSIRO denies dodgy tender claim"]

The Wound Opened by the Findings With Regard to Accusations levelled at UNSW Professor Bruce Hall Continues to Fester. (January 9, 2004)
TFW reported in News and Views on December 24th, 2003, A Controversial Misconduct Decision by University of New South Wales Vice-Chancellor Rory Hume Widens the Door for Increased Governmental Intervention into University Governance. This past Wednesday (January 7th) the Australian in its Higher Education Section devotes five articles to the matter.
First, Ian Gerard reports, "Experts back up scientist's defence" and quotes Professor McKenzie, founding director of Melbourne's Austin Research Institute, as saying the issues were too complex for the inquiry, and dismissed the allegations against Professor Hall as "much ado about nothing"; while Professor Tony Basten, director of Sydney's Centenary Institute, told Gerard "from a scientific point of view" Professor Hall was guilty of academic misconduct, but not scientific misconduct;" in effect a summary of Professor Hume's report. Professor Basten added that "the vice-chancellor's finding was fair enough." From the Australian's report it is not clear whether or not the two men have had access to the full "Brennan Report" because the Brennan report has not been made public after Professor Hall sought an injunction against its release and the UNSW Council resolved only to release it to the four complainants and relevant government ministers and agencies, even though the NSW Supreme Court lifted the temporary injunction on the report last August.
Professor Hall is given space for 1,200 words by the Australian to state his point of view and again calls into question the competence of the four member Brennan inquiry. Four brief excerpts follow but the article is currently available in full online.
In August 2002, an external committee, chaired by former High Court chief justice Gerard Brennan... formulated 32 allegations with nearly 100 parts. More than one third were misconceived, as neither the complainants nor the committee understood the science behind the research.

This report of the vice-chancellor will withstand international scrutiny. My omissions are that I wrote a National Health and Medical Research Council grant when too ill.

After two years of investigation of nearly 1000 serious allegations none have been upheld.

In the future, such complaints need investigation by peers who are experts in the field. They are too complex to be judged in the media or by anyone outside what is a highly specialised field.
The final article of the group, "Academic judge now in the hot seat" appears to be sourced primarily from UNSW individuals and goes into detail with regard to the events leading up to the publication of Professor Hume's report. Surprisingly it particularises the experts called upon by Professor Hume:
Professor Tony Basten, Director, Centenary Institute which specialises in immunology

Professor John Dwyer, Prince of Wales Hospital medical science division chairman

Dr Alex Bishop, senior research scientist, Centenary Institute, and senior research fellow, University of Sydney

Professor Graeme Stewart, Westmead Hospital, clinical immunology and allergy department

Professor Emeritus Ian McKenzie, founding director, Austin Research Institute – research specialties include organ transplantation

Dr Anahid Jewett, assistant professor UCLA dentistry, investigator funded by US National Institute of Health in immunity and tolerance.

Two experts who gave advice were unable to be contacted to clear publication of their names.
but refers only to the "Brennan Report panel Sir Gerard Brennan, former High Court chief justice and Chancellor UTS." For the sake of completeness the Report panel consisted of:
Professor John Chalmers AC, Professor of Medicine and Chairman of Research Development, Faculty of Medicine, University of Sydney;

Professor Judith Whitworth AC, Director, ANU John Curtin School of Medical Research, Vice-President of the International Society of Hypertension and Honorary Consultant Nephrologist at the Royal Melbourne Hospital;

Professor Sir David Weatherall, Regius Professor of Medicine and Director of the Institute of Molecular Medicine at the University of Oxford.
It remains to be seen whether the report of the Expert Independent Inquiry set up by the former UNSW Vice-Chancellor, John Niland, will be made public.

Observations by Teams led by ANU and Johns Hopkins Astronomers Give Cosmologists Food for Thought as to Early Galaxy Formation. (January 8, 2004)
On Wednesday at the meeting of the American Astronomical Society being held in Atlanta, Georgia a team lead by ANU's Dr Paul Francis announced that an enormous string of galaxies 300 million light-years long has been discovered in the Universe as it existed about 3.7 billion years after the Big Bang, some 10 billion years ago, challenging existing theories about how the Universe evolved. The team consists of Dr Francis, Dr Povilas Palunas of the University of Texas, Dr Harry Teplitz of the California Institute of Technology, Dr Gerard Williger of Johns Hopkins University and Dr Bruce E. Woodgate of NASA Goddard Space Flight Center, using telescopes in Chile and at Siding Spring Observatory in New South Wales. This is the first time astronomers have been able to map an area in the early Universe big enough to reveal such a galaxy structure. Dr Francis points out that on the basis of current cosmological theories, ""There simply [hadn't] been enough time since the Big Bang for it to form structures this colossal. To explain our results the dark matter clouds that lie in strings must have formed galaxies, while the dark matter clouds elsewhere have not done so. We've no idea why this happened - it's not what the models predict." The astronomers say the next step is to map an area of sky ten times larger, to get a better idea of the large-scale structure. Several such surveys are currently under way. The research was funded by NASA and the Australian National University.
At the same meeting a team led by Sandra Savaglio and Karl Glazebrook of Johns Hopkins University in Baltimore, Maryland, studied a few hundred galaxies of the same age as those being observed by Dr Francis' group. A number of the galaxies turned out to be not only larger and more massive than our own Milky Way, but more mature, judging by their colours and abundance of heavy elements. That indicates that they were born a mere 1 billion or 2 billion years after the big bang. Echoing Paul Francis Patrick McCarthy of the Carnegie Observatories in Pasadena, California, a member of Savaglio and Glazebrook's team says, "The big surprise is that we're finding too many massive galaxies that formed too early," while theorist Virginia Trimble of the University of Maryland, College Park, is confident that she and her colleagues will find a solution to the conundrum.
Considering that Mt Sromlo was razed by bush fires just a year ago and the federal government has allocated something less than half of the funds required to properly rebuild the facility, it's wonderful to see it doing a phoenix – comparable perhaps to Lleyton Hewitt winning over Roger Federer from a two sets to love deficit but with a cracked racquet and without ankle supports – while McGauran and Co look like Ebenezer Scrooge when it comes to real as opposed to virtual support for science.

George W Compliments the Team (January 7, 2004)
Never let it be said that US National Aeronautics and Space Administration boffins don't know from whence cometh their research funding.
[I]n a telephone call today, US President George W Bush "complimented the [Mars Exploration Rover mission] team," said Charles Elachi, head of NASA's Jet Propulsion Laboratory in Pasadena, California.

"It was a wonderful phone call, humorous and exciting," Elachi said.

"We had a little chat about quantum physics and the string theory," he said.

Dawkinsisation Followed Whitlamisation in Higher Education and Sixteen Years on the Egg Remains Scrambled. (January 6, 2004)
[Peter Hall, The Australian National University submits]
When the Labor Whitlam government assumed power in 1973 it took over from the states government funding of higher education which allowed it to abolish higher education fees. However, the centralisation of funding and de facto control brought with it a train of unforeseen events.

In almost any sphere, a system (be it an ecosystem, or a higher education system) is stronger if it is more diverse. By "homogenising" the universities, Whitlam made it less diverse, and hence more vulnerable to calamity -- particular to calamitous policies from the one government which now funds it.

The strengths of Oxford and Cambridge come largely from their diversity, not from some innate gift of brilliance. The many Oxbridge colleges, with separate reputations (and endowments) to jealously protect, operate independently to ensure the optimal outcome. If their resources were pooled (and placed under the control of a single elected government), Oxford and Cambridge would quickly gravitate to a low common denominator of the present statures of their individual colleges.

Likewise, the strength of the US HE system is its diversity; no other country comes close to matching it. The 1988 "Dawkinsisation," or unification, of Australian HE, and the Whitlam government's different but equally dangerous unification of HE funding, are two different approaches to the same flawed principle -- they make a system less diverse, and therefore more vulnerable to decline.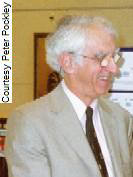 Peter Pockley Asks, "Who Cares About Science Now?" (January 6, 2004)
In his "Pockley's Razor" column, Jan/Feb 2004 Australasian Science, Peter Pockley examines aspects of the Coalition government's commitment to science.
Some excerpts.
Eight years after gaining office and immediately cutting support for universities and research [they haven't] come to grips with the dire consequences.

Prof Frank Larkins, Deputy Vice-Chancellor of Melbourne University calculates that $1.58 billion is needed… [just] to restore levels relative to GDP prior to the 1996 cuts. "Australia has had the largest percentage decrease (11%) in public investment in universities over 5 years of any OECD country (21% average increase)" he said.

At year's end the government produced… "Mapping Australian Science and Innovation". [I]ts prime effect has been a further year's delay in dealing with the hard questions.

The report has failed to produce something that anyone would read, except under direction.

A comparison with the leaked 350-page draft dated 20 August (Razor Nov/Dec 2003) supports suspicions that the government ordered a wholesale rewrite to limit its potential for political embarrassment.

[T]he report cannot hide a hefty drop in infrastructure.

In pre-Howard times inquiries (not "reviews") were established at arms length from government.

Now, academics and researchers have been conned into a string of futile exercises that have been driven and controlled by politicians and tame bureaucrats. The voices of science have been silenced.