Opinion- 30 September 2011
Illustrations by Nature's

Are the Mechanisms for Funding
Research Beyond Repair?


Jonathan Burton

Scientists don't have time for science any more -- because they are judged on the amount of money they bring to their institutions, writing, reviewing and administering grants absorb their efforts.
So writes John P. A. Ioannidis who is professor of medicine and of health research and policy, and director of the Stanford Prevention Research Center at Stanford University School of Medicine, as well as professor of statistics at Stanford University School of Humanities and Sciences.
In his article in this week's Nature "More time for research: Fund people not projects" Professor Ioannidis make no mention of Australia's proposed Excellence in Research for Australia (ERA) as a mechanism for the distribution of a significant portion of federal research funds but he does comment on the UK's Research Assessment Exercise and its replacement the pending Research Excellence Framework:
Metric-based appraisals are familiar to many scientists already, particularly those in European countries. The UK Research Assessment Exercise, for example, relies on them. It is a much hated and debated system for evaluating departments, but its replacement, the Research Excellence Framework, will rely even more on indices when it comes into effect in 2014.
And then their is the requirement either real or perceived that "researcher's [need to] promise taxpayers specific results to justify research [which] tends to invite either exaggeration or boringly predictable projects".
In the table below Professor Ioannidis lists what he considers to be: "some of the most promising proposals to reduce the amount of time scientists spend trying to fund their research, and the pros and cons of each. Definitive fixes would require major system overhauls, which are likely to make some scientists justifiably nervous. But smaller, pilot efforts that enable us to evaluate what works could begin right away".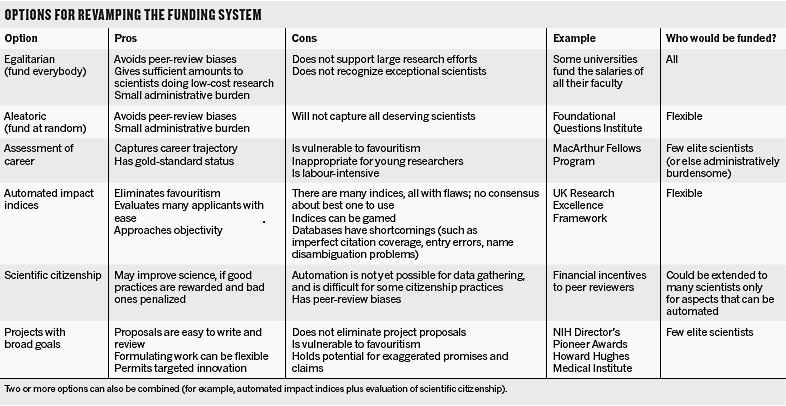 Finally, there is the continued assessment by the US' National Science Foundation of the use of Second Life where the avatars for groups of peer reviewers for the NSF meet for the evaluation of research proposals. John Bainbridge who is the instigator of the approach estimates that the NSF would save US$10,000 for every panel that works in the virtual world. Currently NSF pays US$3600 p/a rent to Linden Labs, the company that operates Second Life so: "just one normal-sized panel pays for the island more than twice over."
So far as we know no serious approach has been made to NICTA (National ICT Australia Ltd) Australia's Information and Communications Technology Research Centre of Excellence to work with either the Australian Research Council or the National Health and Medical Research Council to develop a trial system for increasing the quality and efficacy of their peer review systems through a comparable mechanism. Quite apart from any other consideration it ought to make the approach to oversees reviewers considerably more likely to meet with success.
And yet the Minister for Innovation, Industry, Science and Research, Senator Kim Carr, continues to press for heaping yet another bureaucratic layer on academic researchers and university administrators -- it's ludicrous, counter productive, and from a rational viewpoint, indefensible.
Alex Reisner
The Funneled Web