UK Prime Minister Gordon Brown visited the University of Oxford on February 27 to deliver the 2009 Romanes lecture which he titled Science and our Economic Future. He emphasised the importance of scientific research and science as a route out of the global economic crisis but in contrast to US President Barack Obama's allocation of an additional US$21.5 billion to science in his economic stimulus package Mr Brown was non-committal regarding specific resourcing. However, he has pledged to maintain the government's investment in science and to double the number of state school pupils taking triple science by 2014.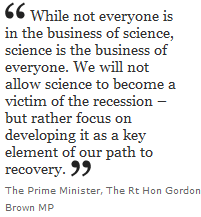 Referring to Britain's eminent position in scientific research Mr Brown then looked to its future:
The answer I believe has three parts.
First - we entrench investment in science as a national priority - maintaining our commitment to continue our path of raising investment in science across the board - targeting specifically the key sectors where we have a strong competitive advantage and bringing scientists and industry together in partnership - to underpin a new extended science base in the UK.
Second - we raise the status of science in education and in particular bring more people with science qualifications into teaching - so that we can maximise the support available for the next generation of great British scientists and use the downturn as the opportunity to shift away from over-dependence on financial services to do that. And do it now.
And third - we show that science matters to society and promote even more vigorously a positive public debate about the proper role of science in the service of humanity - improving public understanding and awareness and harnessing the power of science to tackle some of the great problems and challenges our society now faces.
That Mr Brown is fully aware that simply maintaining its current commitment to supporting research, development and education will be insufficient is clear from his observation:
Across the world, other nations are now also stepping up their investment in science. President Obama is doubling America's basic science spend and his economic stimulus package includes over US$21 billion of one-off investments in federal research and development. And it's not just America. Japan now has an ongoing spending target of 1 per cent of GDP on science and technology. China is growing fast from a low base, increasing its higher education R&D spend four-fold between 1995 and 2004 and its share of publications is now equal with UK.
To allay fears that he was neglecting the scientific foundations, the prime minister told his audience: "[L]et me first be absolutely clear - that we will meet our ten-year commitment to maintain science spending with investment focusing on pure fundamental science as well as applied science. And that we will invest not just in specific projects but also crucially right across the science base that underpins our international reputation."
Nevertheless, while the UK prime minister's emphasis on the importance of science was generally welcomed by the community there was also a voicing of some disquiet about the government's record on research funding or the lack of specifics on new money in the speech.
University of Manchester physicist Brian Cox asked Science Media Center rhetorically: "What better way for the Prime Minister to signal his intent than to personally sort out the mess that Science and Technology Facilities Council has been in since its botched formation in 2007 and help both organisations [STFC and the Engineering and Physical Sciences Research Council] with their small but damaging funding problems."
And Nature reports:
Martin Rees, president of the Royal Society in London, warns that without a further funding boost, strategic areas of science could languish. "Maintaining current investment is a good place to start, but we must also look to see where we can put more money in to capitalize on our world-leading science in areas such as energy," he says.
"If we fail to deliver extra investment in the areas where we have a strong competitive advantage, other countries will overtake us and reap the long-term economic benefits," Rees adds.
Mr Brown made a speech of sweeping statements and as is said so often, the devil will be in the detail.
So you can interpret the following as you will:
[W]e will invest more than at any time in our country's history, to make the next decade a decade where British scientific genius can create the low carbon, high skill, digital economy that we need. Our future must be one that will give us the benefits of globalisation while minimising its risks...
[And]in addition to investing directly in these new sectors ourselves, I can also announce that we will be looking for ways of working - through the Research Councils with our American partners. Ways that will be of mutual benefit and allow us therefore to take advantage of the additional American investments resulting from President Obama's economic stimulus package.
But to secure the long term future of British science our second priority must be to ensure that Britain produces the great scientists of tomorrow to follow in the path of those we have today.
So far Australia's government has been silent while the nation awaits its response to the Bradley Review of Higher Education and the Cutler Review of National Innovation.