News & Views - August 2003

Peter Hall Reports on a DEST Workshop on Research Funding Reform

.

Notes on a Workshop in connection with "evaluation of the reforms for research and research training introduced by 'Knowledge and Innovation: A Policy Statement on Research and Research Training,'" held at the ANU on 27 August.

(August 27, 2003) [Click here for full report.]

Lucky Country / Clever Country? A 20 Minute Discussion. (August 26, 2003)
The ABC's "Breakfast" anchor, Peter Thompson, introduced today's discussion segment with, "Lucky? Yes. Clever? Well, maybe. When Donald Horne coined his famous title 'The Lucky Country', his central idea was widely misinterpreted. To him being 'lucky' didn't mean, aren't we 'lucky'. His 'lucky' meant we're lucky to be getting away with it."
Listen to the discussion (requires RealAudio)
The panellists:
Steve Burdon: Visiting Professor in the School of Management at the University of Technology in Sydney.
Simon Marginson: Director of the Monash Centre for Research in International Education.
Angus Robinson: Chief Executive of the Australian Electrical and Electronic Manufacturers Association.

Australian Optical Astronomy Looking Down the Barrel. (August 24, 2003)

A recent paper by Joshua Gans (Melbourne Business School) and Michael Porter (Northwestern University) entitled Assessing Australia's Innovative Capacity in the 21st Century focuses on matters "practical". The word astronomy doesn't get a mention in its sixty-four pages. Nevertheless, Australia has contributed significantly to astronomy and cosmology. But as matters seem to be unfolding the future of Australian astronomy may become associated principally with instrument design and production (export earnings) and other "below stairs" work rather than in cutting edge studies of the universe.
The Minister for Science, Peter McGauran, gave a strong indication as to the low regard the Coalition government places on astronomical research when he announced that the Howard government would allocate $7 million toward the rebuilding of the Mt. Stromlo Observatory following its destruction during last summer's Canberra bush fires. The Australian National University estimates $14-$20 million will be required.
But Australian observatories cannot compete with the higher altitude sites in the Andes or Hawaii where extremely large telescopes up to 30 meter (1200 inch) diameter will be constructed. Therefore, a task force set up in May by the National Committee for Astronomy is seeking a way for Australian astronomy to establish a prominent role in an "Extremely Large Telescope" project. Our astronomers believe that Australia would need to contribute at least A$100 million to participate in such a telescope project, which will cost about A$1.5 billion in total.
Currently there is little indication that the Government is interested in such expenditure and unless there is a change in its viewpoint, Australian astronomy is destined to become a scullery maid to the discipline. The relegation to such duties is indicated in a recent Nature news item, "Local telescopes are being upgraded to carry out surveys of the entire southern sky, including the Radial Velocity Experiment and 6dF Galaxy Survey. 'We depend on Australian observatories to do these essential surveys,' says Richard McMahon, an astronomer at the University of Cambridge, UK."
--Too kind.--

United States' Ailing Economy Hitting State Universities Hard. (August 24, 2003)
The New York Times reports that times are tough as US state campuses looking toward the upcoming academic year.
The University of Illinois has canceled 1,000 classes on hundreds of subjects this year. Up to 1,000 students at the University of North Carolina will be shut out of beginning Spanish. The University of Colorado has eliminated academic programs in journalism, business and engineering. The University of California has put off opening an entire campus...

Virginia Tech is scrapping an education major and suspending mandatory history classes because it does not have enough professors to lead them...

"The academic cuts are probably the most severe I've seen," said Edward M. Elmendorf, an assistant secretary of education in the Reagan administration and now a senior vice president at the American Association of State Colleges and Universities. "And I don't see any mitigation in them in the coming year."...

"There is no doubt that we're at a stage where the quality of the educational experience is less than it was two years ago, five years ago, and certainly less than what we set for our standards," said Robert N. Shelton, provost of the University of North Carolina at Chapel Hill...

...college officials say, the more tuition rises to keep public campuses afloat during troubled economic times, the more students will end up working to pay it, only heightening the obstacles to a degree. "If I didn't worry about that I would be irresponsible," said George W. Breslauer, dean of social sciences at the University of California at Berkeley.

And finally, "For their part, universities are scrambling to keep valued faculty members. Confronted with bigger class loads, less time for research, fewer administrative aides, less money for graduate assistants and salary freezes, tenured professors are vowing to leave -- and occasionally making good on their threats."
Perhaps our Minister for Education, Science and Training might launch an ad campaign targeting US academics with the salubriousness of the Australian academic environment; then again the question of truth in advertising might come up. Then again it might not.

Full Disclosure: Scientists or "Academics Entrepreneurs"? (August 24, 2003)
Bob Park in his August 22nd What's New Column asks that question.
In letters sent yesterday to editors of both Science and Nature, a group of 30 prominent scientists urged the journals to require authors to disclose any financial ties to companies or products that stand to benefit financially from their articles. It was on the letterhead of the Center for Science in the Public Interest, a nutrition advocacy organization, and cited specific examples of recent articles or editorials that omitted disclosure. The APS Guidelines for Professional Conduct are Clear: "Any professional relationship or action that may result in a conflict of interest must be disclosed." www.aps.org/statements/02.2.html.

South Australia to Contribute $8.6 million to Australian Maths and Science Secondary School located within Flinders University. (August 20, 2003)
The South Australian Government with assistance from the Commonwealth government and Flinders University are to fund the $14 million specialist high school, with $8.6 million coming from South Australia, $5 million from the Commonwealth, and the remainder from the university. The Commonwealth will make available just under $520 thousand to, "fund university and school staff to produce a curriculum framework for the school."
The Department of Education, Science and Train, echoing the Minister, Dr. Nelson's comments in his forward to DEST's policy paper, Our universities: backing Australia's future, states, "The Australian Government recognises the key role that science education plays in strengthening Australia's capacity to generate ideas and in developing our international competitiveness... If we want Australia to be an educated and competitive society that both adopts and creates new technologies, it is critical that Australians have opportunities for outstanding education in science and mathematics."
In this context it is interesting to note the conclusions drawn by Joshua Gans and Scott Stern of the Melbourne Business School in their 64 page paper published at the end of June, Assessing Australia's Innovative Capacity in the 21st Century. Their analyses support the assertion that Australia ranks 17th in the innovation economy sweep stakes and seems to be falling further behind. An interview by Richard Aedy of Joshua Gans is available online. Gans opened his remarks with,
On a number of variables, such as total expenditure on research and development Australia's been growing very, very well. On other areas, in particular, spending on tertiary education and higher secondary education, Australia is falling behind. While our levels spent on those things are in dollar terms, historically high as a proportion of GDP, relative to our other OECD countries, they are stagnant if not declining. Those sorts of areas such as the spending of universities on research, the total number of scientists and engineers actually graduated in Australia and in terms of some of the balance between public and private expenditure on research, we are behind the countries we would now compare ourselves to. And what has actually occurred is in the past to move countries from a second tier to a first tier innovator economy has required a sustained and systematic attempt by both government and business to improve innovative capacity on all its key dimensions. [our emphasis]
Not really a ringing endorsement of Coalition Government policies.
[Note: The maths and science secondary school opened this year with 220 students, and plans eventually to boost enrolment to 450.]

Science Meets Parliament 2003. An Initiative by the Federation of Australian Scientific and Technological Societies (FASTS) -- Tuesday-Wednesday October 14-15(August 19, 2003)
FASTS lists this years highlights as:
National Press Club debate between Peter McGauran and Kim Carr

The Science-Industry dinner at Old Parliament House

A new forum for young scientists to meet young members of Parliament
All participating scientists, engineers and technologists will meet Parliamentarians, and have an opportunity to explain the value of their work. And the cocktail reception at Parliament House will again be hosted by the Speaker of the House, the President of the Senate and the Minister for Education, Science and Training.
To Register the most convenient and secure way is on FASTS web site: Http://www.fasts.org.
Note: Participants must be a member of a Society affiliated with FASTS.

The Group of Eight Releases Its Submission to a Senate Committee. (August 18, 2003)
In a submission to the Senate Employment, Workplace Relations and Education References Committee's "Inquiry into higher education funding and regulatory legislation" signed by Professor Alan Gilbert, Chair and Virginia Walsh, Executive Director for the Group of Eight the closing paragraphs are a thinly veiled admonition to non-government Senators:
The Government has established a detailed and progressive blueprint for the future development of teaching and learning in Australia's universities. It has set the scene for informed debate in the Parliament and in the broader university and business community. With the release of Labor's higher education policy there is now a broad range of initiatives on the table for discussion.

However, implementation of a policy and funding agenda for the advancement of excellence in Australian universities is urgently needed. There is a responsibility incumbent on our elected Parliamentary representatives to act quickly to ensure that there are not significant delays while prospective changes in higher education policy continue to be debated in a protracted manner.
The Go8's paper gives a qualitative overview of what it perceives to be the pros and cons of the Coalition Government's and Labor's policies on higher education. It makes no significant quantitative recommendations for the Senate Committee to evaluate, but it comes close to condemning both the Coalition and Labor with regard to lack of published research policies.
The Go8 believes that the health of teaching and learning in Australia's universities cannot be adequately addressed in isolation from their research capabilities. In this respect it was disappointing that research was not addressed within the reform packages of either the Government or Opposition. Reform of, and support for, university research in Australia must now be a priority issue for the 2004 budget and it is noted that a number of Government reviews are underway and the ALP policy is soon to be released.
While is would be pleasing to believe that incisive and informed parliamentary debate on higher education from the viewpoint of research and learning will occur and even more so were it to influence Cabinet policy to a significant degree, unless there is a ground swell of interest by the public and the popular media its not going to happen. The fact remains that to a marked extent Cabinet works as an oligarchy "protected" from its own backbenches by the strictures on the backbench to adhere to Government (Cabinet policy) and from the opposition who lack the numbers. Under the present system of government together with the lack of active popular interest, whether or not the Group of Eight likes it, that leaves the Senate to generate waves that perhaps may have some effect on a refractory Cabinet.

Five Australian High School Students Gain Silver Medals at 34th International Physics Olympiad. (August 15, 2003)
The Olympiad ran from 2-11 August in Taiwan's capital Taipei. The United States dominated the event, the world's largest competition for high-school science students, coming top in all categories. Pavel Batrachenko of John Marshall High School in Rochester, Minnesota, was the overall winner in the competition, and tied for best experiment with Thaned Pruttivarasin from Thailand. Medals are awarded on the basis of examination results, gold, silver and bronze being comparable to High Distinction, Distinction and Credit respectively. [Click here for the complete list of medallists.

]

Update on Canada's Recruitment for 2000 Research Professorships and DEST's Knowledge... Issues Paper. (August 14, 2003)
Just over a year ago TFW compared our Federation Fellowships to Canada's program to add 2000 university research chairs in December 2000. As of June 2002, 30 months after its announcement, 627 chairs had been awarded. In the ensuing 12 months the number has grown to 926 of which 191 are either returned expatriates or "international" recruits. Australia is now funding 50 Federation Fellows.
With the release yesterday of the Department of Education, Science and Training's 49 page "Evaluation of Knowledge and Innovation Reforms Issues Paper"

and an accompanying letter

from the Chair of the five member External Reference Group, Professor Chris Fell, the approach of Canada's Foundation for Innovation is worth critical comparison; particularly in the light of DEST now calling for submissions engendered by the Issues Paper and with regard to its holding six short (2.5hr) workshops in capital centres (see graphic above).

NIH May be Set to Fund High-Risk, High-Impact Research. (August 13, 2003)

Elvira Ehrenfeld is director of NIH's Center for Scientific Review. She makes the point that NIH has "a tendency to give very good scores to projects that are guaranteed to work. It is clear that we are losing groundbreaking proposals simply because of the conservatism built into the system. ... It's just too risky not to [fund high risk but potentially high impact research]."
A 15-member panel looked at ways to fund high-risk, high-impact research, and awards to outstanding researchers based on their track record seemed easiest to implement quickly. One of the panellists, Gerald Rubin, vice president of the Howard Hughes Medical Institute, pointed out that HHMI already follows such a model with outstanding success.
Just where things will go from here remains to be seen -- for example how to select the recipients and monitor their progress and how much money will be devoted to the "Innovator Awards". And it's a certainty that the US Congress to say nothing of the Bush administration's apparatchiks will have things to say; undoubtedly the reason Dr. Ehrenfeld is cautious saying that initial funding will likely be modest and will depend on NIH's 2004 budget, which is still before Congress.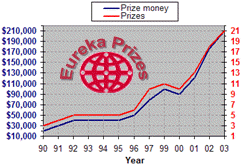 Eureka Prize Winners Announced. (August 13, 2003)
The annual award dinner for the Australian Museum's Eureka Prizes was held last night at Fox Studios with 21 awards in four categories: Industry & Innovation, Research, Science Communication and Schools.
A full listing of the winners and the prizes is given on the Eureka Web site.

Update on Stolen Items from Iraq Museum. (August 9, 2003)
The table below was published in the August 1, 2003 issue of Science and shows the state of play as of the end of July in regard to the recovery of objects and manuscripts belonging to Bagdad's Iraq Museum.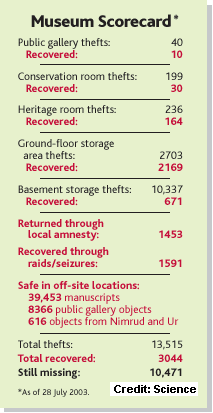 Report Released Accusing Bush Administration of Distorting Science to Advance Its Policies. (August 9, 2003)
U.S. Democratic Congressman Henry Waxman, senior minority member of the House Committee on Government Reform has issued a stinging forty page report siting a number of examples of distortion of scientific information by the Bush Administration. The material is available on Waxman's Politics and Science website. President Bush naturally enough accuses Waxman of playing politics.
The New York Times reported yesterday that the report. "accused the administration of compromising the scientific integrity of federal institutions that monitor food and medicine, conduct health research, control disease and protect the environment." The report states that the Administration, "has manipulated the scientific process and distorted or suppressed scientific findings. ...The administration's political interference with science has led to misleading statements by the president, inaccurate responses to Congress, altered Web sites, suppressed agency reports, erroneous international communications and the gagging of scientists"
In a remarkable response (which the American Physical Society's Bob Park described as "chilling") White House spokesman Scott McClellan dismissed the report. "This administration looks at the facts, and reviews the best available science based on what's right for the American people."
Interestingly Peter Pockley comments in the August issue of Australasian Science:
[Australian] statutory authorities once reflected the inestimable benefit of placing long-term trust in committed professionals working in the field, appointed along with some prominent citizens who brought outside views to run a show at arms length from short-term political imperatives.

Now, however, those being appointed to reviews (with no statutory power) are first put through a fine sieve. This is consistent with the political screening of the platoons of [publicly funded] ministerial staffers who, in turn, carefully sift information to and from their bosses. One "advisor" told me the job was to ensure everything from the office was consistent with Liberal policies and attitudes.
Recently Australia's Minister for Education. Science and Training, Brendan Nelson, has been accused of burying reports of adverse findings as regards governmental policies toward higher education. Because of the glare of recent media attention, they have now been made public.

Business Expenditure on Research and Development: Mr. McGauran's View Compared with the ABS'. (August 8, 2003)
In an August 8th media release the Minister for Science, Peter McGauran, extols the increases in Business Expenditure on Research and Development (BERD) in Australia as determined by the Australian Bureau of Statistics in its report of August 7th (8104.0 Research and Experimental Development, Businesses, Australia). From the media release:
Figures released by the Australian Bureau of Statistics show record levels of business research and development (R&D), signalling continued growth in Australia's crucial innovation industries.
Federal Science Minister Peter McGauran today welcomed the figures, which show Australia's business R&D reached over $5.5 billion in 2001-02 – an increase of more than $600 million on the previous figure.
"In both current and real terms it is the highest ever recorded, ...Importantly, the increase of 13%, followed on from a strong increase of almost 20% in the previous year.
All true and the increases came about with the Coalition Government's increases in concessions for private sector investment in R&D following 4 years of decline through a heavy-handed approach to eliminate rorts. Mr. McGauran also omitted to relate the figures to Australia's GDP or where we placed relative to our cohort. A click on each figure gives a quick glance:
Perhaps the ABS ought to have the last word:
Australia's BERD as a percentage of Gross Domestic Product (GDP) increased to 0.78% in 2001–02, the second successive increase following decreases between 1995–96 and 1999–2000. The percentage remains well below the high of 0.87% in 1995–96. As shown in the table..., Australia's BERD/GDP ratio remains relatively low when compared with other OECD countries for which comparable data are available.

Australia's Higher Education Roadmap for 4WD Only. (August 7, 2003)
Peter Hall writes: On 3 August The Funneled Web asked in a News and Views item, "Could the Resignation of Melbourne University's Vice-Chancellor End a Wrongheaded Era." I agree that the era is wrong-headed, but making it right-headed may be more difficult than we think. Key universities are becoming reliant on full fees. Funding that was formerly directed to higher education has been used to satisfy newly created demand in other areas, for example in private schools. As a result, opposition to reversing the trend away from publicly funded higher education may already be entrenched. In short, the Nelson egg may have become almost as difficult to unscramble as the Dawkins one. The recent changes in higher education, which universities such as Sydney and Melbourne have exploited particularly ably, may be with us for quite a while, regardless of which political party is in government.
_______________
Peter Hall is Professor of Statistics, the Australian National University.

Expert Panel Favours Reduction of Micromanagement of NIH by HHS and Congress. (August 6, 2003)

Early last month Science reported that, "a series of directives from [NIH's] parent, the Department of Health and Human Services (HHS) [shows that it] wants NIH to surrender personnel decisions to HHS, to speak publicly in 'one voice' with HHS, to cut back on staff travel, and to pare its payroll by having contractors take over some functions." It smacks of HHS wanting to bring the US$27 billion agency to heal. NIH Director Elias Zerhouni met with HHS Secretary Tommy Thompson on 27 June to seek a rapprochement but according to Science "that didn't happen."
Now an expert panel commissioned by Congress through the Institute of Medicine, part of the US National Academies and chaired by Harold Shapiro, immediate past president of Princeton University, has tabled its report on NIH's structure and function. It clearly comes out against micromanagement by either Secretary Thomson's department or Congress. In a key recommendation they propose that Congress should give the director an annual fund between US$100 million to US$1 billion for a programme to support "high-risk, innovative projects", and goes on to emphasise that the director of the NIH should be given a formal role in the process of changing the number of institutes and centres; currently Congress takes the lead. In addition Congress should transfer the power to hire and fire institute directors from the secretary of the Department of Health and Human Services to the NIH director.
Nature reports in its July 31st issue that the Shapiro report was praised by the science community "for attempting to defend the NIH against interference from Congress and the Bush administration. David Baltimore, president of the California Institute of Technology, describes such behaviour as 'gutsy'. 'They're taking on two big interests here -- the administration and the Congress -- and I think that's a very good thing."
The full report is available in an online "Open Book" version.

CSIRO's Sacking of Ruth Hall Reminiscent of Los Alamos' Treatment of Paul Ginsparg. (August 5, 2003)
CSIRO's enforced redundancy of Dr. Ruth Hall (57) once again brings the standing of the organisation under the stewardship of its Chief Executive, Geoffrey Garrett, into question. Dr. Hall is a world authority on bacterial drug resistance and Dr Graeme Laver, former professor of biochemistry and molecular biology at the Australian National University makes the point, "[Dr. Hall] has made many statements on television, in the press and so on, that the practice of feeding antibiotics to livestock in order to promote growth might lead to antibiotic-resistant bacterial pathogens which would adversely affect human health," and continues, "The livestock producers who use these antibiotics to promote growth and the people who make and supply the antibiotics might understandably be upset that a CSIRO scientist should seek to have this practice discontinued." Whether or not that has anything to do with Dr. Hall being declared redundant is a moot point.
But the matter is also reminiscent of the treatment by Los Alamos National Laboratory of Paul Ginsparg. Ginsparg
12 years ago founded arXiv which became the avenue of choice for preprints in the physical sciences. Students and researchers from Nobel laureates to undergraduates access it on a daily basis to keep up with the latest research. A Los Alamos salary review described him as, "a strictly average performer by overall lab standards; with no particular computer skills contributing to lab programs; easily replaced, and moreover overpaid, according to an external market survey". That was too much for Ginsparg who was offered a professorship by Cornell University with the Chair of the Department of Physics, Peter Lepage, sardonically commenting, "Evidently their form didn't have a box for: 'completely transformed the nature and reach of scientific information in physics and other fields'."
As regards Dr. Hall, it would seem she's been crushed by one of Dr. Garrett's Flagships.
[Note added 15 August: ScienceNOW -- Ferber 2003 (813): 1 reports, "Ending the practice of using antibiotics as growth promoters in livestock reduces human health risks without harming animal health or farmers, according to a World Health Organization (WHO) report released today. The WHO report is based on the experience of Denmark, which has phased out the controversial practice."
The report is available online.]

US Congressional Budgets for Physical Sciences. (August 5, 2003)
Nature reports, "Appropriations subcommittees in the House of Representatives have voted to give two major research agencies -- the National Science Foundation (NSF) and the Office of Science at the Department of Energy (DOE) -- increases of about 6.5% next year, taking their budgets to $5.6 billion and $3.5 billion, respectively. On 18 July, the full House endorsed the DOE increase."
Michael Lubell, director of public affairs at the American Physical Society, says, "I think there is a recognition that the future of the country depends on the physical sciences." However, whether the proposed increases will be agreed by the Senate this summer, or be in the final budget bills won't be known until October this year, and it should be noted that the House has approved only a 1% increase, and the Senate a 4.7% cut, in basic and applied research at the Department of Defence.


2002 Nobel Laureate Gives US$200,000 to Foster Palestinian - Israeli Relations Though Science. (August 5, 2003)
The following item is reprinted from the British Medical Journal.
Top UK scientist doubles gift to Arab researchers

Judy Siegel-Itzkovich
1 August 2003
Source: British Medical Journal

Leading British scientist John Sulston has donated almost a third of the prize money awarded to him by an Israeli university to advance Israeli-Palestinian research on genes that cause deafness in both populations.

Last year, Sulston was one of three scientists to share the US$1 million Dan David prize for life sciences which is awarded by Tel Aviv University. He previously contributed US$100,000 for Israeli student scholarships (see Windfall spurs Israel-Palestine research efforts), but has now decided to donate a further US$100,000 to cover the costs of several Palestinian graduate students who will spend time at the university.

Scientific cooperation between Israelis and Palestinians has been severely affected in recent years by the ongoing conflict in the region. Until three years ago some 200 joint research projects were carried out.

Does the Age's Michelle Grattan's Focus on Higher Education Foreshadow Mounting Public

Concern? (August 3, 2003)
In the past one of The Melbourne Age's foremost political columnists, Michelle Grattan, has mentioned higher education in passing as a political issue. In her July 27th column, "Uni chiefs ponder their marks" it moves to centre stage and gets nearly 1300 words.
In January 2001 Grattan wrote, "Kim Beazley ...was afire in his favourite policy area, education, wanting this to be the year it is 'recognised as the number one political issue in Australia'. If only it were, Beazley would find campaigning a lot easier."
And on April 18th she quoted former Labor President, Barry Jones in regard to the Knowledge Nation mantra, "Talking to expatriate Australians about what would make them return they say, why would you come back to play in the B team? There have got to be signs of life."
What Grattan is analysing in her most recent column is the meeting last week of assembled university Vice-Chancellors. "Today they are discussing university governance and indigenous education. Tomorrow the debate could be hotter as they compare and contrast the competing higher-education packages, now that Labor has put its blueprint on the table." She then outlines the growing disquiet over the Coalition Government's higher education package, and the still paucity of detail in Labor's policy paper.
AVCC president Deryck Schreuder told her, "there will be a strong view that we'd like to put together elements of both packages." And he emphasises that what's needed quite simply is "a good outcome for universities."
Meanwhile she reports, "Gilbert [V-C, University of Melbourne] still insists that 'without the deregulation of HECs and the innovative approach to fee-based enrolments proposed by Nelson, it will take far more than Labor is offering to tackle the widening gap between Australian universities and the best higher-education systems in Europe, North America and Asia'."
But when it comes to a critical analysis of just what funding and resources are really required to reduce not to say eliminate the widening gap, and how the upgrading should be managed, there seems to be no diminution in hand waving. Gilbert has never done the spreadsheet analyses to demonstrate that his panacea has legs while the Department of Education, Science and Training's, current reviews appear to have neither the objectivity nor the interest to determine them.

Could the Resignation of Melbourne University's Vice-Chancellor End a Wrongheaded Era. (August 3, 2003)
The Vice-Chancellor of Melbourne University, Alan Gilbert, after a tenure of eight years has resigned to
take up the leadership of the amalgamation of Manchester's Victoria University of Manchester and the University of Manchester Institute of Science and Technology. It's not difficult to understand why the position would be attractive to Professor Gilbert. TFW reported in March that the Manchester amalgamation would place the merged universities fifth in order of research funding among U.K. universities, £126 million, although still significantly below the top four. It will have a student body of 30,000.
Since taking over Melbourne's Vice-Chancellorship Alan Gilbert has been an advocate for non-governmental funding of the university and has been a determined entrepreneur but with at best limited success. As the current chairman of the Group of Eight, he has continued championing course fee deregulation, has lauded the Minister for Education, Science and Training, Brendan Nelson's, reformations and has been conspicuously absent from meetings in May and August of the Australian Vice-Chancellors.
What has been evident under Professor Gilbert's stewardship is that Melbourne University's position as an institution of higher scholarship and research has declined no less than other of our "sandstone" universities relative to the world's leading institutions and whether or not it has prostituted itself in pursuit of the "quick buck" is debateable. Certainly the position of the enabling sciences at Melbourne University has been precarious in recent years.
It remains to be seen who will take over and what changes may/can be instituted.
---
---