News & Views - March 2002
Beware the Jabberwock My Son! (March 31, 2002)
The media exposure accorded the Education, Science and Training Minister, Brendan Nelson, last week has presaged directions that the government intends to take in regard to higher education. It has also brought an important reaction from Labor's deputy leader and shadow minister for Education, Jenny Macklin.


Though a virtual cliché, it's nevertheless all too true, an acute disaster such as the Port Arthur massacre brings instantaneous shock and immediate response, chronic wasting tragedies tend to be all but ignored and unchecked before they become all but irreversible. From the portends of statements by Dr. Nelson and Ms Macklin, and the inability of Australian Democrats' leader, Senator Stott-Despoja to perform incisively, the best we seem able to expect for Australia's higher education and research and development sectors is palliative care.
How so? First, Dr. Nelson was having a bet each way saying, regional universities needed to be supported at the same time as advocating that "one or two" elite universities must be developed over the next 20 to 30 years to "compete with the world's best." One of his staff later amplified Dr. Nelson's observation saying that no Australian university was represented in the list of the world's top 50 [Alan Gilbert V-C University of Melbourne puts the figure at 75-100], mainly because universities like the Ivy League institutions in the United States had large amounts of private funding for academics and research, thereby perpetuating by implication a myth useful to the Government that all top flight research universities were private institutions with rich endowments. We've pointed out previously that of the top 63 North American research universities listed by the American Association of Universities (AAU) 34 US and the 2 Canadian are public. What's being ignored is that while the highest ranked of the public research universities do have modest endowments, they have sound government support and their research staff reasonable to excellent access to research funding from public as well as from private foundations. Dr. Nelson seems to be saying, "My department's doing enough, find your resources elsewhere." That said, we are also told Australia's 38 universities are in a sound position with $20billion worth of fixed assets and $4.4billion in liquid assets.
Another comment of the Minister, one he has made several times in the past couple of months is that it will take 20 - 30 years to develop one or two institutions able to "compete with the world's best." Is the world to run on the spot for a generation while we get our act together, and apparently with minimal additional federally allocated resources?
Since the Minister tells us that all our public universities are in a sound position, presumably the schools to be chosen to be our elite institutions rest on a sound foundation on which to base improvement to bring them excellence. Perhaps then it might be worth bringing to his attention that Brandeis University was founded in

1948, named for Louis Brandeis, associate justice of the United States Supreme Court. Classes began on the site of the former Middlesex University, in Waltham, Massachusetts, with 107 students and 13 faculty members. In 1985 it was admitted to the AAU thereby gaining the accolade of one of the outstanding North American research universities. That took 37 years. You'd think with the relative head start that say one or two of the Group of Eight universities would have, we ought to be able to do better than say 25 years to get into the major league.
A few Brandeis University facts and figures:
Undergraduates: 3,150

Graduate students: 1,083

Minorities: 16%

From abroad: 11%

Male students: 46%, Female students: 54%

Undergraduate student/faculty ratio: 9:1

Number of buildings: 96

University endowment: approximately US$400 (A$753) million
[Harvard's endowment = (US$19,000; A$35,760) million]
Oh yes, it is a private university but you would think that somehow somewhere the mavens at DEST and the Treasury could find the resources to uplift at least one of our institutions of higher learning to the point where the AAU might consider that they would be worthy of inclusion were they on North American soil.
And Ms Macklin, Labor's Deputy Leader and Shadow Education Minister?
In contradiction to Dr. Nelson's view she believes that regional universities are under serious financial pressure and could suffer further if funding was skimmed off for elite universities, "I am very concerned it will mean that only some students will be able to go to these universities. One of the strengths of our higher education sector is we have excellent universities in the cities and regions."
Apparently she does not subscribe to the Senate report, Universities in Crisis, to which her Shadow Science Minister, Senator Kim Carr, was a signatory.
"Beware the Jabberwock, my son!
The jaws that bite, the claws that catch!
Beware the Jubjub bird, and shun
The frumious Bandersnatch!"
---
Where Peer Review May Be Considered Anathema. (March 30, 2002)
Physicist Robert Park is a past chair of both the physics and the astronomy departments at the University of Maryland, but he's probably best known to science policy insiders, members of the media, and the interested public for his weekly e-mail bulletin "What's New". His March 29th issue has two items rather longer than usual: the first titled, "Alternative Medicine: The Clinton Commission's Catch-22", the second, "Alternative Publishing: Communicating Science by Full-Page Ad". With regard to the former Park writes, "In 1998, the New England Journal of Medicine pointed out the catch-22: 'There cannot be two kinds of medicine, conventional and alternative. There is only medicine that has been adequately tested and medicine that has not, medicine that works and medicine that may or may not work.' In other words, if some [Complimentary Alternative Medical] treatment survived rigorous testing, it would no longer be CAM, it would simply be medicine."
As to publishing by advertisement, Park sites a full-page ad placed in the New York Times at a cost of A$236,000 giving the appearance of a scientific paper, "The Collapse of the Big Bang and the Gaseous Sun" by Pierre-Marie Robitaille, professor in Radiology at Ohio State. Park notes, "Robitalle didn't have to put up with peer review and he had full control over timing. The timing raised eyebrows. Ohio is in the midst of a heated debate over a move to put Intelligent Design on an equal footing with Darwinism in the classroom. ID is the fallback position of the creationists, who hate the Big Bang as much as they hate Darwin."
If the price of liberty is eternal vigilance it is also the price of truth.

"We'll Put Them in a Box and We'll Shake Really Hard and Hope That Some Fun Things Happen." (March 22, 2002)
So said Andrew Murray, Director of Harvard's Bauer Center for Genomics Research (CGR) which was inaugurated three weeks ago.
In outlining its goals CRG states,
The 20th century put biology on a molecular footing. This was achieved by reducing problems to defined questions that could be isolated as much as possible from the complexities of living organisms. Biochemists purified proteins and studied them in vitro, crystallographers solved their structure and geneticists used mutations to focus on the role of individual genes. Although these approaches have produced enormous advances, they have not solved the ultimate challenge of biology: how can we explain the behavior, function, structure, and evolution of cells?
We believe that there are design principles to be discovered in biology, which will help us address the major questions of how living organisms work... CGR will tackle the problem of identifying and understanding general design principles at a number of different levels, ranging from the relationship between protein structure and function to the evolution of natural populations... All of these questions will require input from and collaboration between a variety of different disciplines, such as physics, computational science and population biology, as well as molecular and cellular biology.
[In addition] the Bauer Center for Genomics Research invites interested undergraduates to apply for research internships in the summer of 2002. Each internship will last for ten weeks, or longer by mutual agreement. Interns will work on research projects in the labs of the CGR Fellows, whose work spans many fields of science, from chemistry to biology (including genetics, cell biology, neuroscience, animal behavior and evolution) to applied mathematics and computation
Similarly on the US west coast,
"In May of 1998 a group of Stanford faculty organized a grass roots effort to initiate a bold enterprise, known informally as Bio-X, to facilitate interdisciplinary research and teaching in the areas of bioengineering, biomedicine and biosciences. The program operates across three Schools -- Humanities and Sciences, School of Engineering and School of Medicine.
The Bio-X mission is to stimulate interaction and collaboration among faculty and students with different scientific portfolios, by increasing the opportunity for new intellectual directions, and by bringing appropriate faculty from diverse departments together in a new facility, The Clark Center...[a] building that appropriately acts as a hub to facilitate interdisciplinary interactions in the Bio-X community at large. The building consists of ~225,000 sq. ft. for occupation by ~50 faculty.
The Minister for Education, Science and Training, Brendan Nelson, has been quoted as saying he wants to see one or two universities of the calibre of Harvard in Australia. From the initiatives in multidisciplinary biomedical research alone, that are being undertaken at two of the world's leading research universities, it would seem wise for him to put "the pedal to the metal" sooner rather than later.

Jospin Woos Young Researchers - It's Presidential Election Time. (March 21, 2002)
There may be many more researchers in France than you might guess. Lionel Jospin, France's Prime Minister who is challenging Jacques Chirac in one month's time for the French Presidency has promised the scientific community that if he is elected he will give a new deal to doctoral candidates with better stipends and more and earlier opportunities to obtain permanent positions.
He also promised to try to increase the amount of French gross domestic product that is spent on research and development to 3%, in line with a promise made by European leaders last week in Spain. Well, it must be admitted that it is an election promise, but that 3% figure is interesting. It stems from the meeting in Barcelona of the European Council (March 15-16) and if the EC come anywhere near that projection within the next decade, it would be a giant leap over the projected OECD mean which is estimated to reach about 2.2% of GDP about 2005-06. Australia's commitment to R&D is currently projected to fall to 1.35% of GDP by then.

Gentle CPR for Russian Science, but It Just Might Get Legs. (March 21, 2002)
There was a hint last week according to the current issue of Nature that Russia's President Vladimir Putin has begun to comprehend some of the growing anguish being expressed in Russia concerning the "dire state of

the country's science." He announced that 600 scientists under 35 years of age will receive through competitive awards supplementary grants of 24,000 rubles (A$1,450), with their supervisors receiving the same amount. Certainly by western standards the amount is tiny; nonetheless they are worth as much as a typical Russian researcher's salary. And if moves in the Russian Parliament come to anything, Russian science really may be getting off the mat. According to Nature, "Russian politicians are slowly turning their attention to the collapse of science in the country. For example, Sergei Mironov, speaker of the upper house of the Russian parliament, is backing a budget proposal that would more than double federal funding for science, from less than 2% of the country's total budget to about 4%. 'If the government doesn't focus attention on the fundamental sciences, they will soon die out,' Mironov told an Earth sciences meeting in St Petersburg on 5 March."
By comparison Australia's 2001-02 Federal budget allocated $4.7 billion of the $161.4 billion total to science, 2.9%. There is little indication that our government intends to increase this proportion significantly in the foreseeable future.

CSIRO's Role as Seen From the Top. (March 20, 2002)
The Federal Government appointed Dr. Geoff Garrett to become CEO of the Commonwealth Scientific and Industrial Research Organisation (CSIRO) in January last year having been lured away from South Africa's CSIR where he built a reputation for his marketing and business development abilities. Shortly after taking over at CSIRO, he instituted an extensive and critical review of the organisation. Recently he outlined to the Senate's Employment, Workplace Relations and Education Legislation Committee (EWRE) his "business model" for the Organisation.
[T]he business model -- and it has gained significant acclaim, I think -- clarifies for the organisation that we are in three separate businesses. We are in the strategic research business, we are in the specialised consulting and testing business, and we are in the business of capturing and exploiting intellectual property. They are different businesses that need to be managed in different ways. In the domain you are talking about here [Senator Schacht, "going back to a dedicated structure within the organisation to handle and bring together the intellectual property and development to boost the licence income"], we have pulled in some skills from the private sector and we are building our commercial group. We are of the view that they need to be working hand in hand in partnership with our scientists, developing skills all the way through, as opposed to putting in place some form of structure. [21 Feb.2002, EWRE, 169]
It is evident that basic/pure research is not seen as the province of CSIRO by Dr. Garrett and in fact the term arose only once with regard to CSIRO and that was a comment made by Senator Schacht. Fundamental research per se was not commented on by Dr. Garrett.
Senator Schacht (Labor): The real issue here is that universities do more of the pure research and you do more of the applied research. You have divisions that do pure research, of course -- radio astronomy, Antarctica -- which are not very commercial; I accept all of that. But, by and large, I always thought the definition was that ARC grants went to more pure research and, hopefully, very rapidly they would get good ideas that would become commercial and make quids for Australia. And, by and large, you are the applied research and your research is applied to get outcomes that create products, wealth and jobs. The edges are always blurred. I have always been a bit intrigued that universities, under pressure of their own finances, are starting to move too much into the applied research rather than sticking to some of the pure research, because if we get pure research obliterated it is like we have got a hole in the doughnut. You do need good pure research to build into applied research. That is why I think your collaborative work is to be given a big tick. [21 Feb. 2002, EWRE 175]
Perhaps it ought to be pointed out that Senator Schacht was not returned in the recent election.
But the real issue is that the Dr. Garrett and Senator Schacht together clarify the point that pure or basic research in Australia is virtually the sole province of our universities. Unless they are adequately resourced, they will be unable to sustain the layers of strategic and applied research dependent upon basic science. At the moment adequate resources are not being made available.

Which Nation Sports a Per Capita GDP of A$4,000 and has a Government Pledged to Spend 2% of GDP on R&D? (March 15, 2002)
The Indian government's new science budget, includes a doubling of funding for academic infrastructure.

The overall A$577 million increase, to A$2.9 billion, brings the 2002-03 R&D funding to just below 1% of GDP. That's considerably below Australia's 1.4% of GDP but of significance is Prime Minister A. B. Vajpayee's pledge to raise it to industrial-world levels of 2%. In contrast even with the funding increased promised by Backing Australia's Ability, Australia's level of
R&D funding will remain static over the next four years.
What is difficult to fathom is the emphasis that countries with per capita GDPs as disparate as India's at A$4,000 per annum and Canada's at A$47,000 place on resources being allocated to research and development -- approaching or exceeding 2% of GDP while Australia at 1.4% will remain almost a third lower. The comment by the president of the Indian National Science Academy, Martanda Varma Sankaran Valiathan, makes the point, "It's a very welcome sign and long overdue."
Meanwhile we seem mired in acute wrangles both divisive and counterproductive and a government and opposition increasingly preoccupied with them.

While Australia Fiddles, Talks of UK University Mergers Get Serious. (March 14, 2002)
Just over a month ago Aban Contractor reported in the Sydney Morning Herald that the University of Technology, Sydney, RMIT University, the University of South Australia, Queensland University of Technology and Curtin University are considering linking as a single institution with more than 100,000
students in five states. Contractor states, "The plan is seen by senior academics as a way of curbing the power of the older, elite, sandstone universities, known as the Group of Eight." Whether or not such a widely based confederation would result in anything other than an additional layer of administration would seem debatable.
It is considerably different from the proposed merger by the two Manchester universities, the University of Manchester and its neighbour, the University of Manchester Institute of Science and Technology which announced merger plans last week. The two schools are less than two kilometers apart and already share a number of common facilities. In a plea reminiscent of that put forward by the Group of Eight, Sir Richard Sykes, Rector of Imperial College, London among others argues that efforts to compete internationally should be focused on just a handful of UK research universities and the Manchester merger is seen as a response to such suggestions. It would place it fifth with respect to UK universities' research income (see chart). As Nature reports, "Their aim is to claim a place at this international high table." The journal goes on to point out, "The universities of Glasgow and Strathclyde, for example, formed a 'strategic alliance' in 1998, through which researchers share equipment, lab space and teaching resources. Looking abroad, Cambridge set up a joint institute with the Massachusetts Institute of Technology in 2000, and Oxford and Princeton announced an alliance last year."
While the suggestion of an alliance of the five universities of technology may be problematical, there's a lot to be said for 'strategic alliances' being formed for example by Sydney and UNSW, Melbourne and Monash so that they could begin to be considered serious international players, but whether or not the egos that would be involved could ever come to terms does raise doubts.

Is Science Funding Becoming Over-Commercialised? (March 9, 2002)
A couple of months ago The Royal Society -- the UK's independent academy of science -- commissioned the Market & Opinion Research International organisation (MORI) to interview a representative quota sample of 1,001 adults aged 16 + across Britain. Interviews were conducted by telephone between 15-17 February 2002. The data were weighted to the known national population profile. The table below shows that Britons are disquieted by the extent commercialisation is affecting scientific research, are not overly impressed by the media's coverage of scientific matters and would like to feel that they had some say about what scientists should be actively interested in. The RS' full release is available online.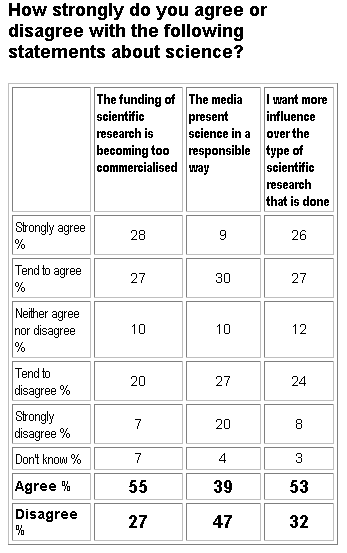 It's possible that Australian's would show a similar distribution in opinion and here would be an opportunity for representative bodies such as the Federation of Australian Scientific and Technological Societies and the Australian Academy of Science to undertake a comparable survey of Australians to assess their views and then act appropriately on the findings through wide dissemination of the results to the public -- including our federal and state parliamentarians. What suggestions those surveyed might have to address the problems, should they be seen to exist, would seem worth considering as well.

Would That It Were So. (March 8, 2002)
The following snippet comes from the Proof Committee Hansard (21/2/02) for budget estimates released by the Employment, Workplace Relations and Education Legislation Committee. The Chair has the last word.

Senator Carr (Labor) - So when the minister [Dr. Nelson, minister for Education, Science and Training] told the House of Representatives that he had consulted 60 scientists, it was not these people [the group who suggested ARC priorities] because they are not all scientists.

Prof. Sara (CEO, Australian Research Council) - I think that is a confusion in terms. There were 60 researchers.

Senator Carr - That is fine. I presume it is the the same group that he was referring to.

Prof. Sara - I cannot answer for the minister, but there were certainly 60 researchers involved.

Senator Carr - I appreciate that. I would hate the House of Representatives to be misled that there were 60 scientists consulted when they were researchers.

Prof. Sara - Well, in reality 'science' comes from the Latin root meaning a search for knowledge.*

Senator Carr - Of course. Thank you very much, Professor Sara, we are all scientists then.

Prof. Sara - Good. I hope so.

CHAIR (Senator Tierney, Liberal) - We all follow scientific methodology in all disciplines.
----------------
*SCIENCE: Etymology: Middle English, from Middle French, from Latin scientia, from scient-, sciens having knowledge, from present participle of scire to know; probably akin to Sanskrit chyati he cuts off, Latin scindere to split.

Excerpt from an Op-ed by the President of the Australian Academy of Science in The Australian. (March 8, 2002)
The President of the Australian Academy of Science Brian Anderson put forward in The Australian of March 4th a case for the nation's requirement for "a well developed scientific skills base and scientific infrastructure". It is all very well for the Government to direct the ARC to designate Nano and Bio-materials, Genome/Phenome Research, Complex/Intelligent Systems and Photon Science and Technology as priority areas but, "We must not forget the fundamentals upon which a solid and sustainable knowledge-based economy is built. The foundations of good research and innovation are still to be found in the enabling sciences."
The challenge for policy makers is to understand in a profound way that that the nation needs a well developed scientific skills base and scientific infrastructure if we are to benefit from the accumulating global stockpile of knowledge. Public and private investment in research and development is the only way to ensure Australia's continued access to global knowledge. The Federal Government spends no more on ALL the Cooperative Research Centres per annum than in grants to firms in the textile, clothing and footwear areas. CRCs are likely, in the medium term, to create far more jobs and real wealth.

The science policy outlined by the Federal Government in the document Backing Australia's Ability provides a fine set of programs that have been supported by the Australian Academy of Science. However, the Academy cautions that a close watch should be kept on business investment in R&D. The Government should respond rapidly if new initiatives in this area do not reverse the downward trend of Australian business investment in R&D. The Academy also would applaud the speeding up of increased expenditure on Australian Research Council programs, especially given the recent instructions with respect to research priority setting by the ARC.

We must not forget the fundamentals upon which a solid and sustainable knowledge-based economy is built. The foundations of good research and innovation are still to be found in the enabling sciences. We should not be too self-congratulatory that more than 60 per cent of Australian households have access to mobile phones. Our information technology tools and toys are largely imported; we have not created the right foundation to underpin vigorous indigenous industry.
Perhaps Dr. Nelson might like to comment through one of his media releases.

They That Taketh Away Also Giveth -- Marginally. (March 7, 2002)
That's not quite true, i.e. it's more a case that the Federal treasurer, Peter Costello currently has a potential loss in the neighborhood of $4 billion of public money through currency swapping rationalised on the assumption of the Australian dollar markedly rising in value against a basket of foreign currencies. Events over the past eighteen months suggest that's most unlikely. Two items crossed TFW's virtual desk this morning which gives pause.
Kenneth Davidson in his column in the Melbourne Age wrote:
Peter Costello became Treasurer in March, 1996... Why did he overlook the 1996 [Union Bank of Switzerland] consultants' report that said there was no rhyme nor reason for continuing with the high-risk policy of currency swaps? If he had acted to close out the currency swap book in June 1996 he would have realised a cumulative profit since 1987 of $2billion...
Over the first five years of Costello's watch, an unrealised gain of $864 million inherited from Labor had become unrealised losses of $3.8 billion - a turnaround of $4.7 billion
...at the same time as the Commonwealth [has been] savagely cutting spending on higher education and welfare in the interests of fiscal responsibility.
Then within an hour a media release arrived from the Minister for Education, Science and Training, Brendan Nelson.
SECURE PLANT FACILITY ENABLES WORLD CLASS RESEARCH
Australian researchers and scientists will benefit from a $6 million, world standard, plant research facility which has been opened today at The Australian National University.
The new Facility will help to ensure that the Research School of Biological Sciences is well positioned to benefit from the Government's additional $3 billion investment [over five years] in research, announced last year in Backing Australia's Ability.
The initiatives announced in Backing Australia's Ability will boost Australia's capacity to generate ideas, improve the commercialisation of research, and build a workforce with the right mix of skills for the future.
They will also ensure that Australia remains a dynamic, internationally competitive economy, able to attract and retain the brightest researchers and business professionals.
It might be worthwhile for Dr. Nelson to find out what it really takes "to attract and retain the brightest researchers and business professionals." A chat with the Federal Treasurer perhaps?
------------
Note 1: On March 9th the Melbourne Age published the Treasurer, Peter Costello's reply which said in part. "Coming to the question of currency swaps, Davidson then asks why Treasury overlooked a Union Bank of Switzerland consultant's report from 1996 that said, according to him, 'there was no rhyme nor reason for continuing with the high-risk policy of currency swaps'. This is a good question. There is one problem. The UBS report said no such thing.
To the contrary, it recommended a benchmark exposure of 12.5 per cent to US dollar debt with the remainder in Australian dollars. The report said the 'optimal exposure to the US dollar is 10 to 15 per cent of the market value of the portfolio. This is optimal no matter what level of risk is acceptable, and robustly so, for a wide range of market assumptions'".
It will be of interest to see what response Kenneth Davidson has.

Note 2: On March 11th Kenneth Davidson wrote his response which said in part: "When did Peter Costello get wind of the fact that the currency-swap policy was an unnecessary gamble that was likely to cost Australian taxpayers billions of dollars? It now appears that the Treasurer had a number of consultant reports on the issue (as well as the Auditor-General's report in 1999) before the Liberal member for LaTrobe, Bob Charles, first publicly voiced his misgiving in May, 2000, and again through the unanimous report of the JCPAA published in October and tabled in November.
"The Treasurer needed no report. He had only to look at the collapse on the Australian dollar/US dollar exchange rate in 1997, associated with the Asian financial crisis, to realise that the first step in "firewalling" the Australian economy from the financial "contagion" was to close out the foreign-currency swaps to minimise future losses."

How Harvard Became Today's Harvard. (March 3, 2002)
In 1933 James Conant became Harvard's 24th President and began the transformation of the university into one of the foremost research universities in the world. This thesis is put forth in a new book by Morton and Phylis Keller (Making Harvard Modern: the Rise of America's University,

OUD - ISBN 0195144570, 2001). It should be remembered that Harvard was founded in 1640 so the Kellers' analysis covers only the past 67 of its 362 years. But it was Conant, the professor of chemistry, who began a revolution. Recruit the best staff and students. Award scholarships for students, and pay staff high salaries. Student selection criteria became standardised and rigorous while staff recruitment involved committees made up mostly of highly competent individuals external to Harvard. And Conant introduced the radical eight years up or out policy for non-tenured staff. In short Conant was out to make Harvard over into a scholastic meritocracy and he succeeded. Following his retirement, Nathan Pusey took over until 1971 to be followed by Derek Bok (1971-91) and Neil Rudenstine (1991-2001). Lawrence Summers is the incumbent. It's important to realise that although each of these presidents placed his personal stamp on shaping the university the drive toward Harvard becoming a top research university was continued by them all. Rudenstine, for example, presided over the great expansion of Harvard's endowment to its current US$19 (A$36.8) billion and marked improvements to its physical facilities.
Recently the Minister for Education, Science and Training, Dr. Brendan Nelson, avowed that he wanted to see the development in Australia of a "world-class" university along the lines of Harvard. He could do worse than start by reading the Kellers' appraisal of just what it was and is that shapes Harvard.
Canada Keeps on Getting a Good Press but Have They Really Got the Wrong End of the Stick. (March 3, 2002)
Between Science, Nature and even the popular US and Canadian media it's getting to be downright depressing with a few hundred million here and one and a half billion there, the funding of 2000 (you read it right, 2000) new research chairs and so forth and so on, all in the name of making Canada one of the top five nations in research and development investment by 2010 in order to obtain for the nation's citizenry the best possible overall quality of life or so Canada's centre-left Liberal government would have the voters believe. The brightest jewels in the crown are the Canada Foundation for Innovation (CFI), the Canadian Institutes of Health Research, and the Natural Sciences and Engineering Research Council. The new Can$173.5 (A$210) million dollar national synchrotron, the Canadian Light Source, was kept on track through funding from CFI and it's interesting to compare and contrast the approaches of Canada and Australia to setting up synchrotron facilities; perhaps the facility at Monash University is as good an example as any of what's happening in Australia in providing synchrotron light. Overall perhaps a couple of paragraphs from Nature's February 21st "news feature" points up the approach:
But perhaps the most significant move was the creation of the CFI in 1997. In his budget speech that year, finance minister Paul Martin announced: "The CFI is about investing in the future growth of our economy, making a down payment today for much greater rewards tomorrow."
That down payment now stands at Can$3.15 (A$3.81) billion, financed from the national budget surpluses of the late 1990s. With the latest round of funding announced last month (see Nature 415, 568; 2002), Can$1.55 (A$1.87) billion has so far been committed to 1,900 projects. The rest of the money is already banked -- so the CFI won't face budget cuts, whatever subsequently happens to the Canadian economy.
When one looks through the listing of the Major research facilities being supported by the CFI it's worth noting the allocation of $155 million being allocated through 2006 through Australia's support for Major National Research Facilities.
It may of course be the case that the Federal government has its sights set somewhat differently to raise the common wealth of the nation if the Treasury's foreign exchange speculations are any indication.

President Bush's Science Advisor Finds it Advisable to Know Your Interrogators. (March 3, 2002)
Physicist John Marburger, George W. Bush's Science Advisor, was asked recently by the US House of Representatives Science Committee why the National Institutes of Health got a US$2.7 billion dollar budget boost for the upcoming fiscal year while the rest of the science community received small to negligible increases. Marburger's reply, "If you make the basis for funding the complexity of the science, then the increase is justified. You may think there's a big imbalance, but nature has a great imbalance." Vern Elders (R. Michigan) also a trained physicist wasn't impressed, pointing out that astrophysics has a brief to explain the behavior of every atom in the universe, therefore, on a basis of complexity, it ought to come out as front runner. So much for facile explanations. Now if astrophysics could produce a nostrum or two she'd be right mate.

UK Biologists Lobby for £50 (A$137) Million to Automate Structural Genomic Research. (March 2, 2002)
Last month, 102 UK biologists presented to government research councils as well as the Wellcome Trust an analysis arguing that limited access to robotic equipment which can rapidly express, purify and crystallize proteins is leaving them behind the US, Japan and even the Europeans in the scientific race to exploit gene-sequence information pointing out that commercial gain to the country will suffer.
Nature reports that according to structural biologist Neil Isaacs at Glasgow University, "If the UK community does not develop and adopt new technologies within a relatively short space of time, it will lose leadership in some of the most exciting and rewarding areas of biology."
The Biotechnology and Biological Sciences Research Council (BBSRC), has already commissioned a review of Britain's needs for structural genomics saying, "Given the size and scale of the requirements in this field, it is obvious that a more considered approach is required." It remains to be seen if the lobbying will have a positive effect, however, it does point out that a significant group of biological scientists are prepared to go public on what they see as a matter of national importance.
This sort of report portends what will be a growing gap between what might be seen as the top 50% and the bottom half of the OECD nations with regard to the quality of life that will be afforded to their citizens in the coming decades.
---