News & Views item - November 2012

Open Access and the Junk Journals. (November 30, 2012)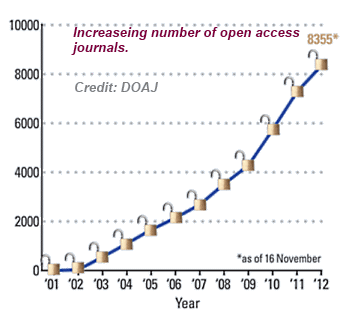 One of the things that makes ArXiv of consequence is its reputation, peer pressure, and no charges for either reader or contributor. On the other hand one of the matters that is exercising researcher and science funders and administrators is what are the factors that influence publication in open access journals.
Martin Enserink writing in the November 23, 2012 issue of Science points out: "In the past year alone, the [Directory of Open Access Journals (DOAJ)] has added almost 1200 titles in all scientific fields; as of last week, the total was 8355.
So just what are the criteria for acceptance and how are researchers to judge the quality of evaluation for publication?
Martin Enserink points out that "OA publishers have a built-in incentive to lower the bar... because in contrast to subscription journals, an OA title earns more revenue with every paper its editors accept, and Jeffrey Beall, a librarian at the University of Colorado, Denver, points out: "Anybody can set up a publishing company in a matter of hours," and went on to tell Mr Enserink that many of the shady journals aren't even on the DOAJ which means that the actual number of OAs journal far exceeds that directory's tally.
Science's Enserink notes that "last month, about two dozen representatives from science funding agencies, publishers, librarians, and journal editors discussed ways of helping befuddled scientists with that question... Unfortunately, the meeting, organized by the Netherlands Organisation for Scientific Research (NWO) and SURF, a partnership that provides information and communication technology to Dutch universities, failed to come up with clear answers".
Springer Executive Vice President of Corporate Strategy Wim van der Stelt says the Open Access Scholarly Publishers Association (OASPA) would be a natural candidate to promote quality in OA publishing.

Paul Peters, who will take over as president of OASPA in March, agrees that his group can do more; so far, the organization, founded in 2008, has had no staff and very little budget, he says. But Peters questions the need for a numerical indicator or a rating system. OASPA vets its members carefully, he says, and guarantees that they are decent publishers. He suggests the association should make its membership known to scientists to help them evaluate which publishers to trust: "The idea is that we are the good OA publishers..."
Currently the onus then falls on the reader to make judgement regarding the quality of the research, but in reality what will happen is that over several years the sector will sort itself out as to the hierarchy of OA journals.