News & Views item - April 2011

Immediate Past V-C of ANU Appointed Australian Chief Scientist. (April 19, 2011)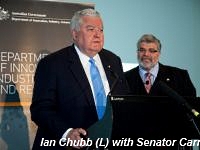 It was a little over a month ago that Professor Ian Chubb (67) retired as vice-chancellor of the Australian National University relinquishing the office to Swinburne University's vice-chancellor Ian Young. Today the Minister for Innovation, Industry, Science and Research, Senator Kim Carr announced that Professor Chubb will take up a three year appointment as Australia's Chief Scientist beginning May 23, 2011, replacing Professor Penny Sackett, who resigned the post on Mach 4, 2011. Professor Chubb will be directly responsible to Senator Carr.
Professor Chubb was ANU vice-chancellor from 2001-2011. Prior to that he was vice-chancellor of Flinders University (1995-2000), Senior Deputy Vice-Chancellor at Monash University (1993–1995), Deputy Vice Chancellor of the University of Wollongong (1986–1990).
He has been a member of the CSIRO board since August 2008.
Professor Chubb received a Master of Science in 1973; a Master of Arts status in 1974; and a Doctorate of Philosophy in 1975, all at Oxford University, and began his university career as a neuroscientist. His most recent scientific publication was in the June 1991 issue of Neurochemical Research "How peptidergic neurons cope with variation in physiological stimulation", which he co-authored with IG Morgan.
Referring to the role of chief scientist, Senator Carr said: "We ask for the skills to negotiate the wilds of Canberra and the corridors of academia and the boardrooms of the corporate world. This is no small task (but) the government has found those characteristics united in Professor Ian Chubb."
As regards his relationship with Prime Minister Gillard, Professor Chubb offered: "I have over the years met her several times in both her roles as education minister and as prime minister. Each time I have met her there has been a reason for that meeting and a purpose. I can't see why our relationship would change," and then choosing his words even more carefully he said he would take an appropriate role in the climate change debate: "I think personally that the overwhelming bulk of the science is in and that we have to do something about it. What's done is an issue for government and not an issue for me."
So much for the role of Australia's chief scientific advisor to the federal government as a forceful advocate for scientific consensus. Somehow it seems doubtful that the the advisor to President Barack Obama for Science and Technology, the Director of the White House Office of Science and Technology Policy, Professor John Holdren would share Professor Chubb's view.