News & Views item - April 2011

Australian Centre for Renewable Energy Releases Strategic Directions, its Approach to Deliver Competitively Priced Renewable Energy. (April 6, 2011)
The Australian Centre for Renewable Energy (ACRE) has now released its 28-page assessment on Strategic Directions for the Australian Centre for Renewable Energy.
Its key recommendation?
Strategic Directions recommends the creation of an expanded Emerging Renewables program, consisting of the $40 million Emerging Renewables 2010 election commitment, combined with ACRE's other unallocated funds. This could potentially extend the funding envelope for Emerging Renewables to more than $100 million, of which at least $40 million would be available for developing technologies such as ocean and geothermal.
Interestingly ACRE is not part of the portfolio of the Minister for Innovation, Industry, Science and Research but reports to the Minister for Resources and Energy and Minister for Tourism, Martin Ferguson.
In determining project funding ACRE states that:
While ACRE is open to supporting any compelling technologies, it will favour projects and measures consistent with the priorities as outlined in the Strategic Directions for each sector:
Solar - compelling enabling technologies, including storage, grid connection technologies, and hybrid systems.

Geothermal - facilitate national coordination; facilitate resource discovery and proving; and/or support pilot demonstration projects to enable learning by doing and information gathering and dissemination.

Wind - enabling technologies that may significantly improve grid connection issues, or measures to broaden understanding of wind development issues.

Ocean - monitoring developments internationally and assisting the development of nationally consistent regulatory regimes around state and commonwealth ocean jurisdictions. ACRE may consider supporting selected pilot-scale ocean energy technology projects.

Bioenergy - assessment of sustainable and economic pathways, R&D and pilot projects for second-generation biofuels projects, and biopower and bioheat projects.

Hybrid - projects that facilitate early commercial deployment of renewable energy technologies.

Enabling technologies - selected technology concepts with breakthrough potential for Australian conditions
ACRE in its report readily admits that the funds available to it to further its remit are limited and asks rhetorically: "Narrow focus or support a wide range of projects?" and follows with:
With limited funds, ACRE faces the choice of either supporting all renewable energy technologies, or focusing its support on a narrower range of technologies that may produce higher benefits. The ACRE Board recommends that funds be allocated to 'best value' investments, with value measured primarily by the potential economic benefits from lowering the cost and increasing the supply of renewable energy in Australia over the long term. This will require a targeted approach to realise opportunities and overcome barriers of particular importance to Australia.
Public funding and support of renewable energy technology development has grown in recent years in Australia and globally, and this experience has revealed key challenges that face the successful design and administration of these programs.

Maximising value (and minimising failure) will require ACRE to subject all proposals to rigorous expert review of technology potential, commercial prospects and management capacity. Such reviews might be undertaken at key events to ensure the project is on track.
And ACRE then makes this commitment:
...the conventional approach of initiating funding rounds focused narrowly on a particular technology and/or innovation stage may leave projects without an opportunity to apply for funding for long periods, at a substantial cost to Australia's innovation effort. Within its funding envelope, ACRE can seek to match the supply of support to market demand, by not placing unnecessary constraints of renewable energy resource, technology or innovation stage.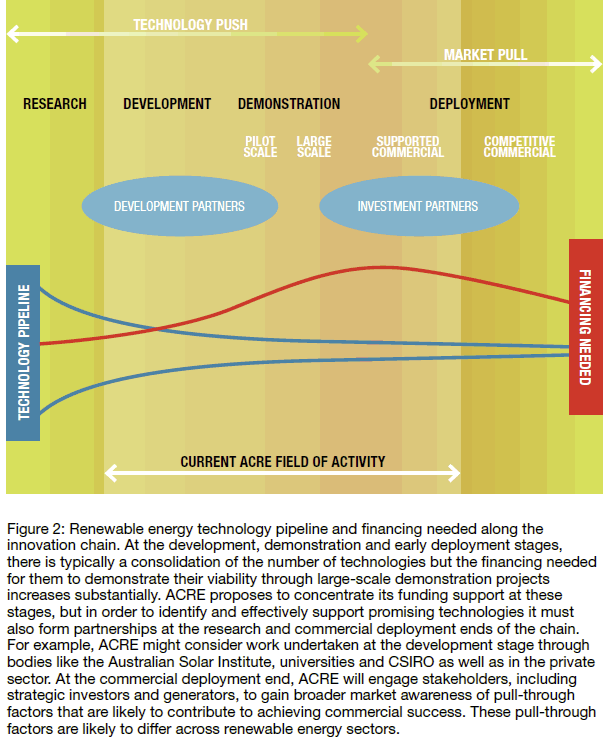 The Minister has stated that the Government will issue its response to the recommendations outlined in Strategic Directions in the coming months. Just what its approach will be to ACRE, considering its current warnings of the pending of severe budgetary constraints...