Opinion- 27 November 2009



A Case of CSIRO Bullying Bodes Ill for the Future of the Organisation

Must Dr Spash now be brought to heel?

This past Wednesday there was a book launching at The University of Sydney, Under the Radar by Miller Goss and Richard McGee. The book's subtitle is The First Woman in Radio Astronomy: Ruby Payne-Scott. Payne-Scott was brilliant and made outstanding contributions to solar radio astronomy as a member of CSIR's Radio Physics Laboratory (later CSIRO, RP).
She married in 1944 -- then "Six years later the CSIRO bureaucracy discovered the fact that Payne-Scott was married: the investigation started from the top".
The then Chairman of CSIRO, Ian Clunies Ross, wrote to Payne-Scott on April 3, 1950 about: "...the position created by your marriage. I should be glad if you would let me know without delay whether you intend officially to notify us of your marriage, since I do not feel that we can delay much longer taking action..." Shortly thereafter the Secretary of CSIRO, GA Cook informed the Superannuation Board and the Radio Physics Laboratory "that Payne-Scott was not eligible for the Provident Fund due to her marriage and that a refund of her contributions was required... In the letter to Payne-Scott the statement was made that she was to be continued as an employee with temporary status, with the requirement for a new appointment each year."
Goss and McGee then add: "The indignity was complete when Cook told the Superannuation Board that the date of the "gazettal" in 1946 was after her marriage in 1944 and thus even the interest on her contributions from 1946 to 1950 was to be disallowed."
So much for a case of bullying from the top, circa 1950. Now according to the Australian Associated Press we have CSIRO's chief executive, Megan Clark writing to the Minister in charge of CSIRO, Senator Kim Carr, that Dr Clive Spash, who is "currently working with CSIRO as a Chief Executive Officer's Science Leader, where he is involved with a program of research on socio-economics and the environment", will be punished for publishing a paper on climate change that criticised the government's emissions trading scheme.
The paper, The Brave New World of Carbon Trading, is critical of cap and trade systems - like the one the government is introducing - as well as the compensation given to industry. He recommends a direct tax on carbon.
Dr. Spash was quoted in the journal Nature a fortnight ago: "I was told by the chief executive that her changes would be tiny, consisting of a few words or phrases. That sounds as if it would be acceptable."
But Dr Clark has a gimmick -- according to AAP: "He will be punished for releasing his paper during a conference in Darwin in October." And Dr Clark is quoted by AAP saying:
"These breaches of fundamental CSIRO standards will be dealt with through appropriate line management," CSIRO boss Megan Clark wrote in a letter to federal Science Minister Kim Carr.
"This has never been an issue of gagging or stifling debate on ETS policies," Dr Clark wrote.
"The key issues at play here are the quality of science and how it is communicated. CSIRO has a nationally recognised role as a trusted advisor on matters of science and as such it is important that all our staff are able to fulfil their duties in an apolitical, impartial and professional manner."
"His behaviour has been manifestly inconsistent with the expectations and obligations that apply to all CSIRO staff," Dr Clark said in the letter.
Dr Clark's statement to Senator Carr in her letter that "The key issues at play here are the quality of science and how it is communicated" is interesting to juxtapose to ANU Professor and Federation Fellow John Dryzek's view that Dr Spash's paper as accepted by the journal is "a scholarly piece, otherwise it wouldn't have been accepted by the journal." Professor Dryzek is a member of the journal's editorial board.
The Orwellian prose that Dr Clark and Senator Carr have lavished on this matter would probably have made the author of 1984 envious.
It is worth noting the following on the first page of the paper as presented at the Darwin conference. Apparently this isn't a good enough disclaimer for the immediate former Vice President, Health, Safety, Environment, Community and Sustainability with BHP Billiton.
____________________________________________
:
:
:
_____________________________________
and here below is a full copy of the three page letter sent yesterday to the Minister for Innovation, Industry, Science and Research, Senator Carr by Dr. Clark: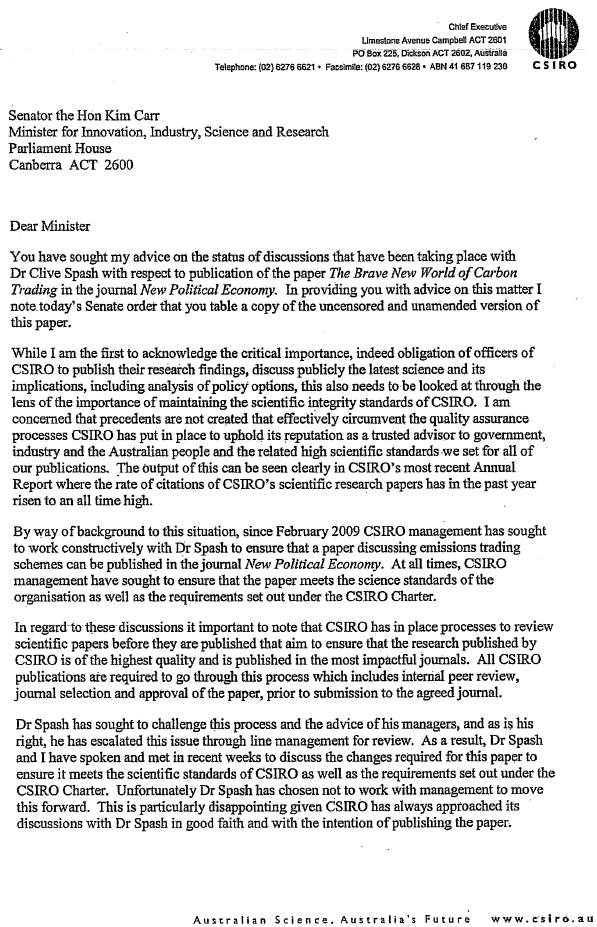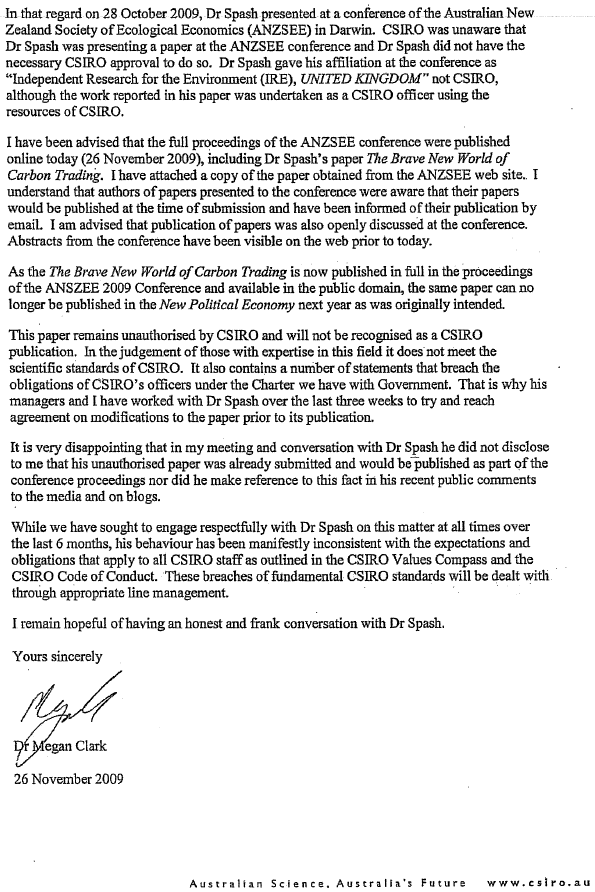 Alex Reisner
The Funneled Web