The UK based Joint Information Systems Committee (JISC) is publicly funded to assess and support innovative use of ICT in support of education and research.
Under the auspices of JISC Professor John Houghton from the Centre of Strategic Economic Studies at Melbourne's Victoria University and Professor Charles Oppenheim at Loughborough University, Leicestershire, UK have led a research group of nine to throw light on the economic and social implications of new models for scholarly publishing.
The critically researched analysis will be difficult to dismiss, but will raise vociferous objections throughout the commercial sector of scholarly publication.
The conclusions reached are simply stated:
The costs, benefits and impacts of alternative scholarly publishing models revealed by this analysis demonstrate that research and research
communication are major activities and the costs involved are substantial. Preliminary analysis of the potential benefits of more open access to research findings suggests that returns to research can also be substantial, and that different models for scholarly publishing can make a material difference to the returns realised, as well as the costs faced.
It seems likely that more open access would have substantial net benefits in the longer term and, while net benefits may be lower during a transitional period they are likely to be positive for both OA[open access] publishing and self-archiving alternatives... and for parallel subscription publishing and self-archiving. This suggests that there are gains to be realised from moving towards more open access publishing models and that, despite the lag between the costs and the realisation of benefits, the transition would probably be affordable within current system-wide budgetary allocations.
The 286 page report, Economic Implications of Alternative Scholarly Publishing Models Exploring the costs and benefits, was published earlier this week and the authors are under no illusions as to the difficulties that will be encountered in recasting scholarly publication, and that such an undertaking will require an international effort.
The project involved two major phases:
Phase I: Identification of costs and benefits – sought to describe the three models of scholarly publishing, identify all the dimensions of cost and benefit for each of these models, and examine which of the main players in the scholarly communication system would be affected, and how they might be affected, by each of the costs and benefits identified; and

Phase II: Quantification of costs and benefits – sought, where possible, to quantify the costs and benefits identified in Phase I; identify, and where possible quantify, the cost and benefit implications for each of the main players in the scholarly communication system; and, where possible, compare the costs and benefits of the three models for the main players in the scholarly communication system.
The research centred on three models:
Subscription or toll access publishing which involves reader charges and restrictions on use;
Open access publishing where access is free and publication is funded from the authors' side; and
Open access self-archiving where academic authors post their work in online repositories, making it freely available to all Internet users.
The report attempts to look beyond the actual costs and savings of the different models by examining the additional cost-benefits that might arise from enhanced access to research findings.
Using the different models, the report determines, that the estimated cost would have been:
£230 million to publish using the subscription model,
£150 million to publish under the open access (OA) model and
£115 million to publish with the self-archiving with peer review services plus some £20 million in operating costs if using the different models.
When considering costs per journal article, the authors believe that the UK higher education sector could have saved around £80 million a year by shifting from toll access (1) to open access publishing (2). They also claim that £115 million could be saved by moving from toll access to open access self-archiving (3).
In addition to that, the financial return to UK plc from greater accessibility to research might result in an additional £172 million per annum worth of benefits from government and higher education sector research alone.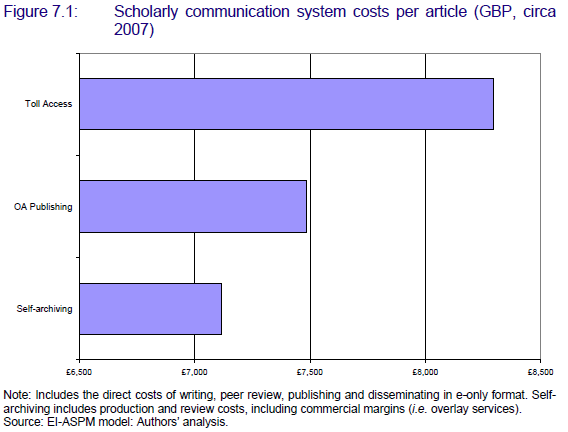 JISC's Chair Professor Sir Tim O'Shea said, "The argument for moving from more traditional subscription or toll-based publishing to a model that allows for greater accessibility and makes full use of the advances in technology cannot be ignored. This report shows there are significant savings to be made and benefits to be had. JISC will work with publishers, authors and the science community to identify and help to remove the barriers to moving to these more cost-effective models.
Sir Mark Walport, Director of the Wellcome Trust said: "As a research funder that provides additional funds to its grant holders to meet the cost of open access publishing, I am delighted that this report vindicates this approach and shows that the benefits of enhanced accessibility outweigh the costs of supplementing research funds with 'author-pays' open access publishing fees".
Finally, Professor Ian Diamond, speaking on behalf of Research Councils UK said, "[This report] will be of great use to the Research Councils as we develop our future policies in relation to publishing and in particular open access."
Below is the full list of the report's recommendations: