Mr. Beazley, the Science Debate and Knowledge Nation. (October 31, 2001)
At best it took place two days too early because Kim Beazley gave some monetary substance to Labor's Knowledge Nation during the official launch of his party's campaign today.
As a result the hour long confrontation between the Coalition's Science Minister Senator Nick Minchin and the Labor Shadow Minister, Martyn Evans, M.P. was to some extent nobbled. Nevertheless the Federation of Scientific and Technological Associations is to be congratulated for organising the debate even if it went nowhere. Ian Lowe, professor emeritus of science, technology and society and former director of the science policy research centre at Griffith University, in his opinion piece in the SMH this morning put it succinctly.
Nowhere would you have read about the debate in Adelaide on Monday between the federal Science Minister, Nick Minchin, and his shadow minister, Martyn Evans. The debate, organised by the Federation of Australian Scientific and Technological Societies, was not reported, simply because nothing of any importance was said.
And Later
For anyone who cares more about these long-term issues of Australia's future than the short-term trivia of petrol prices and baby bonuses, this election campaign has been profoundly depressing. The ALP at least produced its Knowledge Nation blueprint for the next 10 years, and seems to have a general commitment to investing in our future through education and research... The Government, by contrast, is still in denial, with the Education Minister, David Kemp, even claiming that universities are vibrant and thriving - a remarkable piece of data-free analysis.
Unfortunately the actual commitment that Mr. Beazley made to upgrading our universities and support for science like the Coalition's Backing Australia's Ability is based mainly on forward commitments. The Opposition Leader told his audience:
To build the Knowledge Nation we must increase the number of workers with university and technical qualifications, and increase the extent and quality of our research and innovation.
That's why I announce today that Labor will spend an extra $1 billion on our Plan for Quality Universities.
The centrepiece is a new fund of nearly $500 million. Universities, drawing on this fund, will be able to improve the quality of teaching and research by employing more lecturers and tutors, and reducing class sizes.
It will also be used to increase salaries for our best academic teachers and researchers to help end the brain drain, and to equip university libraries with new resources.
By lifting funding for Australian universities in this way, we will help them get back to the high quality teaching and research of which they were once justly proud.
The following table is taken from the ALP's Knowledge Nation policy paper.
The complete time lines and costings are delineated online while the full policy for Knowledge Nation is also available through the Table of Contents. Just looking at the "Improving University Quality" table above note that the total funding earmarked as the "University Improvement Fund" gets a total of $292 million with $142 million of it scheduled for 2004-05. Mr. Beazley cogently points out the broad failings of the Coalition Government with regard to support for our universities but the solutions being proffered by him really are grossly inadequate. The Australian Democrats claim $500 million is needed in the immediate fiscal year to be comparably followed up in ensuing budgets; while the Group of Eight have carefully detailed in their policy document that over the next five years the Commonwealth Government should invest $6.75 billion in additional research and development funding while concurrently investing an additional $2.98 billion in university R&D infrastructure.
Were there an OECD "Olympics of Learning" we'd look more like Eric the Eel than Ian Thorpe. Quite simply it's not a question of our leaders investing in Australia's future, its the Coalition and Labor squabbling over who is the better juggler of mirrors while we're choking on the smoke of the ruins.


Science East and West. (October 30, 2001)
The New York Times today published an article by Denis Overbye "How Islam Won, and Lost, the Lead in Science". In 2,800 words he gives a good thumbnail sketch of the rise in scientific inquiry fostered by Islam and the factors that led to stagnation and the adoption of "Western science". Overbye concludes his piece with a quote from Dr. Farouk El-Baz, a geologist at Boston University, who was science adviser to President Anwar el-Sadat of Egypt. "Science is international; there is no such thing as Islamic science. Science is like building a big building, a pyramid. Each person puts up a block. These blocks have never had a religion. It's irrelevant, the color of the guy who put up the block."


It's Nice to Have Generous "Offspring". (October 29, 2001)
The California Institute of Technology, which over the years has been home to about 16 Nobel Laureates, has a student body of 1900 and has as one of its alumni Gordon Moore (father of Moore's Law and cofounder of Intel). Moore, who got his Ph.D. in chemistry from Caltech, has donated a cool A$1.2 billion to the institute who isn't quite sure how it will use the money. However, Caltech's President, David Baltimore made the point that he expected only a modest portion would go into Caltech's endowment, already A$3 billion. The money will probably be used to build on existing programs, to attract new faculty members and to attract more grants. Economic downturn or no, U.S. research universities haven't done too badly out of the high-tech moguls:
Among the other large gifts to specific institutions are A$800 million to Stanford University this year from the William and Flora Hewlett Foundation; A$720 million anonymously to Rensselaer Polytechnic Institute this year; and A$700 million to the Massachusetts Institute of Technology last year from Patrick J. and Lore
Harp McGovern. You might say it's a privatised version of backing a nation's ability.


Go8 Promulgates Its Issues and Initiatives Policy for the Run Up to the Federal Election. (October 23, 2001)
"In the global knowledge economy the competitiveness of nations is increasingly determined by their capacity to generate,

assimilate and apply new knowledge. Intangible assets - our human and intellectual capacity - are overtaking traditional assets - land, labour and capital - as the drivers of growth. Major shifts in economic and social relations are flowing from developments in human knowledge, founded in the work of the world's leading universities." So does the Group of Eight introduce its seven section policy document.
The complete document is now online and contains specific recommendations including funding regimes. The seven sections are in turn:
1. ADVANCING AUSTRALIA THROUGH HIGHER EDUCATION
2. STRENGTHENING AUSTRALIA'S R&D CAPABILITY
3. ENHANCING RESEARCH INFRASTRUCTURE IN UNIVERSITIES
4. INCREASING TERTIARY EDUCATION OPERATING GRANTS
5. SUPPORTING THE HUMANITIES
6. PROMOTING THE STUDY OF SCIENCE
7. ENHANCING THE HIGHER EDUCATION EXPORT INDUSTRY
The Group of Eight recommend that over the next five years the Commonwealth Government should invest $6.75 billion in additional research and development funding while concurrently investing an additional $2.98 billion in university R&D infrastructure. They also point out that at present rates federal higher education expenditure as a percentage of GDP will have declined from 0.73% (1996/97) to 0.53% (2003/04).


Ok, So You're A Nobel Laureate... (October 23, 2001)
It's the centenary of the Nobel awards. Both Nature and Science have noted the occasion, and from a parochial

viewpoint Australia's Peter Doherty gets a mention in both journals. Doherty who shared the 1996 prize in medicine or physiology 21 years after a previous Australian science winner, and remains our only walking example, works principally at St Jude Children's Research Hospital in Memphis Tennessee but has a chair at Melbourne University which brings him back from time to time. He observed to Nature that, "I have been very much on the public stage in Australia," remarking wryly of having acquired a celebrity akin to that of, "a sort of minor figure in a coffee commercial". Nature makes the comment, "[Doherty] has found himself projected as a spokesman for science, and [has] access to the country's leading politicians." Whether or not that access has had significant influence on current Federal Governmental support for scientific research and education is doubtful and that's a serious issue. Professor Doherty is neither a table pounder nor a knuckle leaner and currently there is no Australian scientist with greater prestige, but what seems to be lacking is a well resourced public relations and lobbying instrument. If one emerges from the wings, perhaps there'll be a change in fortunes not merely for science but in the intellectual slide of the nation's educational system at all levels.


Conflicts of Interest -- The Association of American Universities (AAU) Viewpoint. (October 22, 2001)
On October 9th the AAU, comparable to Australia's Group of Eight, issued its policy paper on individual and institutional conflicts of interest. The material is available from their Web site. The covering letter

to university heads puts it plainly,
The report is intended to identify ways in which presidents and chancellors can help ensure the integrity of their institutions, and thereby bolster the public's confidence in research universities.

The Task Force defined both individual and institutional conflict of interest, and concluded that the problem is rarely a particular conflict itself -- rather it is the question about what is done with the conflict. With individual conflict of interest, the Task Force focused on improving existing management systems and regulatory compliance, and with institutional conflict, focused on developing policies and principles, since no regulations guide this area.
The twenty-two page report

is detailed, making a number of specific recommendations, but a cogent generalization:
A key goal is to segregate the decision making about the financial activities and the research activities, so that they are separately and independently managed.
The Task Force concluded that since the risk to the integrity of the academic enterprise from individual conflicts of interest is substantial, research universities should re-double their efforts to ensure objectivity in research.
While the recommendations are not wholly applicable to Australian research universities, they are well worth studying. From certain of the submissions made to the Senate Committee evaluating our universities' ability to do their job the matter is of concern.


An Irish Approach to Science Policy. (October 22, 2001)
Forfás, is an advisory panel funded by the Irish government. Some time ago it commissioned a detailed report by specialists in science and technology policy at the Georgia Institute of Technology in Atlanta. Their recommendations include that Ireland joins the European Molecular Biology Laboratory (EMBL) as soon as possible and that it then considers joining the European Synchrotron Radiation Facility (ESRF) and the European Southern Observatory (ESO). But it says that joining CERN, the European particle physics laboratory, would be too expensive.
The Irish Government plans to spend US$368 million a year (0.45% of GDP) on basic research, more than double its spending in the late 1990s. "In this changed funding environment, we decided it was time to have a serious look at joining some of these organizations," says John Fallon, a senior official in the Department of Enterprise, Trade and Employment, which is responsible for science policy. Reports are that it is likely that the report will strongly influence Irish Governmental decisions. The growing importance of synchrotron research and the public appeal of astronomy led the report's authors to recommend the ESRF and the ESO. In advising against joining CERN, the report cites a lack of Irish high-energy physicists, together with the high membership cost. However, Irish physicists and some government officials disagree, arguing that membership of CERN would encourage students to enter the field.
In any case for a nation of just under 4M, the sympathetic reception by Bertie Ahern's Fianna Fail and Progressive Democrats coalition is worthwhile noting by whomever will govern Australia after November 10th. Put simply does our government provide A$4 billion dollars annually for just basic research. On the basis of our nation's GDP that's what it would have to do to keep pace with the Irish. Mind you, on a population basis we would only have to provide A$3.7 billion annually to stay with them.
Roll on Backing Australia's Ability.


What if They Held a Science Policy Debate and Almost Nobody Came (or Knew). (October 22, 2001)
The Federation of Australian Scientific and Technological Societies (FASTS) on Monday October 29th, together with organisations with an interest in Government science policy, will host a science policy debate between Senator Nick Minchin (Minister for Industry, Science and Resources) and Martyn Evans MP (ALP spokesman for Science and Resources).
The debate will be in Adelaide, beginning at 11 am and will be held at the Radisson Playford Hotel, 120 North Terrace. No representative for the Australian Democrats is currently scheduled to take part -- surprising since Senator Stott Despoja holds the AD's science portfolio and represents South Australia in Federal Parliament. The public and the media are invited and following short initial statements and responses, the Minister and Shadow Minister will be asked questions by a panel of journalists. It's to be hoped that members of the public might have an opportunity to question the parliamentarians as well and that FASTS will make a transcript and/or streaming audio file available on its Web site immediately following the debate.


The Inexorable Extirpation of 'Scientific' from CSIRO. (October 16, 2001)
Adrienne Clarke since 1985: Professor, School of Botany, University of Melbourne, 1985-; Chairman of CSIRO 1991-96; Lieutenant-Governor of Victoria 1997-; Fellow of the Australian Academy of Technological Sciences and Engineering, elected 1988; Fellow of the Australian Academy of Science, elected 1991; Foreign Associate, US National Academy of Sciences, elected 1994. She is the last practicing scientist to have been appointed Chair of the Commonwealth Scientific and Industrial Research Organisation.
She was succeeded by Charles Allen who was appointed Chair in December 1996 by the current Government and will serve until November 6. He holds an MSc in geophysics and worked in oil exploration for Shell until 1977. Since 1977 he has been an administrator becoming managing director of Woodside Petroleum in 1982. He retired from Woodside 1996.

Late last month the Prime Minister, John Howard, announced that the new Chair will be Catherine Livingstone former managing director of Cochlear. Ms Livingstone has a background in accounting and was a senior auditor with Price Waterhouse before joining the OPSM Group and then Nucleus Limited before becoming managing director at Cochlear. Last year she was named ICAA/Zurich Chartered Accountant of the Year. She is currently a director of Telstra, Goodman Fielder, Q-Vis, a company producing solid state lasers for corrective eye surgery, the Australian Business Foundation and the Sydney Institute.
Perhaps its time that serious consideration be given to rebadging the organisation to CIRO.


Don't Look a Basic Research Gift Horse in the Mouth. (October 15, 2001)
Spin-offs from basic research can come in unpredicted ways. Just over ten years ago Ötzi, the Tyrolean Ice Man born ~3300 BC, was discovered by two walkers in the Ötztaler Alps. He has made the South Tyrol Museum of Archeology a tourist stop, has spawned a phone card and a postage stamp -- a flavor of gelato is named after him -- and now comes the musical poetically named Frozen Fritz. Surely a world tour utilizing a high-tech deep-freeze-equipped Ötzimoble engendering extensive merchandizing including tee shirts, hit CDs and DVDs, computer mouse pads and robotic Ötzi toys is in the offing.


What an Entangled Mesh We Weave. (October 15, 2001)
It's bad enough when the postmodernists twist science to meaningless ends; they at least have the excuse of being
clueless, but when a Cambridge physics Nobel Laureate perpetrates the grotesque -- it's newsworthy.
Brian Josephson (61) shared the 1973 prize for work done as a 22 year-old graduate student on superconductors. This year the Royal Mail, to mark the 100th anniversary of the awards, has issued a series of 6 commemorative stamps, and Prof. Josephson was asked to provide material for the covering brochure. What's upset his colleagues is his suggestion, "Quantum theory is now being fruitfully combined with theories of information and computation. These developments may lead to an explanation of processes still not understood within conventional science such as telepathy, an area where Britain is at the forefront of research." There are no reproducible studies for the existence of telepathy in the paranormal sense; to equate it with quantum entanglement which seems to be what Josephson is suggesting is ludicrous. Oxford quantum physicist Andrew Steane sums it up saying simply that few physicists even accept that telepathy exists. A careful assessment of Josephson's Home Page and its links should be enough to make one uneasy.


Job Satisfaction Science Survey and a Comment by Rupert Murdoch (October 12, 2001)
The latest issue of Science (Oct. 12th) features a survey of job satisfaction by life scientists in the U.S. who are members
of the American Association for the Advancement of Science (AAAS), and number some 20,000. Forty-five percent responded to the questionnaire, and it is noteworthy that the majority of respondents were well established older scientists, mostly in academe, who were satisfied with their incomes (increasing at twice the inflation rate) and weren't interested in changing jobs. They spent 50% of their time on research -- principal gripe -- too much admin to do. Compared to their Australian colleagues they're on cloud 9.
However, not all is idyllic. As Donald Kennedy points out in his editorial, "[T]roubling is the undersampling of an important cohort of scientists: the young postdoctoral fellows and beginning faculty members or industry researchers who represent the future of the profession. Only 6% of the respondents were under 35 years of age. Postdocs made up only 3% of the sample, and nontenured 'para-faculty' only another 11%. The reports from this group displayed far less contentment... [They are] dominated by younger job seekers, many of them frustrated by a discouraging marketplace, and by the difficulty they have experienced in funding their research... One might ask whether this demography of dissatisfaction is strictly an American phenomenon. The answer is clearly that it is not."
And yet the US academics are markedly better off than Australian life scientists to say nothing of those in the rest of the sciences (or humanities). So long as the Government remains in denial regarding the parlous state of the nation's tertiary education, Rupert Murdoch's plea that, "There is no more effective way to capitalise on [Australia's] great growth potential than to arm our people with better education." will be answered with a shrug.


French and Canadian Science have a Bit of a Funding Win. (October 8, 2001)
Despite France's significant active commitment to the containment of world terrorism, French scientists were pleasantly surprised last week when their government announced a near 20% hike in grant funding for university based research. Nevertheless two of the country's top biomedical scientists, Jean-Paul Thiery of the Curie Institute in Paris and Pierre Chambon, director of the Institute of Genetics and Molecular and Cellular Biology near Strasbourg, questioned if enough was being done to make scientific research a top priority and to stem the exodus of France's best young scientists to the United States. Chambon saying bluntly, "We are not competitive."
Meanwhile the University of Toronto, Canada's top research university, has initiated a program to guarantee minimum stipends for all its doctoral candidates in an effort to stanch the torrent of top graduate students flowing to the leading institutions south of the boarder. Some 4000 Ph.D. candidates at the University of Toronto will get just on A$22,000 p/a significantly above the current US average of A$15,000. And it is especially noteworthy that the funding is not just for intended science Ph.D.s; the humanities and social-sciences are also included. The stipends will go a long way to alleviating the need for graduate students to juggle part-time jobs with working for their degrees.
Thus far, Toronto is the only Canadian university that has put such a program in place.


From Quantum Weirdness to Practicality -- 1924 > 1995 > 2001 > .... (October 5, 2001)
The Bose - Einstein condensate was predicted in 1924. Six years ago the first BECs were created at the University of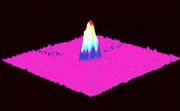 Colorado and MIT. In the latest issue of Nature (Oct. 4, 2001) comes the news that a BEC has been produced on a "microelectronic chip". This advance by researchers at the Max Planck Institute and the Ludwig Maximilian University, Munich brings a significant step closer miniaturized versions of accurate atomic clocks, advanced navigation systems, quantum communication and encryption systems, and most far-reaching, the quantum computer. Certainly there's still a long way to go, but what might have been described, say 10 years ago, by the 'practically minded' as physicists indulging themselves, and certainly not to be encouraged (resourced) shows promise of delivering a cornucopia of new technology (read billion dollar industries).
If you've not noticed, fundamental physical research, or indeed any of the core subjects, are not exactly flowering at our universities and haven't been for some time.
The ABC's science guru, Robin Williams has noticed, and yesterday in Adelaide pleaded, that while Australia has the potential to be a world science and technology leader, that potential would not be realised without a greater commitment from governments to science education. "Unless we do this now, it will be too late. As a nation Australia will have slipped too far behind in the race to be a serious contributor to global scientific advancement, with the result that if we are ever able to play catchup, it will be a very difficult and costly exercise."
But perhaps he oughtn't to be taken too seriously. Federal Communications Minister Richard Alston, also in Adelaide, but at a different venue, was vigorous in asserting that Australia was a prime example of a new economy because it had used state-of-the-art technology to transform traditional industries. "Australia is an absolute world leader. We are number two in the world in terms of e-readiness." Of course we've bought in most of that "e-readiness". Buying smart appears to be good enough.


It's in the Bag. (October 4, 2001)
"Aflame with investigative zeal, Nature Science Update embarked on an uncontrolled, non-peer-reviewed study of Nature office teabags [to investigate infusion performance] that yielded the following results:
Square teabag: surface area = 72 square centimetres.
Mass of tea = 2 grams

Rectangular teabag: surface area = 77 square centimetres.
Mass= 2 g

Round teabag: surface area = 56.5 square centimetres.
Mass = 3 g

Tetrahedral teabag: surface area = 71.5 square
centimetres. Mass = 3 g

(N=1 for all bags)
"So most commercial bags comfortably exceed the 1:20 ratio for speedy infusion, although the round teabag in this survey may be a little cramped."


What Sort of Crisis Would You Like? (October 2, 2001)
On July 20th Dr. Kemp wrote the Vice-Chancellor of the Australian National University, Professor Ian Chubb, taking him to task for a comment he made to the Senate Committee three days earlier:
"When asked by Senator Kim Carr... whether you believed the universities were in crisis you answered 'Yes'. My concern arises from two sources. One is that the assessment is patently incorrect... Secondly, the AVCC's assertion has a very real potential to damage the standing of Australian universities both domestically and internationally."

In a studied reply Professor Chubb gives details to support his statement to the Committee opening with, "I was asked at the Senate hearings whether the higher education SYSTEM was in crisis - not whether each and every university was in crisis. I answered 'yes' after explaining that it was not a word that I used often but that I couldn't 'easily think of another'..." Prof. Chubb continued, " [On August 13th]Mr. Gallagher [Michael Gallagher, First Assistant Secretary, Higher Education Division, Department of Education, Training and Youth Affairs, Dr. Kemp's Department] suggested to the same Senate Committee that Vice-Chancellors who said such things were simply 'looking for an easy way out' and not facing up to their 'management responsibilities.'" He then asks the rhetorical question, "Why would I answer that way?" and proceeds to list the reasons in the course of which he cites statements made by Senator Robert Hill (Lib) who refers to "the funding crisis in higher education and the deteriorating quality of education in this country as a result" and Dr. Kemp, "[I]t is quite clear... the research infrastructure with which [post graduate students] have to deal is in crisis". Professor Chubb also points out that Dr. Kemp quotes Prof. Alan Gilbert (now V-C, University of Melbourne) that the best Australian University might just make it into the world top 50. Gilbert has recently revised his estimate to the top 75 or top 100.

Professor Chubb concludes his rebuttal, "I leave you to draw your conclusions."

As TFW observed in March, it's just a matter of how [and apparently when] you define crisis.
---