Pursuing Diversified Universities. (May 30, 2003)
The journal Nature devotes the lead editorial of its May 29th issue to the Australian Minister for Education, Science and Training, Brendan Nelson's, higher education reform package. Overall the package gets at best a mixed review. Some excerpts:
The Australian government's proposed university policy increases competition and market forces in the sector, while raising justified concerns about independence and infrastructure. But the goal of diversifying higher education is appropriate.

Australia has long been in the vanguard of providing publicly funded student loans, while funds for its laboratories are all too scarce. So a significant change in its approach to higher education is worth watching. ...The blueprint seems to reflect the government's philosophy of 'the user pays' and the promotion of élite institutions. The good news is that the universities will probably receive more money. But there are concerns about growing student debt and potential government influence over university curricula.

It is not surprising that many university chiefs have embraced this partial fee deregulation, as universities are parched from years of declining government funds. Alarmingly, the modest additional government contribution to courses — A$404 million (US$267 million) over four years from 2005 — has strings attached. ...and it is unclear whether it will play a controlling or a consultative role in determining the type of courses and number of places offered by different universities.

An egregious omission from the reform package is any mention of further infrastructure support for universities, many of which have to use teaching money to support their research, as Australian grants rarely cover overheads.

For a nation hoping to benefit economically and socially from the fruits of world-class university research and teaching, more substantial government investment would have been appropriate. Driving universities to compete for fee-paying students runs the risk of reshaping universities as sites of vocational training rather than as places of higher learning.

"Minister and Critic go Head-to-Head on Science Funding." (May 29, 2003)

That's the header in today's media release from Australasian Science

. The minister referred to is Peter

McGauran, Federal Minister for Science, and the critic is Alex Reisner of The Funneled Web.
It all started when Reisner wrote a "conScience" column for Australasian Science's April issue titled "A Nation Worth Defending" in which Reisner had some harsh things to say regarding the Coalition Government's support for research and higher education. The Minister in a letter published in the June issue of the magazine says, "Any objective interpretation comprehensively negates the alarmist views presented" by Dr Alex Reisner in the column. McGauran interprets OECD figures differently, claiming: "The research intensity of the OECD as a whole has barely changed in the past 15 years". In comparison, "Australia's research intensity has increased from 0.95% of GDP in 1981-82 to 1.53% in 2000-01. It is reasonable to expect that Australia will further converge on the OECD average in the years ahead."
Mr McGauran also says Reisner wrongly used US National Science Board figures in showing "a worrisome decline in the importance, relative to population size, of our scientific literature over the past decade". He points out the index is "not relative to population size but a ratio of a country's average citations per publication to the world average".
And he disputes Reisner's claim of "an alarming decline in the staffing of the enabling sciences (mathematics, physics and chemistry) during the tenure of the Coalition government", citing contrary Australian Bureau of Statistics figures on academic researchers.
Reisner counters Mr. McGauran's criticisms in the magazine's "Write of Reply". The thrust and parry of it all are set out in an online TFW folder (click here).

Yo, Prime Minister, but When Will You Put It into the Envelope? (May 28, 2003)
When the Prime Minister, John Howard, awarded the Prime Minister's Science Prize to Professor Frank Fenner this past August, he said in part, "What I hope we have endeavoured to do in cooperation with the scientific community of Australia is to place the role of science at the centre of our existence, to accord it the respect and to accord its practitioners, its researchers, its brilliant men and women the respect that a modern and sophisticated nation should give to those people who contribute so much to who we are, to find what we stand for, and also making enormous contributions to the quality of lives that we enjoy." Furthermore, "I have to say that when I became Prime Minister, of all the bodies that I came into contact with, none has made (sic) a greater influence, or had a greater influence on me than the Prime Minister's Science, Engineering and Innovation Council."
Yesterday Mr. Howard addressing the Collaborative Research Centres Association awards dinner told them, "...I recognise that there are still many things that need to be done. ...I think the challenge of

reforming and strengthening Australia's tertiary education sector is one of the important debates that this country has to have within the next few months because the central role of universities and within them the central role of science in particular, will be so important to the future of Australia. It's a trite way of putting it, but I do want to see - and I say this as self avowed cricket tragic[?] - I do want to see a time when Australia's scientists are as revered and as honoured within the Australian community as our highly successful sportsmen and women. ...But in the end, a nation earns respect because of its values, because of its economic strength and because of its intellectual capacity and the extent to which it can project that intellectual capacity into areas of science, areas of research and areas that develop ways of progressing mankind. And if you look back over the years, this country has always been a remarkable performer, given its size, in areas of medical science."

Once again I'm reminded of a comment by a high steel worker while he was working on New York's Empire State Building, his foreman having just praised him to the heavens for his outstanding performance. "Just put it in the envelope."

ARC Chief Executive, Vicki Sara, Has Something of a $47 million Problem. (May 27, 2003)
The Chief Executive of the Australian Research Council, Professor Vicki Sara, in one of her rare public statements commented on the 2003/04 federal budget observing that one change has the ARC assuming part of the responsibility for the annual $47 million designated for ARC principal investigators' salaries. This would reduce the burden on direct university grants but diminish the funds the ARC could allot for research unless additional funds are made available to it.
According to the Australian Financial Review, "Professor Sara said yesterday that increasing the funding responsibilities of the agency without increasing the pool of money available to it would mean either the number of projects it funded, centres of excellence it established, or research networks it developed would have to suffer." So far neither the Minister for Education, Science and Training, Brendan Nelson, nor Peter McGauran, Minister for Science, have publicly allayed Professor Sara's concerns.

The Minister's Reformation of Higher Education is Threadbare. (May 26, 2003)
According to The Melbourne Age's Kenneth Davidson, "This package won't even repair the damage already caused by the Howard Government." In his 870 word article Davidson points out:
"Until 1997 HECS contributed 20 per cent of the cost of a degree. Under the Howard
Government the student contribution has been progressively increased to 40 per cent and according to the National Tertiary Education Union, if the Nelson 'reforms' go ahead the student contribution will rise to 44 per cent without a 30 per cent surcharge, and to 56 per cent if all universities applied the surcharge."


"According to the OECD, in 1999 the public contribution to higher education (including from the states) was 0.8 per cent of gross domestic product, compared with 1.1 per cent for the US. Only three OECD countries had a lower proportion of public funding for higher education than Australia: Japan, Korea and Luxembourg."


"The budget papers show that public funding for higher education fell from 0.9 per cent of GDP in 1996 to 0.6 per cent now."


"The budget forward estimates show spending on higher education will contract as a proportion of GDP to 0.5 per cent in 2003-04 and 2004-05 before getting back to 0.6 per cent in 2005-06."
Davidson concludes, "To get the public commitment back to 1996 levels, expenditure would have to rise by an additional $3 billion a year. Such extra spending is required to repair the damage done to universities over the past six years."
Perhaps it's worth emphasising that Kenneth Davidson is a staff columnist for the Age and as such is perhaps less inhibited than university administrators who tread very carefully when walking near to Dr. Nelson's toes.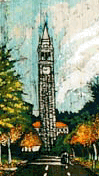 Just Because Berkeley has the Wind up Why Should We Worry? (May 25, 2003)
For decades the University of California at Berkeley's physics program has ranked among the world's best. At present it ranks third in the US behind Harvard and Princeton. But currently it's experiencing a brain drain and the university is concerned to the point of undertaking remedial action. A report by an external review committee found that physics at Berkeley is in decline and tens of millions of dollars are needed to repair and renovate what is referred to as dilapidated office space and antiquated laboratories. One theoretical physicist who has left told Science, "faculty members rarely want to leave Berkeley but that poor facilities make them vulnerable to head-hunters. 'It's the reason why, when the phone rings [with an offer from another institution], you don't say "No, thank you, I'm not interested, good-bye." ' " In the past four years 7 recently tenured professors have been lured away and the external review makes the observation that "Unless the current situation is changed, further plucking of the best young faculty by stronger institutions is inevitable." Among the six member review panel were Nobel Laureates from Columbia and Stanford universities.
Berkeley's executive vice-chancellor, Paul Gray told Science that the university is close to a guarantee of US$65 million of state funding for construction of a US$108 million integrated physical sciences building. Together with other promised upgrading Gray foresees a "huge" improvement before the end of the decade. On the other hand one experimental physicist told Science, "I think we are on the right path, these are good solutions to the immediate problems. But we need to look many steps ahead. In a decade, we don't want to be in the same situation again."
Whether or not the task force that the Minister for Eduction, Science and Training, Brendan Nelson, has designated for the "mapping of Australia's science and innovation activities" will be as forthright in its assessments as the external panel commissioned by UC, Berkeley was in reviewing Berkeley's Department of Physics remains to be seen.
---
The six member committee of review:
Claude Canizares, Massachusetts Institute of Technology
Steven Chu, Stanford University
David Gross, University of California at Santa Barbara
Roberto Peccei, University of California at Los Angeles
David Stevenson, California Institute of Technology
Horst Stormer, Columbia University

Switzerland Moves to Increase Support for Science. (May 25, 2003)
The week before the Treasurer, Peter Costello, brought down next year's budget the Swiss Parliament's upper house voted to up government science spending by 6% annually over the next 3 years, for an overall total of $13 billion. Although significantly less than the 10% per annum increase recommended by Swiss Science and Technology Council, Ingrid Kissling-Näf, secretary-general of the Swiss Academy of Sciences said the Academy is pleased (it is 50% more than cabinet ministers had recommended). She did point out, however, that 6% is "the bare minimum" needed to keep Swiss science competitive.
This coming month the lower house will vote on the science budget.

The Nexus Between Research and Teaching a Follow-up. (May 23, 2003)
TFW's January editorial referred to an initiative that has been undertaken by the Howard Hughes Medical Institute to show a way for improving university teaching to make it both relevant and inspiring. Below are excerpts of a letter in the May 23rd issue of Science inspired by Thomas Cech's description of the project, and HHMI's Director's response.
All in all a rather different take than the Minister for Education, Science and Training, Dr. Nelson's, way forward for university teaching.
Inoculating a Science Education Epidemic
T. R. Cech's Editorial "Rebalancing teaching and research" (10 Jan., p. 165) discusses the effort being made by the Howard Hughes Medical Institute "to tilt the research/teaching balance back to a healthy equilibrium" by "providing recognition and research-level dollars to accomplished scientists who have a track record of exciting teaching and a penchant for more." Although I support the effort, this mechanism of encouraging faculty to invest more of their efforts in teaching does not combat the root of the problem; it attempts to achieve this goal by patching a flawed system.
Cech states that promotions and salaries at research universities are dependent on publications, patents, and grant funds. However, university administrations are often more interested in money to pay the school's expenses than in teaching quality and publications.
It is a conflict of interest for administrations to put their budgetary responsibilities ahead of the university mission by forcing the faculty to bear a great part of the budgetary responsibility.
Louis Roccanova

Response
Roccanova correctly identifies our new Howard Hughes Medical Institute Professors program as a patchwork effort. However, we do not aim to avoid change at the institutional level, but rather to stimulate it in a ground-up approach. After all, our goal is not so much "encouraging faculty to invest more of their efforts in teaching," but rather to obtain more quality impact per hour spent teaching and to ease the way for other teachers to do the same.
Thomas R. Cech
Howard Hughes Medical Institute

37 of the 38 Vice-Chancellors Overseeing Australia's Public Universities Got Together in Sydney a Week After Dr. Nelson's Higher Education Reform Package was Announced. (May 22, 2003)
According to the Sydney Morning Herald's Aban Contractor, they are just a tad upset. "More than half of Australia's university chiefs have condemned the Federal Government's controversial proposed changes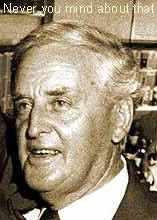 to higher education." How upset that will make the Minister for Eduction, Science and Training, Brendan Nelson, remains to be seen, and just what the vice-chancellors intend to do about their dudgeon also remains to be seen. There is always the possibility of stop work meetings, and if the students and staff, academic and general, show solidarity, matters could get interesting. However, the likelihood of such unseemly, recalcitrant behaviour is low. According to Contractor she was told, "We agreed to postpone our public response until we could present a more united front." In addition the vice-chancellors wanted clarification of several matters, foremost, "the issues of workplace relations and governance reform."
And perhaps indicative of DEST's approach, "Another source said vice-chancellors yesterday repeatedly questioned the new secretary of the Department of Education, Science and Training, Jeff Harmer, on what universities would have to do to convince the Government they had implemented workplace reform. 'We kept asking "what do you mean by evidence?" He had no answers.'" It brings to mind one of the pieces of advice for which Joh Bjelke-Petersen, former Queensland Premier, was famous, "Never you mind about that."
Oh, who wasn't there for the group photo at the end of the day?
Prof. Alan Gilbert, Vice-Chancellor, University of Melbourne and Chairman of the Group of Eight.

University of Newcastle Sparks Creative Interest in the Enabling Sciences in Secondary School Students. (May 18, 2003)
Rather than compete counterproductively for an ever dwindling cohort of students to enrol in engineering and enabling science programs Newcastle University's Faculties of Engineering and Science pooled resources and together with service organisations, industry and the NSW Department of Education and Training developed the Science and Engineering Challenge to increase secondary school students'
participation in the enabling sciences. There was evidence of worrisome misconceptions about just what scientists and engineers did in their work; for example, the students felt that there was no challenge or depth to such careers. This got Bob Nelson, the Executive Director of the University of Newcastle Industry Scholarship Scheme, to set about establishing a program of activities aimed at inspiring students. The objective of the program is to overcome the misconceptions by developing an innovative, challenging, creative, competitive, team building and "hands-on" activity.
The data summarised in the graph are for the 40 schools which competed in the 2000 or 2001 Challenges for the first time and which have remained in the program since. Year 0 in the graph is the year in which the Challenge is run for the first time for each cohort of schools. The dramatic turn around in participation in the enabling sciences for year 11 says it all. And engaging the public has raised awareness of the role of the enabling sciences in a way that would be difficult to achieve otherwise. The program started with 14 schools in 2000, expanding to 52 schools in 2001 and 87 in 2002. This year the program will commence interstate activity with an Adelaide Challenge. Obviously Bob Nelson and his volunteers and supporters have got something right because the Challenge has received a UK Institute of Physics Award for the Public Promotion of Physics, and last Friday night the Science and Engineering Challenge shared top honours in the Institution of Engineers Australia (Newcastle Division) Engineering Excellence award.
So will the Minister for Education, Science and Training help advance the cause by making more than token resources available to allow the approach to be taken up throughout Australia, and will the universities be given the means to cater for the increased interest in the "hard" sciences that is certain to ensue from such approaches, i.e. resources both for increasing research activity in the enabling sciences and providing adequately trained personnel for the secondary schools? Perhaps the Minister for Industry might become interested.

Synchrotron Schymchrotron Who Cares? (May 17, 2003)
Over two years ago (April 8, 2001) TFW ran an N&V with the header A$155 Million Competition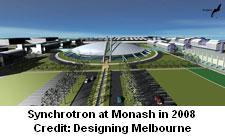 for Major Research Facilities for Australian Scientists in which we reported among the items that will most probably be considered is a synchrotron facility being put up by a consortium of nine of our universities. When it came to the point Victoria pledged $157 million so that the facility would be housed at Monash University. That allowed the Federal Government to spread the $155 million it had earmarked for Major National Research Facilities considerably further than it might have done.
The synchrotron was hardly before time. On October 3rd 2000 the then president of the Federation of Australian Scientific and Technological Societies (FASTS), Professor Sue Serjeantson (now Executive Secretary of the Australian Academy of Science) pointed out, "Australia is the only developed country that doesn't have a synchrotron and they are used in the development of IT and drug design." In short we were still playing catch up. And as of now construction is about to begin. It is due to come on line in 2008. And there's the rub. According to Carina Dennis, reporting in the May 15th issue of Nature, constructing the beamlines which are needed to channel the X-rays produced by the synchrotron to allow them to be used by researchers will require an additional $50 million. Without beamlines the Synchrotron will be about as useful as the International Space Station. Victoria would like the Federal Government to pony up with some assistance. However Dennis writes, "On 11 May, the federal science minister, Peter McGauran, said that the government would not allocate money specifically for the synchrotron," and the synchrotron can get in line to compete for funds from existing funds administered by the Australian Research Council and the National Health and Medical Research Council, which should make those already hard pressed for research funding happy as clams.
In one of those who are you kidding statements uttered in hope as much as in belief the Vice-Chancellor of Monash said, "It is unthinkable that the federal government would not make some contribution to a facility of such great national benefit."
Just for the record in that N&V item of twenty-five months ago we wrote:
It's worth recalling comments made by Professor Serjeantson just 18 days before the PM released his innovation statement. Tom Allard the Sydney Morning Herald's economics correspondent wrote,

The Federal Government's expected five-year investment of about $2 billion [it was in fact $2.9 billion] in science and innovation will be dwarfed by the extra funding put into the sector by Australia's international rivals for the technology dollar.
Singapore, with a population of just over 3 million, boosted research and development funding last year to more than $6 billion over five years.
If that kind of investment were replicated in Australia, the Prime Minister would be unveiling a $32 billion package, says [the President of] the Federation of Australian Scientific and Technological Societies (FASTS).

Oh yes, Allard's header read "Microscopic $2bn science investment".
Not to worry, roll on 2008.

Snippets from Alan Jones, Dr. Brendan Nelson, and Senator Kim Carr. (May 15, 2003)
The following are quoted out of context, but follow the links and you will come upon the context. One out of three doesn't seem to have lost the plot. The distortion of our universities never arose in the Jones' interview. It should have.
Alan Jones, Sydney talkback host and moulder of public opinion, talking to the Minister for Education, Science and Technology:
Jones: One critic, though, yesterday said that it shouldn't be your bank balance but rather your brains that count at university. Can we be sure that brains will get the frontline running as opposed to bank balances?

Nelson: Alan, I could not agree with that statement more and under this system, no student will have to pay any upfront fee. At the moment the only upfront fee that students have to meet is a compulsory union fee which we're proposing to make voluntary or optional. Under these arrangements for fee-paying students who are 2% of the system; for the 98% who go through on HECS, it is the same arrangement you've got now. If you don't want to pay it upfront then you take a loan from the Commonwealth; the HECS loan, it has no interest rate applying to it, you start paying it back when you earn $30,000 a year.
Senator Kim Carr (Labor Victoria) in a Sydney Morning Herald opinion piece today:
Carr: No matter how convincing the rhetoric about the importance of good teaching, the fact
remains that universities unfunded for research lack the environment where learning flourishes. Only academics actively engaged with their disciplines can impart ideas so that students' minds are challenged and expanded. This is the essence of university learning, in all disciplines.

Australia desperately needs researchers who grapple with problems facing the bush as well as the city, with practical and theoretical issues, with questions in the humanities as well as the sciences.
Were Labor to assume government would it provide the resources to back Senator Carr's judgment.

Government Support for Higher Education: a Mathematical Statistician's Assessment. (May 15, 2003)
This outstanding example of linear relationship is almost perfect for teaching a first statistics course on regression. Not only is the linear relationship so good that it leaves little room for "experimental error," there is another added feature so thoughtfully provided by the government: little extra funding will arrive in the next few years, and so we can expect the graph to keep going down in that delightful way for some time to come. By 2005, the sustained trend will be simply magnificent -- outstanding as a teaching example. The government is to be applauded for its rare, sustained commitment to university teaching.

I appreciate that a part of the decrease is brought about by growth of GDP, in addition to the actual decline in funding. These aspects of the larger dataset are ideal for classroom discussion. For example, does the decline in funding for Higher Education actually cause the increase in GDP? And: were we to make students pay the government more than their education actually costs to deliver, would GDP grow at an even faster rate? I feel sure the government is already thinking along these lines.
Professor Peter Hall, Mathematical Sciences Institute, The Australian National University, Canberra
---

Astronomy, the Munificence of Government and the Mindset of Zeus. (May 15, 2003)
A post Federal Budget media release from the Minister for Science, Peter McGauran, featured in top spot "$7.3 million for Mt Stromlo Observatory." Following the link got you:
The Government will provide $7.3 million in this year's Budget to assist the Australian National University (ANU) rebuild its world class research
facilities at Mt Stromlo Observatory following their devastation by the Canberra bushfires in January.

The bushfires that swept through the Research School of Astronomy and Astrophysics site destroyed heritage buildings, critical workshops and state-of-the-art telescopes that were also a key tourist attraction.

The Research School has long been recognised as an important player in national and international astronomy, providing leading edge training for students as well as world class pure and applied research facilities.

The Prime Minister, John Howard, committed the Government to assisting the rebuilding task after touring the burnt out facilities soon after the catastrophe.

"In an appropriate way, Mt Stromlo must and will be rebuilt because it is a very important element of our national identity and of our excellence in science and astronomy," Mr Howard told Parliament in February.

The Education, Science and Training Minister, Dr Brendan Nelson, said it was expected the ANU would use the funds to help rebuild instrumentation workshops and a heritage building. The funds would also assist with the purchase of two new telescopes to replace those lost in the fires.

"While it is still early days in terms of precise rebuilding plans, it is clear the ANU will return to Mt Stromlo to continue its mission to advance the frontiers of astronomy, train outstanding scientists and stimulate interest in science through educating the public," Dr Nelson said.

Federal Science Minister Peter McGauran said the Commonwealth's funding contribution highlighted the Government's commitment to re-establish Mt Stromlo Observatory as a state-of-the-art facility.

"I am confident Mt Stromlo will again provide facilities unequalled in Australia for teaching and research in astronomy and astrophysics," Mr McGauran said.
The ANU had submitted to the Department of Education, Science and Training that between $15-20 million would be required to bring Mt. Stomlo up to world class standard.
Some time ago Zeus was visiting Earth in his philandering ways and took up with Semele.Through a series of circumstances he was forced to electrocute her, and demonstrating a supreme disregard for reason, physiology and physics he decided, according to Händel, to minimise her suffering by using his mildest lightning bolt.

Higher Education, Science and the 2003-04 Federal Budget - Some Links to Who Says What. (May 14, 2003)
DEST 2003-04 Budget overview and in detail.
What DEST has to say "at a glance".
The DEST 48 page Policy Paper.
What the Federation for Australian Scientific and Technological Societies (FASTS) said.

What the Group of Eight said.

What the National Tertiary Education Union said. 4.6% of promised $1,5 billion before next election.
Overall Budget Media Release from Brendan Nelson, Minister for Education Science and Training.
Budget Media Release from Peter McGauran, Minister for Science.
Australian Vice-Chancellor's Committee (AV-CC) Budget assessment and more.
Australian Academy of Science.
Perhaps the most critical matter lies in the stipulations the Federal Government will place on the measures universities will need to institute to comply with changes in governance and workplace relations in order to obtain the promised additional funding. At present official statements are very light on detail about governance and workplace relations issues - more details will apparently be released in coming weeks or months.
It is not beyond the realm of reason that Australian universities, including the Group of Eight, will move increasingly toward becoming advanced schools of business, law and applied science rather than seats of learning and contributors to fundamental knowledge. That should ensure that the brain drain will flow from the top.

There, Feel Better Now? -- From a Today's Media Release from the Minister for Science (May 12, 2003)
Journalist: In higher education will you be re-packaging the money or can we expect a big funding boost for the sector?
Treasurer: Well, I think the most important thing about higher education is firstly it will be a big structural reform, big changes in terms of the way in which universities will operate. More flexibility, more focus on students so that students will be able to choose and in addition to that, in order to fund those reforms we will be allocating new money, yes we will. But we will be asking the universities to reform themselves quite considerably in order to achieve those objectives.

Business Investment in R&D at the "Crossroads"? (May 8, 2003)
The executive Director of the Group of Eight, Virginia Walsh, in commenting on the release of the 2003 Ernst and Young Budget Barometer survey pointed out that 40% of the CEOs questioned think it would only take an increase in the tax concession rate from 125% to 150% to encourage more private R&D. The federal budget next week may indicate whether or not the Government agrees and considers it a worthwhile experiment; although such a device alone is unlikely to fully address the issue of Australian business' disinterest in R&D relative to its OECD cohort.
Ms Walsh pointed out that while the Budget Barometer survey found that business expenditure on R&D (BERD) increased markedly in 2000/01, when adjusted for inflation, but the level remains five per cent lower than the peak recorded in 1995/96, and the survey points out that as a percentage of gross domestic product, business expenditure on R&D in Australia has fallen from 0.87% to 0.72% of GDP since 1995/96, a 17% drop.

Swiss Miss to Visit Canberra. (May 7, 2003)
Dr. Margrit Leuthold is General Secretary of the Swiss Academy of Medical Research (SAMW) and

Coordinator of the Council of the Swiss Academies of Sciences' (CASS') adaptation of the US Congressional Science and Technology Fellows Program. CASS is just putting its toe into the water as it were.
Currently about 35 scientists participate in the US Program which is an initiative of the American Association for the Advancement of Science (AAAS). Fellows spend one year working as special legislative assistants on the staffs of Members of Congress or congressional committees. Because of the marked differences in the Swiss and US forms of government the program being developed by CASS requires significant adaptation to be relevant. Similarly the Australian form of parliamentary democracy with its emphasis on cabinet dominance and strict backbench adherence to the party line, would require profound reworking of the Fellows program for it to exert significant influence.
On Monday-Tuesday May 12-13 Dr. Leuthhold will hold a series of discussions with senior figures in the Australian Parliament on the Swiss experience and at 5.45 pm on Monday May 12, in conjunction with the only Australian to work in the US program, Dr Lesley Russell, she will give a public talk at the Australian Academy of Science's Shine Dome.
Margrit Leuthold's visit to Canberra is being organised by the Federation of Australian Scientific and Technological Societies (FASTS) and can be viewed as a step toward FASTS expanding its annual Science Meets Parliament program. An overall view of the Swiss and US programs is available on the FASTS Website.

University of Melbourne V-C to be New Chair for Group of Eight. (May 6, 2003)

Alan Gilbert is to take up the position of Chair of the Go8 on May 9th replacing University of Queensland V-C, John Hay, who took over in January of last year. Professor Gilbert's abilities as a spokesman for his constituency of sandstone universities will be tested almost immediately when he must respond to the outcomes of the higher education review to be released in Canberra on May 13th.
Professor Gilbert is the most entrepreneurial of the Go8's Vice-Chancellors having been the driving force for the setting up of Melbourne University Private. He has also been a staunch advocate for universities to be allowed to have a more flexible policy in setting their fees.

When Dealing with Research Institutes and Universities Prioritise Your Priorities. (May 3, 2003).
US Department of Energy Secretary, Spencer Abraham, would fit into Prime Minister, John Howard's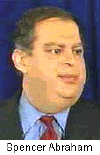 Cabinet perfectly. The University of California, Berkeley holds the contract to run the Los Alamos National Laboratory (LANL) until 2005. It has been responsible for the Lab since the inception of the Manhattan Project during WW II. However, following a report to the Secretary by DOE Deputy Secretary Kyle McSlarrow and Linton Brooks, acting head of the National Nuclear Security Administration, that the Los Alamos culture, "exalted science and devalued business practice" and should be revised, Spencer Abraham decided to call for competing bids to run LANL. UC, Berkeley President, Richard Atkinson, says he will put in a tender, but in the past bids in similar circumstances from incumbent contract holders have rarely met with success.
Should the views of McSlarrow and Brooks prevail, it's debatable how attractive Los Alamos will be to top scientists.

Protecting Iraqi Antiquities - Does the Australian Government have a Position. (May 2, 2003)

Australia's Minister for Communications, Information Technology and the Arts is Senator Richard Alston. Thus far he has had nothing to say with regard to any obligation the Government believes it may or may not have in respect of the devastation of Iraq's collections of antiquities. In a recent letter to Science (2 May 2003) the President of the American Council for Cultural Policy, Ashton Hawkins, wrote, "The Council considers the looting of the Baghdad Museum to be an event of catastrophic magnitude for both the people of Iraq and the world as a whole. ...It is the responsibility of all those concerned with the protection of mankind's cultural heritage to help Iraq rebuild its museums, strengthen its ability to protect and preserve its cultural heritage, and ensure that its stolen material is found and returned." Is it really asking too much to expect our Government to clearly indicate what it considers to be our responsibly in redressing the cultural desecration that resulted from the anarchy which occurred in the wake of defeating Saddam Hussein's regime.

The Australian Education Curriculum is "bullshit", Says Rupert Murdoch. (May 2, 2003)

In the book 2020 Vision launched yesterday by the Minister for Education, Science and Training, Brendan Nelson, Rupert Murdoch blasted Australian universities for setting "bullshit syllabuses" that discredited the nation's standing. His comments were in response to the book's author, Graham White's request to comment on what was required to assure Australia's future well being. In addition to a more enlightened immigration policy the international media baron told White that more money must be put into universities so they could buy the best brains in the world and went so far as to say salaries of up to $1 million a year shouldn't be ruled out. He went on to criticise Australian politicians on both sides in that neither major party was prepared to deal constructively with the problems in the nation's education system. To date, however, Mr. Murdoch has shown scant inclination to actively support his point of view.

Consensus About the Fundamental Importance of Basic Research to Australia's Future by Leaders of Three Key Sectors. (May 1, 2003)
At yesterday's National Press Club forum on technology transfer held in Canberra, Australia's Chief scientist and Managing Director, Research and Technology Development, Rio Tinto Ltd, Robin Batterham, joined with the Business Council of Australia's Chief Economist, Melinda Cilento, and the Chair of the Group of Eight, Professor John Hay, in a forum entitled Collaborative Innovation: the key to national prosperity.
According to Virginia Walsh, Executive Director of the Group of Eight, while there was agreement that careful assessment needs to be made as to wisely targeting Australia's "research dollar [towards] our pillars of strength, ...[t]his does not mean that public research funding should only be available to certain universities."
However, Dr. Batterham took the opportunity to say, "To me it seems madness that every institution, be it a small regional university, be it a large one, be it a government-funded research agency of even a state or a territory - or even larger than that - but every single one of them looks to having its own commercialisation facility," and he proposed establishing four or five "super-centres" to organise and drive commercialisation across the university sector but didn't elaborate on his proposal.
And although John Hay is Chair of the Group of Eight sandstone universities, he stressed that any further public research funding should be available to all universities on the basis of open and transparent competition.

The Business Council's Melinda Cilento fell back on the country's small economy (2% of the global economy) and emphasised we need to think creatively to compete with nations which spend much larger sums on research and development.
It might have been more to the point to compare Australia's investment in R&D as a percentage of GDP with OECD nation's with comparable GDPs and aspirations.
On the other hand Professor Hay made some telling points and looked as though he had the Minister for Education, Science and Training, Brendan Nelson, and Employment Services Minister, Tony Abbott, in his sights when he cautioned his audience that even the world's leading commercialising universities can only expect revenues of 3-5% of their total budget and remain heavily dependent upon public funding to support basic research, and went on to stress that universities are not businesses and should not be treated as such by policy makers. The role of universities is the creation of technology, the discovery of knowledge and the delivery of education for the benefit of the wider community.
Whether or not the current Government will pay heed or not remains to be seen. The full transcript is available on the Go8's website.
---
---