CSIRO's Trauma Appears Set to Continue. (September 28, 2002)
Two salient questions would appear to be at issue: 1/ was Dr. Geoff Garrett, Chief Executive of the Commonwealth Scientific and Industrial Research Organisation (CSIRO) imported from South Africa 20 months ago in order to prepare the organisation for privatisation, and 2/ is the man out of his depth in running an organisation with a current budget of $800 million and staff of nearly 6,000, no matter what his brief?
In July TFW reprinted an article from the July issue of Australasian Science (AS) by Max Whitten former Chief of the Division of Entomology decrying what he saw as the adulteration of the organisation from a respected research body working for the public good to essentially an applied research "gun" for hire. He wrote,
Indeed, commentators have sometimes speculated that CSIRO's contribution to the nation's economic, social and environmental well-being was a key factor in the diverging fortunes of Argentina and Australia during the 20th century ...Two years ago, Jonathan Shier and Geoff Garrett were imported to ginger up the ABC and CSIRO, respectively. Shier's failed attempts to "remake" the ABC are familiar to many.
It appears that Garrett is heading down the same path. On 22 May, CSIRO's Garrett told a large audience of senior R&D boffins in Sydney: "If it ain't broke, break it". That seems a risky strategy for a business producing golden eggs!
Dr. Whitten's dudgeon was noted in the mass media, receiving notable attention in the Canberra Times, most recently in an article by Verona Burgess on September 8th. Meanwhile the respected science journalist Peter Pockley has continued questioning the direction CSIRO is being taken with articles in the August, September and now October issues of AS. Dr. Pockley reported in the August issue of AS,
No supporters external to CSIRO emerged in the media other than Science Minister, Peter McGauran, who issued a statement backing Garrett and the CSIRO Board on 1 July. This was neither circulated widely to the media, as normal, nor posted on the Minister's web site, along with all his other releases. It was only sent on an individual basis in response to a request for comment, but McGauran declined to be interviewed. This hardly seemed a ringing endorsement and did not dissuade further media coverage.
In the ensuing months Dr. Pockley had tried to obtain an extended interview with CSIRO's Chief Executive. In fact after multiple requests for an interview over seven weeks, a meeting was arranged, but in his October AS commentary Dr. Pockley writes, "Garrett refused to answer any questions and for 90 minutes put his own, including repeated requests for advance knowledge of what questions he would be asked in an interview. Later he claimed there had been a 'misunderstanding' about the purpose of the meeting and he would only provide answers by email." Dr. Pockley reports that AS did in fact obtain seven documents by email which are, "too long to condense adequately here." However, as a parting shot the clearly exasperated Peter Pockley quotes in full Dr. Garrett's 240 word explanation of his use of the phase, "If it ain't broke break it." As far as we can make out, he seems to use it to mean if it is possible and appropriate to improve something, it should be. If you want the full quote you'll have to get a hold of the October issue of Australasian Science.
Note: On October 5th the ABC's Science Show (12:00M) will air an extended feature on CSIRO, its current ordeals, and what may be its future.


The AV-CC Submission to the Higher Education Review. Forward from the Crossroads: pathways to effective and diverse Australian universities (September 27, 2002)
The Australian Vice-Chancellors' Committee today submitted its 85 page brief

(Exec. Summary

) engendered by the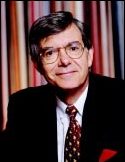 Minister for Education, Science and Training's Higher Education at the Crossroads review. The ABC's Breakfast program on Radio National gave the submission almost seven minutes of air time

as Vivian Schenker (an arts graduate from Sydney University) interviewed Deryck Schreuder, Vice-Chancellor of the University of Western Australia and current President of the AV-CC.
Professor Schreuder quietly but forcefully outlined the submission's key points. Foremost, "One of the AVCC's goals for 2020 is that effective national investment in higher education will underpin the international quality of Australia's universities. The AVCC's symbol for this aspect of the vision is that investment in higher education be 2% of GDP by 2020 [It is currently 1.2%]. Without this investment we will not be able to achieve the other vision elements concerning access, effectiveness of research, and internationalisation.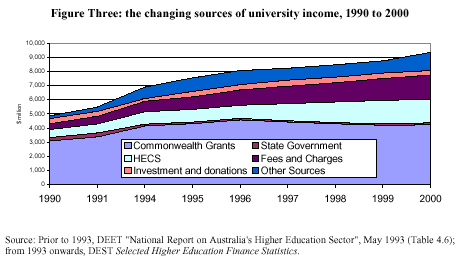 "To meet the AVCC symbol substantial additional investment is required. The necessary investment could come from both public and private sources, but must reflect the essential public nature of the university sector." (p67)
The submission comes down heavily on the side that one size does not fit all 38 of the public universities and until that is actively acknowledged by the government the sector will continue to decline. And no that does not mean that there should be top down direction from the Minister but rather, "The challenge for universities is to enhance their individual identity and priorities. ...[T]hrough appropriate use of the opportunity provided by the enterprise bargaining process, universities individually are achieving
outcomes that serve their longer-term interests and will continue to do so." (p64)
"The challenge is to create the policy environment that allows for many different, but effective, approaches targeted at the needs of each group of students. It is not to find a single solution and impose it across all students, courses and universities.
"To create that environment, effective national investment in higher education is essential." (p4)
"[A major weakness of the Higher Education Contribution Scheme (HECS) is] its very low repayment threshold of $23,242. ...repayments are required once a student is in almost any full-time position and many part-time positions. ...The threshold should be set at a level that recognises the advantages gained from university education, whether Average Weekly Earnings (the benchmark when HECS was introduced, now $42,880) or possibly average starting salary for graduates in first time employment ($35,000 for graduates in 2001). (p70)
A significant shortcoming in the submission is a lack of specifics when it comes to discussing the rundown condition of universities' infrastructure. However, this matter may be addressed by a soon to be released policy paper from the Australian Academy of Science (AAS). But, a detailed and critical evaluation of university infrastructure remains to be obtained.
Nevertheless, the AV-CC's submission is a powerful contribution to the debate, we can only hope that Dr. Nelson and Dr. Shergold, his departmental secretary, will consider it seriously especially together with the AAS' recent assessment of research funding.


The 2002 MacArthur Fellowships Announced. (September 26, 2002)
Worth a cool ˝ million (US$) given over five years this year's 24 fellows were announced yesterday.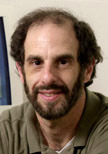 They range from 29 to 60 in age, nine of the recipients are scientists but other fellows are a musician, journalist, historian, novelist and documentary film maker. The criterion is demonstrated creativity and the money is given, no attached strings, to assist the individual to continue to be creative.
One of the notable and pleasing winners is Paul Ginsparg , Professor of Physics and Computing and Information Science at Cornell University, described as a physicist and Internet publisher, for "revolutionizing scientific communication by providing a free service for publishing and reading research reports. Why do we single him out? Well in July last year TFW noted in its News and Views section:
Ginsparg will be leaving the Los Alamos National Laboratory, under less than amicable circumstances, for Cornell University which will allow him to continue and extend arXiv using it as a model for research into digital libraries. As Ginsparg describes it, the last straw was a recent salary review which described him as, "a strictly average performer by overall lab standards; with no particular computer skills contributing to lab programs; easily replaced, and moreover overpaid, according to an external market survey".
The Chair of the Department of Physics at Cornell, Peter Lepage's sardonic comment was, "Evidently their form didn't have a box for: 'completely transformed the nature and reach of scientific information in physics and other fields'."
Apparently the John D. and Catherine T. MacArthur Foundation do have a box for "completely transformed the nature and reach of scientific information in physics and other fields."


"No Nation Can 'Free-Ride' on the World Scientific System." (September 25, 2002)
That quotation is used in the Australian Academy of Science's policy document The funding of research and research training in Australian universities released on September 13th as "A response to the Commonwealth Department of Education, Science and Training's issues papers." Predictably the mass media has shown total disinterest. Yet it makes good copy because it challenges the Government and more specifically the Minister for Education, Science and Training, Brendan Nelson stating that despite funding reforms introduced since 2000, "the Academy believes that these reforms did not go far enough and substantial deficiencies remain in the current funding mechanisms for higher education research and research training. These deficiencies detract from the ability of Australian universities to build and maintain internationally competitive research strengths in key areas of importance to Australia." The 3,000 word document continues, "Perhaps even more seriously, these deficiencies detract from the ability of Australia to engage with and access the international R&D effort ...access does not come free. As a recent UK analysis of the economic benefits of publicly funded research concluded: 'No nation can "free-ride" on the world scientific system…A nation needs the capability to understand the knowledge produced by others and that understanding can only be developed through performing research.'
"Australia's share of scientific publications had increased markedly over the 1990s but the relative impact of Australia's publications, as measured by citations, had declined and continues to fall behind most other OECD countries. ...this increase in university output has occurred disproportionably in journals of lower impact. ...these results are [a] consequence [of] a volume-based publication measure that does not discriminate on any quality measures."
In place of the current purely quantitative assessment of publications the Academy proposes a modified form of the United Kingdom's Research Assessment Exercise (RAE), a system which the UK has currently under review. A point scoring system is suggested that takes into account for a university or research centre the number of "research-active" staff, the relative cost of different fields of research and most difficult the development of a system for the quantification of assessment of "a portfolio demonstrating the institution's [or centre's] performance over at least a minimum number of sub-fields of research. The portfolio would need to address specified criteria which might, in addition to quality, significance and impact of research outcomes, include issues such as innovation in research, the postgraduate research environment and research administration and management."
The Academy concedes that such a changeover will require considerable effort and could not be implemented overnight but is adamant that change along these lines is essential if Australian university research is to lift its game. Previously TFW has cited U.S. National Science Board figures showing that from 1990 - 1999 Australia's relative prominence of cited scientific literature" has slipped from equal 9th place to 14th . The Academy's policy paper indicates that matters are getting worse. Dr. Nelson and his department are in a position to do something significant to reverse the slide. Whether or not they have the will and the nous to do so remains to be seen.


FASTS Promulgates its New Policy Document. (September 23, 2002)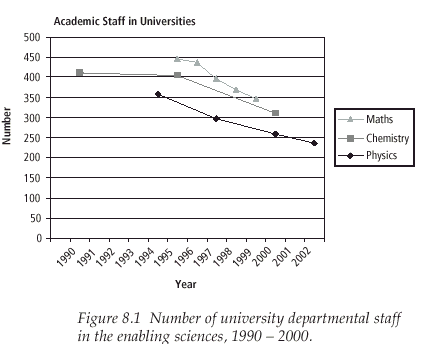 The Federation of Australian Scientific and Technological Societies (FASTS) published its new policy document, Australian science: Investing in the Future

today. FASTS President, Professor Chris Fells, presented a copy to the Federal Minister for Science, Peter McGauran, and was blunt in publicly airing the Federation's view that "Australia drags at the coat-tails of the advanced world. We lag behind advanced countries when it comes to investing in the ingredients of a modern economy. But Australia seems to be afflicted by short-termism; we need to escape from our national love affair with real estate, and commit to a long-term national plan with a future."
Perhaps there is no more telling indictment of the Government than its disregard of the decimation of the enabling sciences of mathematics, physics and chemistry in the nation's universities; graphically illustrated in Figure 8.1 of the FASTS policy document. It's hard seeing it becoming a burning election issue, but it should be.
So far as the information contained in the document is concerned there is little in it that hasn't been said before. Nevertheless, it is an excellent reference for the matters that need careful and sympathetic consideration if we as a nation look to proper and be in a position to share the nation's wealth more equitably in the future. Whether or not the Federal Government is prepared to listen to FASTS with a more sympathetic ear than it has shown to previous arguments that we are falling increasingly behind our cohort nations in research and development and this really isn't "a good thing" remains to be seen.
Unfortunately FASTS has made no specific recommendations with regard to expenditure, and not until such an assessment is done, for example supporting the Group of Eight's year 2000 assessment of an additional $13.65 billion over five years, can a meaningful discussion take place. In plain language, delineate what's needed, justify it and outline how to get it and in what time frame.
Mr. McGauran's immediate response to the policy document was released this afternoon. It said in part:
"Many of the issues that concern FASTS are similar to that of the Government, but more importantly there is a high level of agreement as to how we should address the challenges outlined in the document," Mr McGauran said.
"This Government places great value on Australian science and the work of Australian scientists. It is important that science policy is supported by a whole-of-government approach, as evidenced by Backing Australia's Ability.
"The Government is committed to identifying and addressing impediments to the optimum performance of research in Australia, and addressing the challenges these issues pose," Mr McGauran said.
The media release concluded, "The Minister looks forward to examining the policy document in greater detail."


$385 Million Per Annum More for University Based Research -- Group of Eight. (September 18, 2002)
Chairman of the Group of Eight, Professor John Hay, Vice-Chancellor of The University of Queensland, in his address to the National Press Club in Canberra today told his audience that Australia's research-strong universities had to subsidise research from their core operating grants. That subsidy is estimated at approximately $385 million a year.
Speaking for the Group of Eight Professor Hay went on to say, "A major, arguably disastrous consequence of the present scheme is that the research component of a university's operating grant is not distributed according to research performance indicators but according to undergraduate student numbers. It is blind to the amount or quality of research being done and to the actual costs of building and maintaining major infrastructure, from high-tech labs to libraries." Robert May, President of the Royal Society, was more succinct last year when he described the current Australian system as, "daft".
The Go8 Chairman concluded, "We need to create an awareness in Australia ...that the links between research and a knowledge-based future economy are indisputable. A future worth imagining is capable of being created. But it cannot prosper if research success is to be punished." and concluded in speaking of the "indefensible absurdity" of the current system.
The question is, will the Federal Government concede that it has a responsibility to rectify the "daft" situation by increasing the resources it allocates using the funds the public entrusts to it.


Someday Everyone Will Be a Chemist -- Linus Pauling (September, 18 2002)
Following are excerpts from a letter of Richard Holmquist's published in the September 6, 2002 issue of Science.
Mark Burns' Perspective "Everyone's a (future) chemist" (Science, 7 June, p. 1818) brought back memories of a morning when I was a TA in Linus Pauling's freshman chemistry class at Caltech. [H]e began the lecture with "Some day, when everybody is a chemist..." Pauling [then] continued with the lecture in his normal manner. As he closed it, he said, "Now, if everybody is going to be a chemist, we need to get started." Randomly pointing to one of the freshmen, he asked "How would you like to work with me this summer?" This element of spontaneity, and the belief that individuals would rise to their potential, were but some of the characteristics that made Pauling not only a great scientist but a great teacher.
Of course it was a first year class at Caltech.


French Researchers Ready to Challenge President Chirac. (September 14, 2002)
Australian Scientists in general and the Federation of Australian Scientific and Technological Societies (FASTS) in particular might watch with interest what's exercising their Gallic colleagues.
They are readying to fight projected cuts in the nation's research and development budget. According to leaked government documents they are due for a 1.3% reduction in the $9 billion civilian R&D budget. The Council of Ministers is expected to reach a decision on September 25.
While the cut would be far less than the first rumored 7.6%, it's felt by many scientists that any cut breaks a campaign promise by the French President to increase R&D spending to 3% of GDP by 2010. Currently it sits at 2.2%.
The secretary-general of the National Union of Scientific Researchers, Jacques Fossey makes the point that while the Government agrees that France is trailing its cohort in research and development, immediately on attaining power they threaten to cut the R&D budget. Fossey adds that government spending needs to rise by 5% to 7% annually for President Chirac's promise to be kept.

India's Scientific Publications Take a Precipitous Drop, China's and
South Korea's Soar. (September 14, 2002)
From 1980-2000 India's scientific publications plunged 19% based on data from the yearly Science Citation Index issued by ISI. So reports Subbiah Arunachalam in India's Current Science (83:107-108; 2002). During the same period China's output climbed from just over 900 to more than 22,000 while South Korea's leaped nearly 40 fold to 12,000 publications.
Nature reports in its September 12th issue that P. Balaram, head of biological sciences at the Indian Institute of Science in Bangalore, "attributes the problem to the universities, which he says are suffering from 'political interference, diminishing resources, declining faculty quality and deterioration of the academic ambience'."
Have a familiar ring?
Nature opines, "The analysis is particularly depressing for India as between 1980 and 2000, the number of universities grew from 128 to 231, and research and development expenditure rose substantially."


CSIRO's, ANSTO's and AIMS' Specific Target's for Non-Government Funding Have Been Abandoned. (September 13, 2002)
The federal Minister for Science, Peter McGauran, announced the implementation of recommendations made by the Chief Scientist, Robin Batterham, that the inflexible designation of specific target's for procuring external funds by the major Federal Research organisations should be removed. This affects the Commonwealth Scientific and Industrial Research Organisation (CSIRO), the Australian Nuclear Science and Technology Organisation (ANSTO) and the Australian Institute of Marine Science (AIMS). The policy has been in effect since the early 1990's. According to the minister's media release unspecified "new performance measures will focus on the social, economic and environmental impact of their research."
Dr. Batterham's report and submissions to his Review are available online.


BIO2010: Undergraduate Education to Prepare Biomedical Research Scientists. (September 12, 2002)
Yesterday the National Research Council (NRC) of the U.S. National Academies released an online-readable pre-publication copy of its 154 page report on what needs to be done in the United States to revamp the undergraduate curriculum to appropriately equip individuals intending to contribute to the future of research in the biomedical sciences. An immediately downloadable file (0.6Mbytes) is available of the table of contents and executive summery

.
The report points out that revolutions in DNA technology, instrumentation and digitization have transformed biological and medical research while the teaching of university undergraduates has badly lagged behind looking to the past rather than equipping its students to undertake current and future research.
Recently, the former Director of the Walter and Eliza Hall Institute of Medical Research, Sir Gustav Nossal, and the Former Director of the U.S. National Institutes of Health, Harold Varmus have advocated the need for increased support of the core or enabling sciences, mathematics, physic and chemistry. Now the NRC puts it this way, "...undergraduate biology education has changed relatively little during the past two decades. [Mostly it is] geared to the biology of the past rather than the present or future. [It] must be transformed to prepare students effectively for the biology that lies ahead. Life sciences majors must acquire a much stronger foundation in the physical sciences (chemistry and physics) and mathematics than they now get." The report goes on to observe that those individuals who have a predilection to quantitative thinking are dissuaded from biomedical research because of the non-quantitative bias in biomedical teaching, thereby antagonising those who would be able to contribute so significantly to the biomedical sciences.
Eight overriding recommendations are listed which can be broadly summarised as: 1/ instil greater competence in mathematics, physics and chemistry, 2/ teach concepts not just facts, 3/ develop new materials and approaches to foster interdisciplinary teaching, 4/ and that includes laboratory courses so students will understand what current research is, 5/ students should have independent projects to encourage independent thinking, 6/ cutting edge developments should be part of obligatory seminar courses, 7/ medical school requirements should cease looking to the past and point to present and future needs, and 8/ adequate faculty development is crucial.
And all of that, the report concludes, is essential and will take resources and effort. It also states that the specifics of how it's to be done will differ with different institutions. Nevertheless, one aspect would seem paramount, unless the core sciences are adequately supported the result won't be accomplished.
Once again it would seem appropriate to ask the Government (and the Opposition) is Australia so rich that it can afford cheap education and cheap and shallowly conceived research?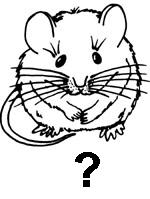 For All Those Who Have Laboured Mightily for the Higher Education Review, What Will the Minister Bring Forth? (September 12, 2002)

Below we quote in full the Minister for Education, Science and Training, Brendan Nelson's media release.
MEDIA RELEASE
HIGHER EDUCATION REVIEW
12 September 2002 MIN 172/02

Tomorrow is the final day for public submissions in response to the seven discussion papers I have issued to inform the Review of Higher Education.
Australia's universities are not in crisis, but they do require reform if we are to provide the best educational, social and economic outcomes for the nation.
Australia's 37 publicly funded universities receive $6.4 billion dollars in public funds (including HECS fees) and another $4 billion in private income from international students, fee paying domestic students and commercial activities.
University revenues have increased by $2 billion since 1995, but so have the demands.
There are 56,000 more students attending Australian universities than there were in 1995.
The number of eligible students missing out on a place has dropped from about 100,000 in 1992 to 18,000 this year (Australian Vice Chancellors Committee).
Beginning with Higher Education at the Crossroads, released in April, the discussion papers have canvassed issues relating to finance, specialisation, diversity, regional engagement, governance, research, Indigenous access and the interface with vocational education and training.
Over 400 groups and individuals have made well thought out contributions - submissions which have been enormously helpful in guiding the process and mapping the boundaries as we have progressed through this year.
I have noted and welcomed submissions from groups such as the Australian Chamber of Commerce and Industry, the Australian Industry Group, the National Tertiary Education Union and the National Union of Students.
Three Labor State Governments put aside political point scoring and offered constructive submissions.
The Review has been further informed by a series of forums held around Australia. Forty-nine meetings have been held and more than 800 people have been able to explore options for Australian's higher education system in focus group discussions.
I would like to thank all those who have contributed and engaged so constructively in this process.
I would also like to thank the officers of the Department of Education Science and Training who have been working on this review and the Review team, headed by Mr Bob Goddard who was seconded from the Australian Vice Chancellor's Committee.

European Union Looks to Strengthening Support for Young Researchers. (September 9, 2002)


The Editorial in the September 6th issue of Science is written by Enric Banda, secretary general of the European Science Foundation (ESF), Hans Wigzell, president of the Karolinska Institute and Ellis Rubinstein, editorial director of Science's Next Wave. They open with, "Europe's future prosperity depends heavily on the next generation of researchers. Yet even as Europe coalesces around big ideas such as the European Research Area and a single currency, its academic system remains fragmented. Moreover, the continent's leadership has been slow to develop mechanisms that empower its young people," (see N&V January 2002). They then point to the brain drain to the United States and Europe's relative inability to attract the "best and brightest" from Asia.
In July this year the ESF released an eight-page policy document, Agents for change: Bringing industry and academia together to develop career opportunities for young researchers.

It opens its preface with, "We take it on faith that most Europeans know all too well the systemic weaknesses of Europe's academic system and its tenuous links to industry... Consequently, this report goes right to the heart
of the matter by putting forth an action agenda for change." The report breaks the "action agenda" into four main sections:
increasing interaction between academia and industry,
increasing multi-disciplinarity,
increasing mobility, and
managing information.
A major concern developed in the policy document is referred to as the "fragile" relationship that can exist between academia and industry through "confusion and misunderstanding" which thwarts informed career choice for Europe's young scientists. The importance of furthering multidiscipline research is stressed to the point that "participants pledged to identify, cultivate (and fund!)" multidisciplinary programs.
The Science editorial concludes, "...Europe is changing and is now poised to transform its diversity 'weakness' into a real strength." Whether or not that transpires remains to be seen, but if even part of what is outlined in the policy document comes about, it poses a real, and what could be, useful challenge for Australia and its future prosperity.


Thereby Stems a Cautionary Tale. (September 6, 2002)
Professor Alan Trounson, Director of the Monash Institute of Reproduction and Development got caught in the crossfire of the embryonic stem cell research debate when he testified to federal parliamentarians the other day. Just to set the record straight as Nature reported in its September 5th issue,
Trounson showed parliamentarians a video of the recovery of a paralysed rat following injection of what he said were human embryonic stem cells. But the cells were embryonic germ cells -- strictly speaking, cells from the parts of 5 to 9-week-old embryos and fetuses from which eggs and sperm later form. Embryonic stem cells are derived from embryos that are just a few days old. The video was taken at the lab of John Gearhart, a biologist at Johns Hopkins University, Baltimore, but the experiment's results have yet to be published.
[Professor Trounson in his defense points out] "Embryonic germ cells had never been explained to these parliamentarians before, so I simplified and just called them embryonic stem cells. This is not absolutely correct, but they are embryonic and they are stem cells and you can't tell the difference between them."
To give those members of the media and parliament who have denounced Professor Trounson their due, none, to our knowledge, has accused him of throwing small children overboard.


"My, she was YAR...It means, uh...easy to handle, quick to the helm, fast, right. Everything a boat should be, until she develops dry rot." (September 6, 2002)
So says Kathryn Hepburn in The Philadelphia Story. When it comes to Drs Nelson and Shargold's Department of Education Science and Training "YAR" means yet another review, this time "Strategies to Attract and Retain Teachers of Science, Technology and Mathematics." There is also a YADP (yet another discussion paper). Whether or not this effort will be met with less scepticism than the Higher Education at the Crossroads review remains to be seen. Wednesday Misha Ketchell in the Age observed,
Since federal Education Minister Brendan Nelson released the final paper in his higher education review, anxiety levels have been on the rise. Students are worried about the possibility of higher fees, some vice-chancellors fear funding cuts and the national tertiary education union is braced for an attack on the pay and conditions of academics. The common thread in the conspiracy theories is a tendency to cast Dr Nelson as a Machiavellian operator.
Ketchell goes on to suggest that Dr. Nelson is more of an inept clown than a Svengali. But neither is the case. This became patently obvious on observing his interview with Fran Kelly of the ABC's 7:30 Report Wednesday evening.
FRAN KELLY: One of the issue papers you mentioned does refer to the financing situation of universities. It acknowledges universities need more money. It talks about four funding options - they're all based on taking more money from students. Is that the only way we can get more funding for universities?

BRENDAN NELSON: Fran, as a nation, whether we're talking about education or any other critically important program, we have four choices - we can live in a country that sustains very high rates of economic growth for a long period of time. The Government at seeing the economy, at growing just under 4 per cent, is striving to do that. The second is that we could increase taxes, which will make us less competitive with the rest of the world and reduce wealth creation in Australia. The third would be to take money from other programs.

Do we take it out of health, housing, roads or defence?

And the fourth is to ask those who derive a benefit from that which they receive who are able to do so, to make a contribution.
There's more but you get the idea. The higher education of Australians from the Coalition Government's viewpoint is an expense not an investment. This may be so from a 2.5-3yr short term party political viewpoint; it most certainly is untrue when it is a matter of the nation's progress, well being and overall wealth. As to Dr. Nelson's glib and disingenuous question,
"Do we take it out of health, housing, roads or defence?"
Well, your government has been sucking money out of higher education for years, now you're implying that for you and your government to take responsibility for putting it back will put the nation at the mercy of invading hoards, suffer disease and homelessness upon its people, and put potholes into every road.
From what we have witnessed so far, Dr. Nelson shows all the signs of having been briefed to keep a very tight lid on higher education funding. Within the current budget allocation he may move the various pots of money as he sees fit but he will not be given additional funds with which to fill them. Politically speaking he will be judged by the party elders on how well he gets away with it. On that basis, so far ee's doin' pretty good.


New Zealand Has One; South Africa's Getting One; We Still Ain't Got One. (September 4, 2002)
The African Institute for Mathematical Sciences is scheduled to open in Cape Town in October 2003. According to the journal Nature it will offer "master's degrees in mathematics to students from all over the continent. The institute is a joint venture between the universities of Cape Town, Stellenbosch and the Western Cape and England's University of Cambridge, whose lecturers will spend month-long periods teaching components of the course."
For its first three years of operation the institute will need to find US$1 million. So far the South African Government has pledged US$75,000 and the British telecommunications firm Vodaphone, US$345,000. The UK government is yet to be heard from.
George Ellis, professor of applied mathematics at the University of Cape Town, put it quite simply, "Mathematics is critical, as it underpins most science."


U.S. President's Council of Advisors on Science and Technology (PCAST) Issues Draft Report. (September 1, 2002)
Two days following the publication of the Australian Academy of Science' draft "Discussion Paper" Providing the Machinery of Science (see August 30th Op-Ed) the US President's Council of Advisors on Science and Technology (PCAST) issued its draft report on Assessing the U.S. R&D Investment

which was forwarded by PCAST's Panel on "Federal Investment in S&T and its Nation Benefits" to President Bush together with an accompanying four page summarising letter

.
The draft report notes, "In FY 2000, private sector R&D was 67% of total U.S. R&D, federal funding a mere 30%. This compares to an even split in 1976 between these two sources."
Some of the key points and recommendations put forward by the PCAST panel:
Activities emanating from R&D investments that produced new economic growth have never been higher, including increasing numbers of patents and discovery disclosures. Clearly, federal funding has enabled this, as 40% of patents cite federal research as their source.

...after two decades of shifting priorities and new programs, we must now redress R&D funding patterns to guarantee that our federal investments in science and technology ensure economic strength, national security, and prosperity and health for our citizens.

Federal R&D funding as compared to GDP continues its decline: Twenty years ago, federal government funding for R&D exceeded that of private industry... today the reverse is true. R&D support from the federal government has fallen to its lowest point as a percentage of the GDP in over 25 years and is now exceeded by several other countries.

While strong support of R&D by private industry is to be commended, this source of funding cycles with business patterns and focuses on short term results by emphasizing development of existing technology rather than establishing new frontiers. Growing private investments in research do not replace the need for federal support in certain critical areas and for long-term basic research where the benefits cannot be measured in short cycles. [our emphasis]

Inadequate federal funding for physical sciences and engineering hurts all scientific disciplines: PCAST's aforementioned commissioned studies [see full report] have shown that from 1993 to 2000, federal support for the physical sciences and certain areas of engineering remained relatively flat, and in some instances decreased (with FY 2002 bringing only modest increases for engineering). While it makes sense that biological and life sciences support has increased given fundamental advances in this field and the heightened interest in health issues, long term breakthroughs in biological and life sciences will rely on strengthening the physical sciences and engineering as well. [emphasis ours]

International competition is stronger than ever. Foreign governments are investing strongly in R&D, and overseas R&D capability is growing. Our government needs to have a better system for coordinating information available to the Departments of State and Commerce and agencies like NSF in order to anticipate scientific developments from competing nations.
Previously Harold Varmus, former director of NIH, observed that "scientists can wage an effective war on disease only if we harness the energies of many disciplines, not just biology and medicine."
The panel makes three recommendations in their letter to the President which they summarise as:
1/ FY 2004 presents the appropriate opportunity [to begin] to "parity" with the life sciences federal research investments in physical sciences, and 4 major engineering fields (i.e., electrical, mechanical, chemical, and metallurgy & materials) from the FY 2002 levels;
2/ a major program of fellowships should be established to attract and support the advanced graduate studies of U.S. citizens in fields of science and engineering that support critical national needs, and
3/ the Office of Science and Technology Policy, in cooperation with the appropriate agencies and organisations, should develop means to assess and analyze the adequacy of federal R&D investments in light of national interests, international competition, and human resource needs.
A complete list of the 25 PCAST group is available online.

---