News & Views item - October 2013

Alan Trounson to Step Down as Director of the California Institute of Regenerative Medicine. (October 18, 2013)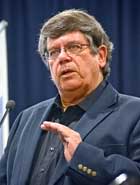 While Australian Alan Trounson, who has led California's US$3 billion stem cell institute for nearly 6 years, has announced that he will resign his position to return to Australia to be closer to his family (his four children reside in Australia) the Institute announced that he has agreed to stay on for an unspecified period while the CIRM board searches for his successor.
In a media release Professor Trounson said: "I have loved working at CIRM and being part of something truly pioneering – a revolution in stem cell science and medicine – but ultimately it came down to a choice between CIRM and a life including my family,"
Science reports that Jonathan Thomas, chair of CIRM's board, noted that Professor Trounson was: "a remarkable leader" who "has led us through some challenging times, [and] been the driving force behind some truly innovative ideas," including a tissue bank for induced pluripotent stem cells and a planned network of clinics for testing experimental treatments. "He has helped establish us as a world leader in the field of stem cell research. We are truly grateful for his vision, his expertise and his leadership".
Prior to taking up the presidency of CIRM Professor Trounson was the Founder and Executive Vice Chairman of the National Biotechnology Centre of Excellence – 'Australian Stem Cell Centre'.