News & Views item - April 2011

New Chief Scientist's Appointment Greeted with Hope. (April 25, 2011)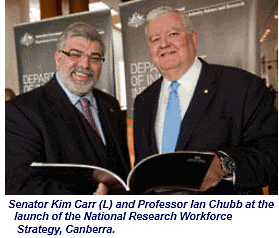 The Conversation's News Editor, Sunanda Creagh, had an interview with the newly appointed Chief Scientist, Professor Ian Chubb (he takes up the post on Monday May 23) just before the Easter break.
He told Ms Creagh: "I donít see any point in speaking for the sake of it. I see a need to ensure that we work collectively to put science as a very high priority in everyoneís mind, including the government and also the community." And he sees the position as one which demands someone who can persuade important people.
"We need people who can talk persuasively to politicians and public officials because ultimately itís the quality of the advice thatís given that influences the public policy and the outcomes in a way that benefits this country. You have got to know them, you have to network, you have to have something worth saying and worth giving up time to hear. Most of the people you want to influence are going to be very busy people. You donít want to waste their time or your own."
According to Ms Creagh, Professor Chubb "is expected to reform the Prime Ministerís Science, Engineering and Innovation Council (PMSEIC), an advisory round table of scientists, government mandarins and senior ministers, including the PM."
And the immediate past vice-chancellor of The Australian National University considers that: "It's very important to understand that the bulk of the work is done behind the scenes. The communication is important but you donít get effective change and your position adopted by communicating through through media and publicly. I wouldnít be doing the job if it was easy. But as I always say, oars are for pulling, not for resting on. Yes, it will be a challenge, but is it a challenge worth putting effort into? Yes, it is."
Physicist Lawrence Krauss in his biography Quantum Man relates the time Richard Feynman stopped by CERN shortly after getting his Nobel Prize and made a bet with Victor Weisskopf ten years his senior that he, Feynman, would not take up a "responsible position" within ten years, which he defined as "by reasons of its nature, it compels the holder to issue instructions to other persons to carry out certain acts, not withstanding the fact that the holder has no understanding whatsoever of that which he is instructing the aforesaid persons to accomplish."*
Whether or not Professor Chubb has the will, ability and connections to alter the government's counter-productive approach in its "support" of scientific research and learning by what he appears to consider to be necessary secret politicians'/bureaucrats' business remains to be seen. He might start by getting moved over to the Department of Prime Minister and Cabinet.
As to the reformation of PMSEIC...
______________________________
* He won.